HCZF MONTH! The annual Manga Jiman competition has brought a number of new creators to the attention of the comics community over the last few years. Indeed our very own Broken Frontier 'Six to Watch' initiative has included Manga Jiman winner and runner-up artists Shangomola Edunjobi and Alxndra Cook among its number. Its 2020 first-placed offering Even Androids Dream by Chloe Starling is one of the debut comics at this year's Hackney Comic + Zine Fair. Regular readers may remember Starling's name from our past coverage of her work in the pages of The Promise and her recent guest article about the work of the WIP Comics Creating Comics group.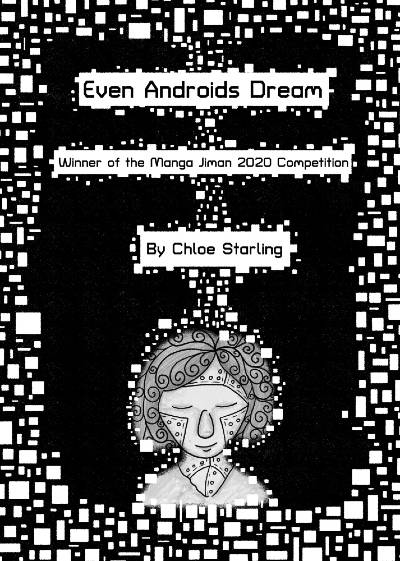 Even Androids Dream is an 8-page short that follows an android worker through the everyday routine of her daily life, based on Starling's interpretation of the theme of "technology". Her existence comprises a constant cycle of booting up, calculating the day's tasks, fulfilling her menial duties for the family who own her, and shutting down again. In the meantime she moves through her environment being treated as a figure of fun or something akin to a household implement. But in her dreams she can escape to a very different world…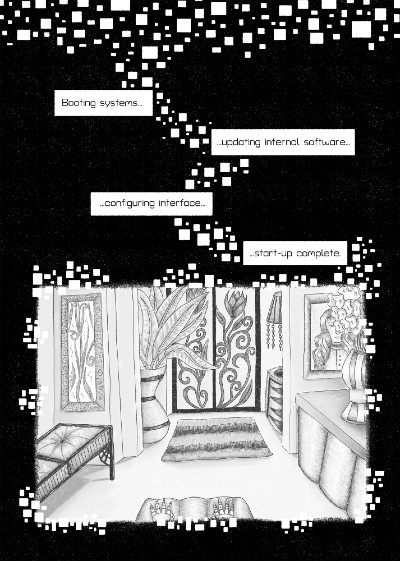 What's immediately notable about Even Androids Dream is that despite its concise 8-page count it can be interpreted on a number of different levels. You can read it as pure allegory; as a commentary on the humdrum repetitive nature of employment and our doomed desire to evade its embrace. You can also see it as a metaphor for the ever more complex relationship between humanity and technology and the way in which each influence and change the other. Or you could take it as an indictment on exploitation and the fatalism of our lives as cogs in the capitalist machine. That's a significant number of rather profound talking points in a short 8-pager…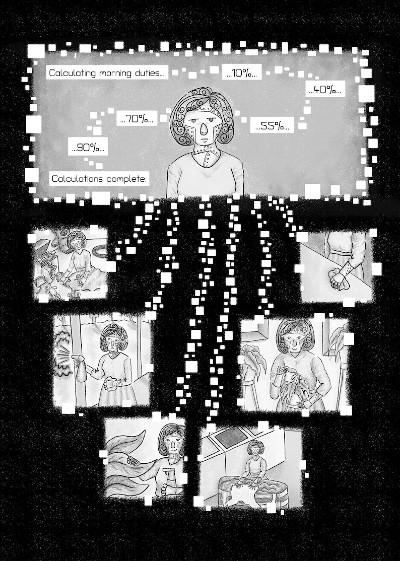 While Starling's art is not necessarily overly elaborate her visual storytelling and sense of design are more pronounced. The motif of digital pixilation seeping into the sequential emphasises both her protagonist's detachment from her surroundings and the mechanised structure of her day. It's also a far more subtle and effective way of depicting the android's understanding of the world around her. Certainly far more pleasing than an excess of computer language-style dialogue or exposition (generally punctuated with lots of strings of '1's and '0's) that these kinds of stories normally produce, something that can quickly become very tiresome and is wisely kept to a necessary minimum in Even Androids Dream.
It's certainly very easy to see why this short story made such an impression on the Manga Jiman judges for 2020. You can find out why they picked Even Androids Dream by checking out Chloe Starling's work in Hall Three at Hackney Comic + Zine Fair. Her online store can also be found here.
Chloe Starling • Self-published, £2.50
Follow HCZF on Instagram (@hackneycomicfair) and Twitter (@hackneycomics) for updates, and head over to www.hackneycomicfair.com for more information about the event.
Review by Andy Oliver