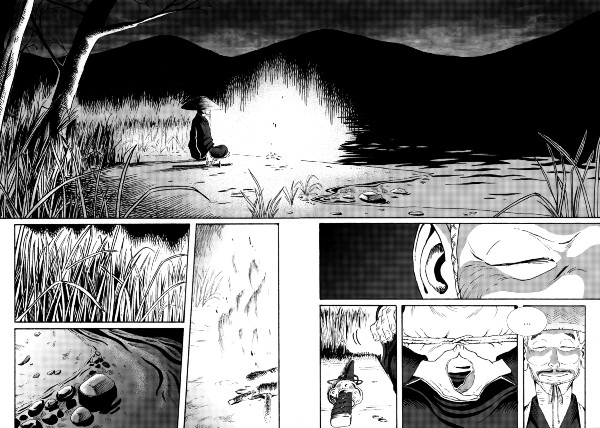 The fifth of our 2020 Broken Frontier 'Six to Watch' creator interviews today is with Shangomola Edunjobi, a Manga Jiman Competition winner and self-publishing comics artist whose work I first reviewed at Broken Frontier last year when I covered his comic Miseyieki.
Eagle-eyed BF fans will be aware this is the second time I have interviewed Shangomola in 2020, having previously chatted with him live as part of ELCAF's online festival in July. Today we catch up again as Shango talks representation in comics, the appeal of manga, and what we can look forward to next from this rising star of the UK indie comics scene…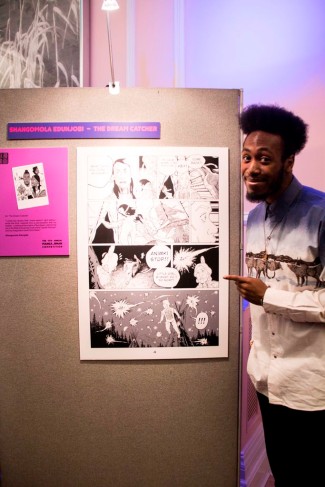 ANDY OLIVER: You recently posted a snippet on Instagram from a commission about "why I draw comics" so that seems an appropriate place to start. Why is comics your narrative medium of choice and, more specifically, why manga?
SHANGOMOLA EDUNJOBI: I love comics because of how expressive they can be despite its limitations as a medium. Manga's visual style was so attractive to me when I was young and I was sold on the diversity of the stories I discovered at that age, as compared to the usual superhero stories of Marvel and DC. The greyscale pallet left room for the imagination to set the colour of the mood on the pages, which I liked. However when I made the step to create my own stories I wanted to fill the void I saw in the representation of more diverse characters of different background that I could relate to. There's so much individuality in comics as compared to other storytelling forms. Animations and film have teams to create the work but comics can be all your own voice. That freedom is great and only strengthens my love for the medium. Whether it works or fails it's on you and I like that simple responsibility and challenge.
AO: You're not just a comics artist. You also have a wider involvement in the arts as a dancer. Can you tell us about that side of your work and where it's taken you?
EDUNJOBI: I am a professional dancer performing with three companies. One is a Hip Hop theatre company, the other two are jazz companies specialising in Lindy Hop, Charleston and tap. My dance career has been full of experiences. Being a part of the 2012 Olympic Opening Ceremony for one. I've competed and performed internationally and on TV many times, and have been apart of an Olivier Award-winning dance production. But it is very demanding physically and mentally, which makes it a challenge to be productive in other areas like my comic craft. I can't complain though, I've been fortunate to make a living doing the things I love, but it is hard work!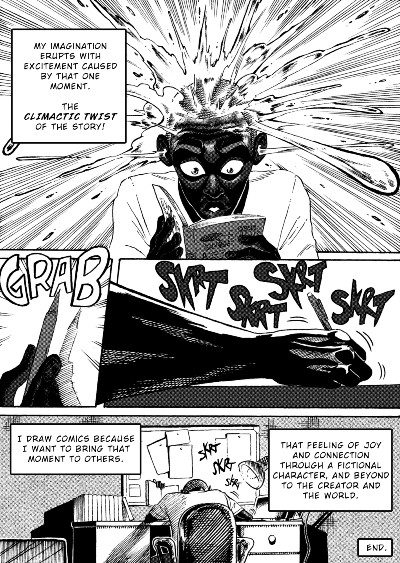 AO: You've had a lot of success in terms of competitions and awards, winning the Manga Jiman competition in 2017 for your comic The Dreamcatcher and taking Silver position in in the International Manga Award for Miseyieki. What opportunities did that recognition lead to?
EDUNJOBI: Yes, I've been very fortunate with the success of my comics and it surprised me because I entered the competitions not to win, but with the objective to test myself and my current skill level. But those successes have led me to be involved in the 2019 Citi MANGA exhibition at the British Museum as its curator of tone.  I have taught an Online Yonkoma comic-making workshop for The Japan Foundation, and more recently I have been commissioned by Serendipity as part of their Black Ink series for Black History Month (below), to create a comic included in a new magazine launching in October.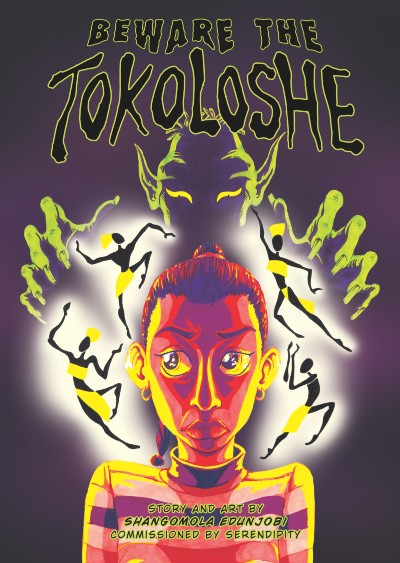 AO: Very recently at Broken Frontier I reviewed the One Page Comic Collection anthology (below) that you illustrated from Emmanuel Adelekun's scripts, calling it "a playful exercise in concise twist in the tale narratives". How much of a challenge – and indeed how much fun – was it to work in such a restricted space and still communicate a story?
EDUNJOBI: Ah, yes thank you for that! This idea was born from Emmanuel noticing the success of my first one page comic in 2014 called 'Scarlet'. We decided to break it down and get to the bare bones of what made it work. Out of that came 10 stories showcasing our results. To tell a story on one page is super challenging in that it forces you to cut the story down to essentials to get the message across and it also utilises preconceptions the reader has already with regards to genres and archetype characters. It's a great way to sharpen up your story-making skills and has quick results. We are currently in the process of creating more!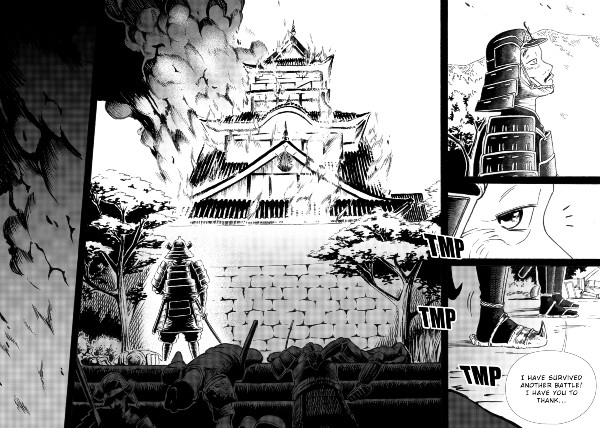 AO: Last year at Broken Frontier I reviewed your most recent self-published comic Miseyieki (below) and described it as "a universal story of the father-daughter dynamic and how bereavement can push us apart as much as it can bring us together." How would you describe the premise and themes of Miseyieki?
EDUNJOBI: Miseyieki was based on my curiosity and motivation to tell a story in an African setting through the manga style. Sometimes in western society we can observe the practices of tribal cultures and see them as something far removed from our own lives. So I thought, how could I connect a story in a tribal setting with a western audience in an authentic way? I realised that people are the same all over the world regardless of where we come from or from what culture. We all come from families and have universal problems about life, death, love, etc. Miseyieki focuses on the relationship between a maasai warrior father and his daughter, both dealing with a tragic loss in their family. Told from the perspective of the daughter we also observe her balancing the responsibilities to her community and marriage. I thought this dynamic created an interesting emotional conflict that was relatable and hopefully resonated with many readers.
AO: Your versatility as an artist is very apparent in your output to date. You frequently switch genres and there's a constant feel that you're stretching your storytelling skills with each project. Is that a conscious decision to hone and evolve your craft?
EDUNJOBI: Yes definitely. I realised a while ago that my passion lies in storytelling more than illustration, and that comics is how I play and manifest those stories. I feel that art is more memorable and powerful when it has a story connected to it. I have always been strong with my illustration skill but my writing prowess was lacking so I've made it my top priority in my career to strengthen that skill by telling short stories across different genres. I aim to build up to a full graphic novel soon and hopefully a series one day.
AO: Let's talk about your artistic process now. Tell us about your creative process in terms of the mediums you work in?
EDUNJOBI: I start off traditional with mechanical pencil on paper. I ink with fine liners and pens, and then scan in the work to add the final touches on Photoshop. In general I colour and do all my lettering and onomatopoeia digitally for speed. However I love the hand drawn aesthetic with traditional processes and will colour by hand with every opportunity. There's something very spiritual that resonates with me about the mark making being permanent. In the moment you make a creative decision to put that line there or colour that part in, and now you have to live with that result which is like life. There's no undo or erase option with life. I have much more admiration for traditional art because of that.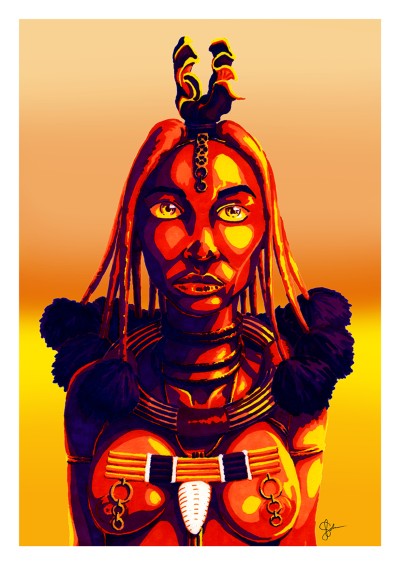 AO: The obvious 2020 pandemic question next. But how has this year impacted on you in all areas of your creativity and how have you adapted to those challenges?
EDUNJOBI: The pandemic has been catastrophic for my dance. I was in the middle of my first tour when it hit and now everything is at standstill. My fine tuned body and skills have dulled. We are just getting back into the space to get our fitness back and re-engaging with our bodies. It has unfortunately been a step backwards but hopefully we can rebuild stronger. With my comics journey I have been very productive. With so much time to devote to it I've been able to really create and experiment with ideas at home. Seeing how everything shifted to online, it has challenged me to think about how I can utilise digital platforms to share my stories, something I didn't think I'd ever look at to this extent.
AO: As an established self-publisher what advice would you have for anyone new to small press comics embarking on their first projects about getting their work out there and building up an audience?
EDUNJOBI: "Don't tell anyone what you're doing until it's done. Outside energy can throw off goals." Much of my practice goes by this quote so I don't have much media presence at times because I'm working on something. I would say to start small, with short stories and projects, where you can see the finish line. Everyone has an epic story they would like to tell, including me, but in my experience it takes so much stamina to create big projects. I think this is why so many people start stories and never finish them or why we wait years to see a project develop because the creators burn out. Just like physical exercise you need to build yourself up to it. Small projects also give you quick outcomes that's you can share quicker and usually the dopamine from that experience fuels your next creation! With a finished product you can then spend all your energy in the marketing and promotion, get your work reviewed, podcasts, etc. the more people talking about your work the more readers you will attract. Last point is to be consistent. Develop your own working schedule that fits around your lifestyle and stick to it. Be professional about your craft as much as you would working for someone else.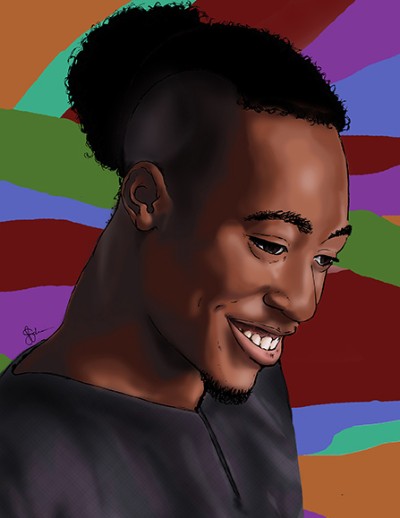 AO: And, finally, are there any upcoming comics projects you can talk about? What's coming next for Shangomola Edunjobi?
EDUNJOBI: I've spent the last 6 years telling short stories increasing in size from 1 page up to 34 pages. I've decided to tackle a graphic novel-size project for 2021. I'm also in the process of creating a second instalment of the One Page Comic Collection with Emmanuel that will be available to buy in the New Year!
You can visit Shangomola's ComiXology page here. You can also follow him on Instagram.
Interview by Andy Oliver