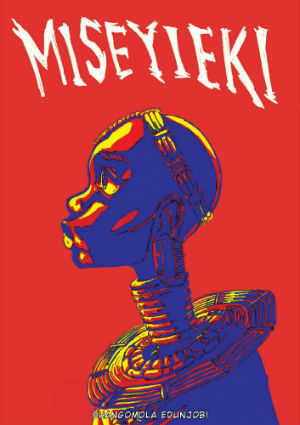 HCZF FORTNIGHT!
Obviously, the immediate element of Shangomola Edunjobi's self-published comic Miseyieki to first catch the reader's attention is its powerfully striking cover with that quite stunning use of colour and contrast. Colour, in a more subdued manner, will prove to be an important storytelling tool in the book's interiors too in this touching coming-of-age story about a 16-year old Maasai girl in Kenya.
For the uninitiated, Edunjobi is a rising star of the manga comics world. He won the 2017 Manga Jiman Competition for his comic The Dream Catcher and also took the Silver position in the International Manga Award this year for today's review subject Miseyieki. That latter book centres on teenager Lehana whose village life in Kenya is defined by a tragedy that both binds her and her father and yet, simultaneously, divides them too.
With the village elders pressuring her to get married and her father seemingly indifferent as he continues his quest to hunt down a "man-killer" lion, Lehana sets her prospective young suitors what she thinks is an impossible task to prove themselves eligible husbands. They must hunt down and kill a lion, becoming a lion-slaying Miseyieki and proving their worth. But as the circumstances of her mother's death become more apparent, family relationships are tested and hidden truths come to the surface…
Miseyieki is a multi-layered book. It's one that examines motifs of tradition versus expectation, alongside themes of loss, grief and acceptance. It's also a universal story of the father-daughter dynamic and how bereavement can push us apart as much as it can bring us together. It's carefully and rather beautifully paced, confounding expectations with an inherent humanity that is both introspective, thoughtful and non-judgemental.
In terms of storytelling craft this is a hugely accomplished work. Limited use of colour on a largely black and white backdrop adds nuance to the community aspect of the cast while Edunjobi's angular, expressive visual characterisation plays a vital part in communicating both the motivations and the emotional reactions of his characters. Lettering is cleverly utilised with speech balloons carefully placed to add to dramatic pacing and some stridently effective usage of sound effects to capture the resonance of key moments in the story.
There's just too much in the way of excellent work either debuting at HCZF or reaching new audiences there for me to want to do a 'Comic of the Festival' for the event. But if I did then Miseyieki would most assuredly be on my final shortlist. This is an essential buy on September 8th from a creator we all need to be keeping a very, very close eye on.
Keep up to date with the work of Shangomola Edunjobi by following him on Instagram here.
Review by Andy Oliver
Shangomola Edunjobi will be exhibiting at Hackney Comic + Zine Fair on Sunday September 8th at Table 5.