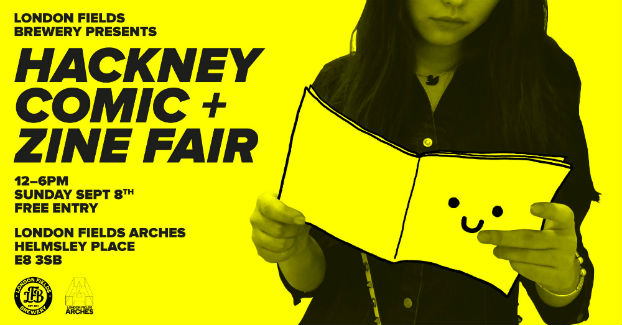 HCZF FORTNIGHT!
Beginning today at Broken Frontier we have two weeks of coverage of comics and creators you can catch at the inaugural Hackney Comic + Zine Fair on Sunday September 8th. The event has been organised by 2019 Broken Frontier 'Six Small Press Creators to Watch' artist Joe Stone and will be held at London Fields Arches. Exhibitors range from self-publishers like Olivia Sualdea, Abs Bailey and Aleesha Nandhra through to bigger publishers like Nobrow Press, Retrofit Comics and Breakdown Press. Before the big day there's also a HCZF special edition of our monthly Gosh! Comics and Broken Frontier Drink and Draw on August 29th where Joe will be a guest artist alongside Olivia Sullivan and Shangomola Edunjobi.
To kick off HCZF Fortnight we start the festivities with a chat with Joe Stone about what you can expect from the very first Hackney Comic + Zine Fair!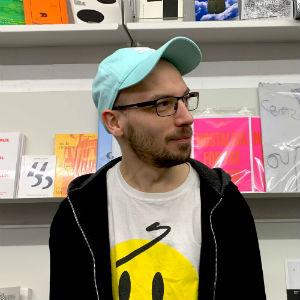 ANDY OLIVER: Let's start with the obvious question. What inspired you to found Hackney Comic + Zine Fair? How would you describe the ethos of the event and the mix of exhibitors attending?
JOE STONE: After last year's South London Comic and Zine Fair we all went to the pub, and I went to go chat to and thank Gareth Brookes for organising it. He said anyone could do it, so I took that very literally and gave it a shot.
I also noticed there were less purely comic-focused events happening in London this year, with a few fairs taking a year off or shutting down entirely, so figured I'd try my hand at setting one up. Organising the monthly WIP group [read all about the WIP Comics meet-ups here at BF] I already felt I had a little practice of something similar under my belt, and that experience definitely helped.
AO: While comics fairs have their dedicated audiences, particularly in the small press arena, reaching new readers is always as important an aim. How have you been generating publicity in the run-up to the big day to pull in as wide a punter base as possible?
STONE: I've tried to get as much coverage across as many channels as I can, including outside of the standard comic channels. I did an interview in local paper the Hackney Gazette, put information up about on it various event listing websites, and have been dropping flyers and posters at venues across East London. I've also been mentioning it to literally everyone I meet, whether they know who I am or not.
Social media has also played a big role of course, and I've been tweeting almost every day and posting as often as I can without being annoying on the obsessively neat Instagram page. I was recently on the Good Comics podcast chatting away about it, and of course you and the fine folks at Broken Frontier have been nice enough to give the event lots of coverage!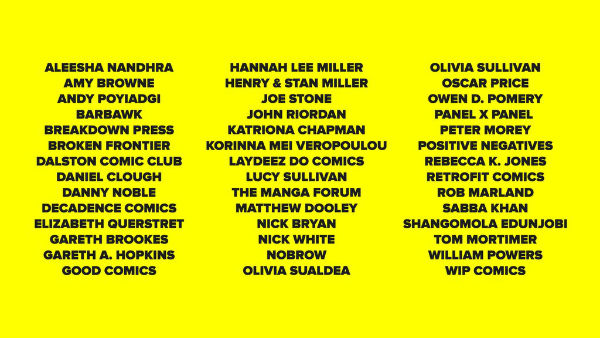 This year's HCZF line-up in full!
AO: Can you tell us a little bit about the venue for the event?
STONE: We'll be in London Fields Arches, just down the road from London Fields overground station (which is very easy to get to from Liverpool St). The venue is split into two rooms, both with a fully staffed bar and loads of delicious beer on sale which is freshly brewed just over the road at London Fields Brewery.
There is also a nice little covered courtyard outside so you can relax with a tasty pint and read your newly purchased comics.
AO: What can we look forward to in terms of just some of the books debuting at HCZF?
STONE: There is going to be loads of great new stuff. Gareth Brookes will be debuting his fully embroidered new book Threadbare, which I'm extremely excited about. Peter Morey will be releasing part two of his acclaimed family-biography book Endswell, which I've read and can confirm is excellent. Kat Chapman has a new travel zine out, Olivia Sullivan will be releasing Fried Milk, Daniel Clough will be debuting his gothic folk horror comic Tower, Gareth Hopkins has a great new collaboration with poet Erik Blagsvedt, Elizabeth Querstret has a brilliant new zine out, and there are more that I'm probably forgetting right now.
Nobrow will have also only recently released Americana by Luke Healy and the latest Hilda book from Luke Pearson, so those will be pretty new, too. Hooray for Lukes!
AO: The WIP Comics group that you oversee will have their second anthology out for Hackney Comic + Zine Fair. What's this year's theme and who can we expect to see in its pages?
STONE: Our book last year was themed around Work, taken from the name of our group being 'Work In Progress'. It seemed appropriate that this year's book be themed around Progress… and also because it's a much better theme than 'In'.
The new book is much bigger than last year, clocking in at a whopping 92 pages. We've got some returning creators from the previous book including Aled Lies, Nick Bryan, Lara Callaghan, Christopher Hazeldine, Bruno Stead, Zach Cobb and more, comics from a few established faces on the scene like Hannah Lee Miller, Rebecca K. Jones, Peter Morey and this year's Ladyeez Do Comics prize winner Niki Bañados, and some emerging talent such as Mereida Fajardo, Matt Barrell, Philip Clevberger and Chloe Starling.
The quality of the work in there is very impressive, with some astonishingly good comics that have really exceeded my expectations from what I've seen at the WIP group while people have been working on it. I'm very proud to have helped facilitate it and get these comics out into the world.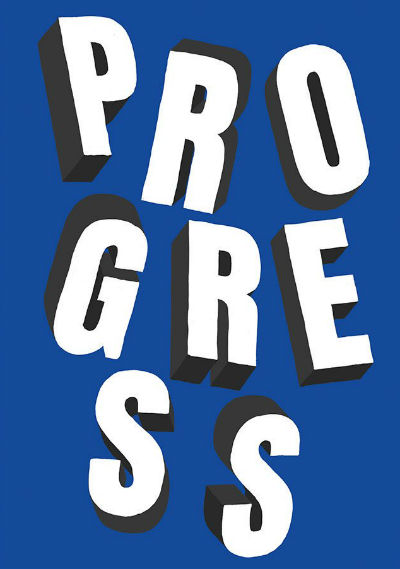 AO: And as a creator yourself, what are you currently working on? What can we look forward to seeing from Joe Stone through the rest of 2019?
STONE: I also have a three-page comic in the Progress anthology, so that's my newest work that you can pick up at HCZF! Apart from that I've been chipping away at my next book, which is going to be a bit of a shift from my previous work in various ways. It's much more narrative focused, slightly sci-fi, and will hopefully make you both laugh and cry. I'd love to have it finished in time for Thought Bubble or at least the end of the year, but it turns out organising comic fairs and putting together anthology books is quite time-consuming so I still have plenty of work to do on it! Better get drawing, I guess…
Follow HCZF on Instagram (@hackneycomicfair) and Twitter (@hackneycomics) for updates, and head over to www.hackneycomicfair.com for more information about the event and venue.
You can visit Joe Stone's site here, his online store here and also follow him on Twitter and Instagram. Joe also has a Patreon here. Joe Stone is also a guest artist at this week's Gosh! Comics and Broken Frontier Drink and Draw on August 29th.