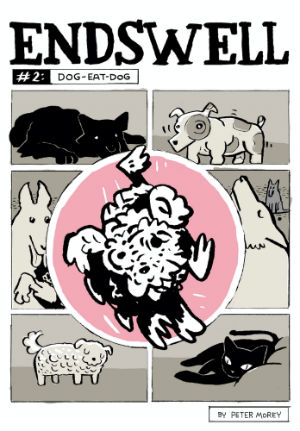 HCZF FORTNIGHT!
Last year's Thought Bubble saw the debut of the first instalment of Peter Morey's Endswell; a self-published generational saga that combined family politics and social commentary and was loosely based on real events. It centred on the titular farm owned by Morey's grandmother, a location known for many years for its stables and kennels but one that had fallen into disrepair due to the unwelcome influence of her lodger Jim; a situation that was dividing the extended family…
The first part of the story – reviewed here at Broken Frontier – set up the premise of the series but at times felt too crammed full of characters who only had limited on-panel time. This second part benefits from stepping back from the human drama and exploring Jim's unwelcome and destructive presence from another perspective. Subtitled 'Dog-Eat-Dog' it's an account of the lives of the canine residents of the farm, both before and after the appearance of the sinister Jim, and traces the effect his arrival has on them. And in terms of Morey's storytelling confidence it's something of a revelation.
Focusing on one particular four-legged tragedy, Morey introduces the two canine worlds of the farm – the kennel dogs like the ferocious Heidi and the indoor dogs like the placid Bertie – and the rules and freedoms that defined their places. A later arrival to this second group is Josh but with Jim on the scene the farm's status quo is about to shift as much for the dogs as for the cast's human players.
By shifting the viewpoint so radically, Morey is able to underline the transformed dynamics of farm life with a greater degree of subtlety and a subsequent empathy for those affected by Jim's belligerence and ego. But it's not simply in terms of pure narrative that Endswell #2 displays such an evolution in storytelling self-belief. In last year's WIP Comics anthology one-shot Work, Morey provided one of the standout shorts with a psychogeographical diagrammatic two-pager that was inventive and poignant in construction. In Endswell #2 he continues to play with the possibilities of the page and it's very much to the benefit of this almost game-changing second part.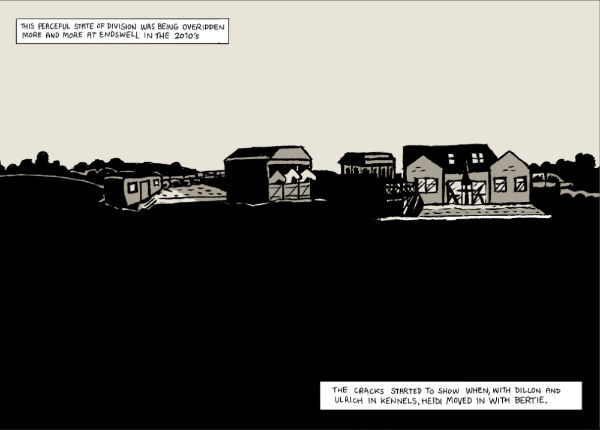 Blueprint-style realisations of the dogs' environs, breaks into double-page spreads to remind us of the expanses of the Endswell "estate", astute use of lettering effects, and a distinctive dog's eye view of reality all combine with more traditional panel-to-panel structures to give us a considered follow-up to the first issue. This is Peter Morey playing to his strengths as a storyteller with invention and careful thought and a marker as to his continued creative evolution. If you've yet to invest some time in the Endswell saga then I'd recommend picking up both issues at Hackney Comic + Zine Fair in September.
For more on the work of Peter Morey visit his site here. 
For regular updates on all things small press follow Andy Oliver on Twitter here.
Review by Andy Oliver
Peter Morey will be exhibiting at Hackney Comic + Zine Fair on Sunday September 8th at Table 22.