HCZF FORTNIGHT!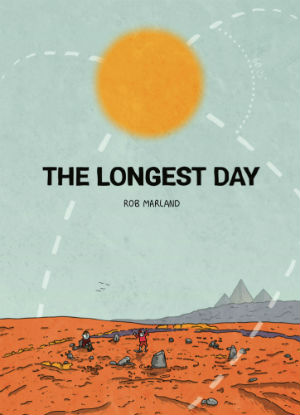 It's summer solstice and Rob is visiting his family. But when his sister loses the one thing she can't live without, their plans for a relaxing day together are put on hold. Homemade wine, car theft, awful TV, and communing with the spirits of the druids: it's going to be the longest day.
That's the premise of Rob Marland's minicomic The Longest Day, a short story that often reads like a particularly bleak sitcom. I first discovered Marland's comics when Broken Frontier hosted the communal table at last year's Catford Comic and Zine Fair. He's another artist whose work you may not be aware of but you'll get to sample if you're East London-bound this weekend thanks to the excellent curation for Hackney Comic + Zine Fair.
The Longest Day is a tale of fractured family relationships; of people who simultaneously care for each other but are also occasionally resignedly exasperated with each other. The on-page Rob's brief trip home begins with a meet-up with his sister (enjoying sherry and pork scratchings for breakfast) whose recovery from addiction quickly proves to be the catalyst for a catalogue of semi-disasters across the visit. From sudden trips to last minute case worker appointments through to quests for meds replacements, their day descends into some kind of British stage farce, only with far more potential incontinence and bad homemade booze. Sitting at the peripheries of the action is Rob's Dad whose weary interjections – "There's a hole between my guts and my waterworks… it's not funny. I'm farting out of my dick" – provide an even darker layer of wit; one that's sometimes almost desolate in its delivery.
Marland's visual style, though, will be as much a draw as his narrative. It has an almost children's storybook quality in places which makes the black humour of the piece all the more affecting. Locations can have unlikely perspectives, cars can take off like cartoon vehicles and the careful colouring choices bring a sense of the unreal to a world that is at the same time very familiar. That slightly off-kilter sense of detachment is expanded on by the renaming of brands and strands of popular culture; everything feeling just that slight bit dreamlike despite its obvious real world parallels.
As the comic builds up to its conclusion one late sequence – utterly beautiful in its quiet and unexpected revelation – will bring a poignant sense of the bonds of family to the audience. This is indeed a layered work and for all its cynical wit there's something far more tender lurking at its heart. Take advantage of a rare opportunity to meet Rob Marland in the UK at this weekend's Hackney Comic + Zine Fair.
For more on the work of Rob Marland visit his site and online store here, and follow him on Twitter here. 
For regular updates on all things small press follow Andy Oliver on Twitter here.
Review by Andy Oliver
Rob Marland will be exhibiting at Hackney Comic + Zine Fair on Sunday September 8th at Table 6.