HCZF MONTH! Sometimes a cover doesn't so much capture your imagination as entrance it in an alluring (yet sinister) embrace. The opening image to Sammy Ward's short comics story The Deeper You Go Into the King's Wood certainly does that. It fools you with a quiet understatement that nevertheless hints at something altogether more disquieting in its environs. A stunning yet subtle use of colour to create an instantly eerie atmosphere that acts as perfect introduction to the chilling black and white interiors to come.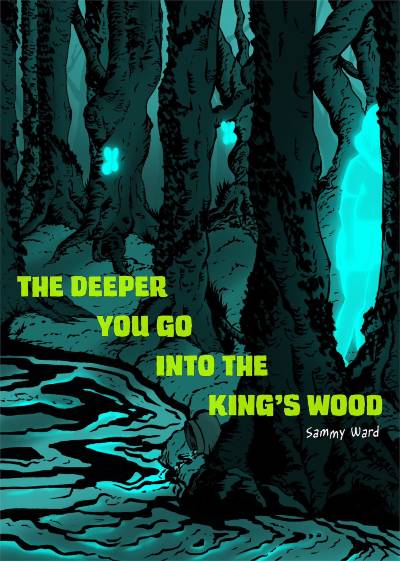 Recently at Broken Frontier as part of our involvement with Small Press Day I spent all of SPD typing one-tweet reviews of comics pages submitted by small pressers on Twitter under the hashtag #SPDBFReview. One of those to take part was Sammy Ward whose fantasy comic Scavengers, Curse of Ymir impressed me so much that I included it as one of six spotlighted titles to be showcased on Broken Frontier the following week here.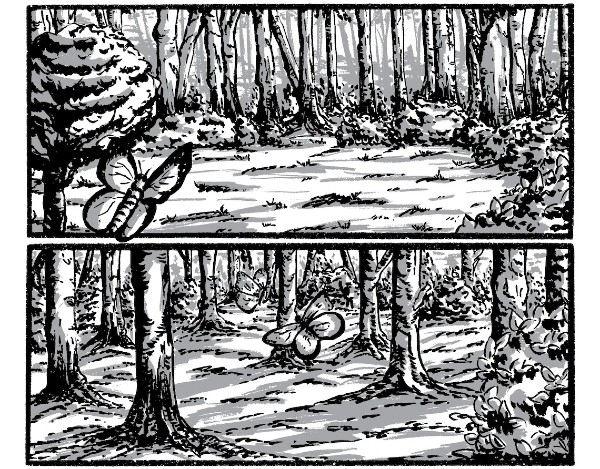 Ward's The Deeper You Go Into the King's Wood is, apart from an introductory preface page, an entirely wordless story. As I've said before here on many occasions that form of storytelling is in itself something that takes a particular skillset from a creator; to be able to communicate narrative and create identifiable, sympathetic protagonists without the dual props of dialogue and exposition requires confidence, clarity and nuance. Attributes that In Ward's case are undoubtedly without question.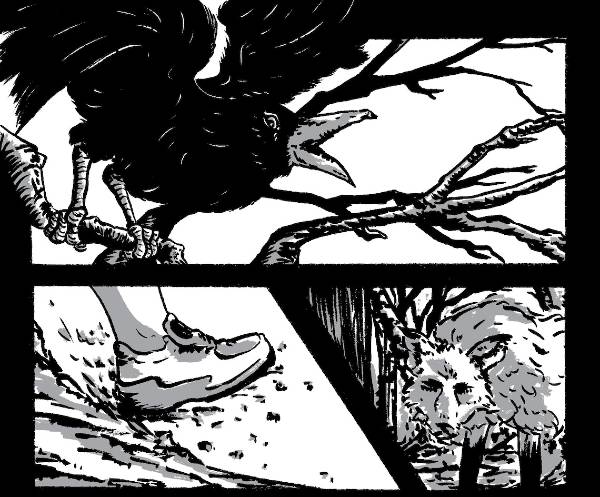 The opening scenes of The Deeper You Go Into the King's Wood allow us to see our central character's bucolic perceptions of her forest surroundings as she enters the titular location. As she wanders through these surroundings they slowly begin to take on a more disturbing air; tighter panels and changing perspective emphasising how the woodland almost swamps and overwhelms her with its ancient, tangled presence. For there are other entities occupying its bounds whose existence is anything but natural…

Ward's detailed interior art is as impressive as that cover, creating an environment in the King's Wood that is claustrophobic and oppressive; one that gives the normally recognisable and innocuous a forbidding and menacing edge. That slowly builds up as the lurking supernatural elements begin to make themselves known, with one memorable panel in a key sequence proving the nearest you'll get to a jump-scare in a comic.
While The Deeper You Go Into the King's Wood is perhaps slight in terms of plot that's not an issue in a comic that's about immersing you in brooding and malevolent moments of uneasiness. The UK small press scene is producing some notably good horror work at the moment and this is another example worth checking out from Sammy Ward in Hall One at Hackney Comic + Zine Fair.
Sammy Ward (W/A) • Self-published, £1.80 (digital)
Follow HCZF on Instagram (@hackneycomicfair) and Twitter (@hackneycomics) for updates, and head over to www.hackneycomicfair.com for more information about the event.
Review by Andy Oliver