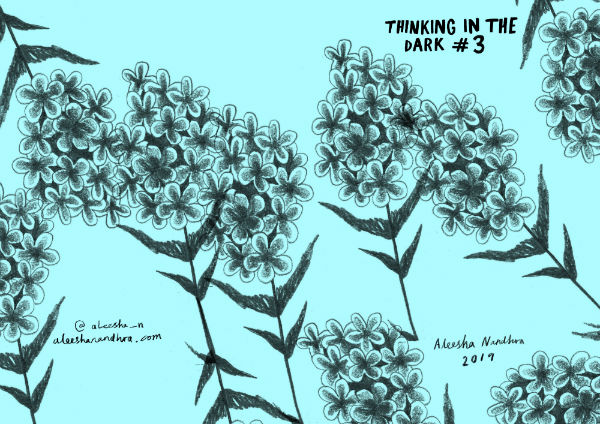 HCZF FORTNIGHT!
Our 2019 Broken Frontier 'Six Small Press Creators to Watch' artist Aleesha Nandhra Thinking in the Dark series explores "the thoughts and feelings that come to mind when you can't sleep at night." Earlier this year I looked at the first two issues of this compilation of powerful vignettes describing Nandhra's approach then as showing "a sophisticated understanding of the form and its connective properties."
This third edition has an even more representative approach to its procession of fragmentary worries, concerns and reflections. Sometimes they're briefly sequential in presentation, on other occasions a single visual metaphor with accompanying commentary on Nandhra's thoughts suffice, while further entries have a longer panel to panel pacing to them. Where they all excel is in their propensity for making an immediate and potent impact on the reader, not simply translating Nandhra's own fears and doubts to the page but reminding us of how profoundly familiar they are to us as well.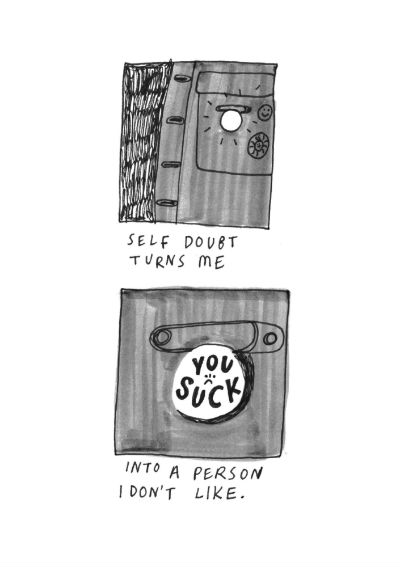 In that regard this minicomic has a startling level of contemplative depth to its 8 pages. There are reflections that are cyclical in their nature – becoming agitated that your worries aren't being taken seriously for example – and recriminations about self-worth. Some are plaintive in their ruminations – who supports those who support others when they need it? The ways in which depression can have no logic or warning to it or the way in which anxiety can make the start of each new day a challenge are also so deeply realised by Nandhra's observational and subtle visuals. The lack of human figures and the use of artefacts and everyday objects to embody her points ironically bringing a very human quality to her superficially detached narratives.
With three instalments in this series to date I'd hope to see an eventual collection of these shorts. They're a reminder of the everyday tensions that can consume us all and an acknowledgement that we are never alone in these feelings. And while I suspect their initial creation may have been for more cathartic reasons the universality of this work deserves to reach as wide an audience as possible.
You can visit Aleesha's Nandhra's site here, her online store here and also follow her on Twitter and Instagram.
Review by Andy Oliver
Aleesha Nandhra will be exhibiting at Hackney Comic + Zine Fair on Sunday September 8th at Table 40.