HCZF FORTNIGHT!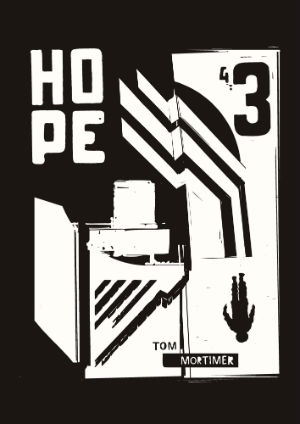 Before Komisk back in March it had been a few years since I last covered the work of Tom Mortimer here at Broken Frontier in what would have been the pages of the now much-missed Dirty Rotten Comics anthology. Notable for an often bleak wit and deep blacks that the reader could lose themselves in, his shorts were always something to look forward to in that vitally important small press community effort. His new work for the Hackney Comic + Zine Fair is titled Hope 43 and gives us his own Mortimer-ian spin on science fiction. But lurking within the more outlandish trappings there's also something far more human and recognisable in this layered tale.
A small group of what appear to be astronauts in environmental containment suits travel through the environs of a devastated but strangely familiar world. As their journey continues we observe their silent communications and team interactions as they explore the ruins that surround them. But something appears wrong with their technology and as events progress so too do the seeming glitches in their equipment, as a sense of escalating tension begins to build…
Mortimer's short 20-plus pager is as interesting for its sequential aspects as it is for the destination its narrative finally arrives at. As they make their way through the collapsed cityscape the four central characters communicate through gesture. It's a dramatic conceit that pulls the readers into the mystery through an alternative use of visual language as Mortimer asks us to interact with the page on an altogether different layer of understanding.
Mortimer's art is as moodily atmopsheric as ever here, providing visuals that are perhaps ironically unnerving for their photo-realistic qualities; their verisimilitude making the eerie quest the characters embark oddly all the more disquieting in its realisation. Adding an extra layer of narrative is the use of symbology and iconography to propel the story forwards, a further storytelling tool that asks us to infer and interpret events on different, non-traditional layers of comprehension.
This is a comic where, as we like to say at Broken Frontier, there are discoveries that are the readers – and the readers alone – to make. But it's another self-contained offering that's just perfect as an HCZF entry point into its author's own very idiosyncratic style. Your Hackney comics wishlist just got one title bigger…
For more on the work of Tom Mortimer visit his website here and follow him on Twitter here.
Review by Andy Oliver
 Tom Mortimer will be exhibiting at Hackney Comic + Zine Fair on Sunday September 8th at Table 28.