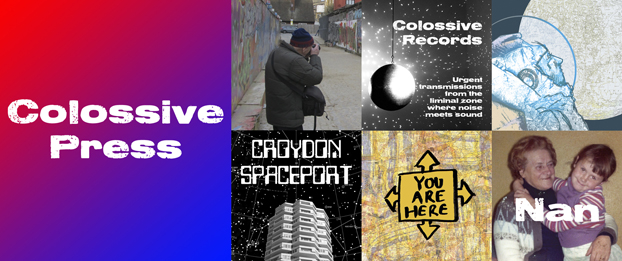 HCZF MONTH! A very special treat for those of you following our Hackney Comic + Zine Fair month of coverage as we talk with Jane and Tom Murphy of DIY culture small press Colossive Press about their ever burgeoning line-up of zines and books. Colossive Press are probably best known in these parts for their Colossive Cartographies series of folded graphic narratives by some of the best and brightest UK indie comics stars, including Olivia Sullivan, Peony Gent, Joe Decie, Miranda Smart, Douglas Noble and many more.
I chat with Jane Gibbens Murphy and Tom Murphy (the latter, of course, a long-term Broken Frontier team member!) about the origins of Colossive Press, their varied output to date, and the importance of bringing the Croydon Space Programme back to public attention…
ANDY OLIVER: Let's start with the obvious opening question and ask who makes up Colossive Press?
TOM MURPHY: Colossive Press is my wife Jane and me…
JANE GIBBENS MURPHY: …plus our cat Vince is self-elected Chief of Staff, having taken over from his much-missed predecessor Sid last November.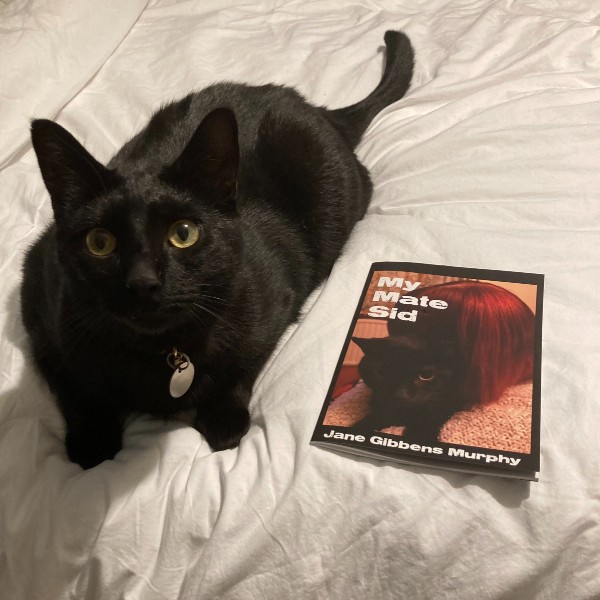 AO: What were the origins of CP as a small press and how would you describe its ethos and the kind of work you publish?
TOM: I guess its origins go way back to the mid-1990s; long before there was Colossive Press, there was Bliss Comics. I produced a few bits and pieces (both individual and collaborative) under that imprint for a couple of years, but then life got in the way and it fizzled out.
I dipped in and out of small press comics for a few years, but then got really energised again in the early 2010s at events like the Comica Comiket, DIY Cultures and, of course, ELCAF. The Small Pressganged strand on Broken Frontier was certainly a catalyst, too! I was looking for a creative outlet and realised it was time to stop making excuses. I came up with a few photocopied ashcan issues of High Precision Ghosts and Ad Astra Per Croydon and landed on the communal table at wonderful local events like the Catford Comic and Zine Fair and the South London Comic and Zine Fair in South Norwood. As Jane is a professional writer and editor, it was natural for her to get involved.
Our ethos is a bit all over the place, really. We're not under any pressure to "make it" in any way, so we can just do what seems like a good idea or amuses us at the time. As anyone in the small press comic and zine world will tell you, it's a wonderfully open and accessible environment for self-expression or experimentation. There are no gatekeepers and there's an incredibly supportive sense of community.
JANE: We operate as a not-for-profit – which is probably just as well! We've supported quite a few charities – most notably St Christopher's hospice – with profits from some of our books and zines. Any money we do happen to make is ploughed back into making more zines.
AO: What's the story behind the name Colossive Press?

TOM: The name comes from a word my dear old dad used for anything that was impressively big, without realising he'd totally made it up. It seemed fitting for a very small press, and it's lovely that he still plays a part in our daily lives.
AO: The worlds of self-publishing and DIY culture unsurprisingly often produce some very personal projects. With that in mind I want to focus first on your books celebrating the life of Gordon Gibbens. Can you talk about the importance of capturing the essence of his passion for graffiti art and photography in How Graffiti Saved My Dad's Life (At Least for a While) and the Things My Dad Saw (But Never Bothered Mentioning) books?

JANE: Dad [Gordon] was a very keen – and accomplished – photographer. When he died in 2017, we inherited thousands of photographs, including 33,000 of graffiti and street art alone! People kept telling me I should "do a book" of them, but I couldn't work out how. Should I just nip up to Thames & Hudson and tip all the pictures on to an editor's desk? And then I realised the answer was staring me in the face! If you want anything doing, do it yourself…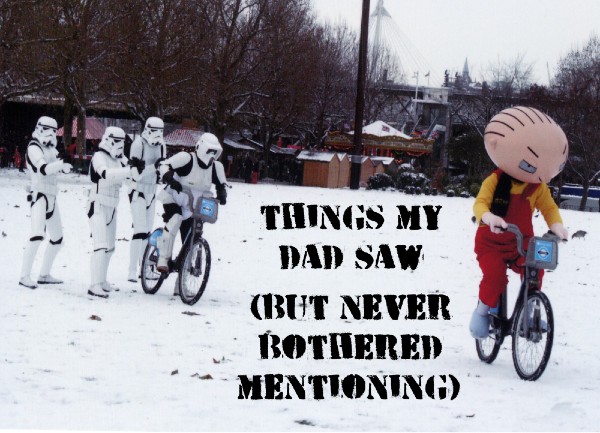 How Graffiti Saved My Dad's Life… is a little book of Dad's street art photography, alongside the story of how his passion for graffiti gave our lives focus and meaning during the very worst of times. Even when Dad was an inpatient at St Christopher's hospice in Sydenham, we had to wheel him out to see the street art in Penge. Writing the book was very therapeutic for me – although it does seem quite raw when I reread it now.
Aside from street art, Dad loved taking pictures of everyday life in London and beyond – but he didn't always tell me where he'd been or what he'd seen. It was stumbling across a particularly baffling photograph of Stewie from Family Guy being chased through the snow by stormtroopers on hire bikes that first inspired our two books of Dad's London street photography. It's lovely to share Dad's legacy, plus all profits from the books go to the hospice – so it feels like some good is coming out of a very difficult time.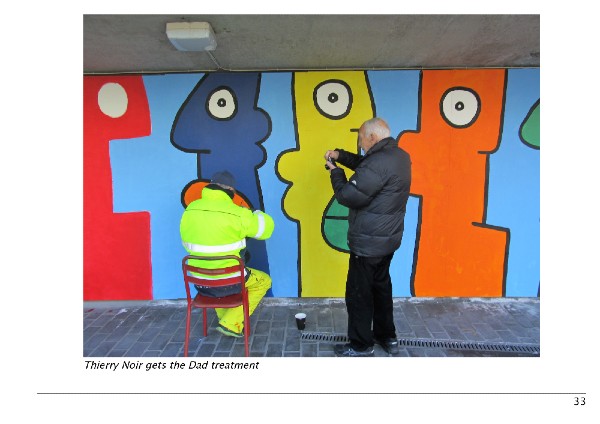 Gordon shooting Thierry Noir
AO: Following up on that, what has reaction to those books been like from both people who knew of Gordon's work and those who didn't? Has there been feedback that has cast new light on his love for street art?
JANE: People have come to How Graffiti Saved My Dad's Life… via various routes – through the street art and small press communities, the hospice or just word of mouth. Some knew him, some didn't. And they've responded and related to different aspects of Dad's story, from his passion for street art to the way he coped with increasing frailty and cancer. Lots of graffiti writers and street artists have got in touch, and it's been nice to hear how fondly Dad was regarded on the scene. Knowing he's still talked about in such glowing terms is a great comfort and makes me very proud. Someone told me recently that the ancient Egyptians believed you die twice: once when you take your final breath and again when your name is spoken for the final time.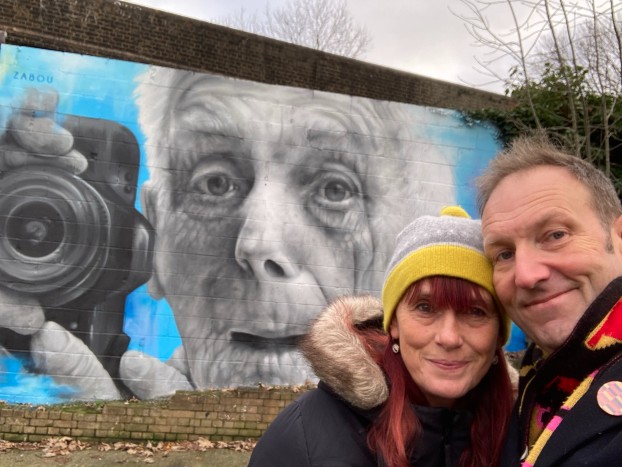 After the street artist Zabou read the book late last year, she said she'd like to paint Dad. Our friend Steve from London Calling Blog – who arranges all the amazing street art in Penge – secured a spot beneath a railway bridge. So there's now a giant portrait of Dad out and about with his camera again [above, with Jane and Tom] – which was all he ever wanted to be doing…
AO: One of the earliest things to come out of CP was the Croydon Spaceport zine Ad Astra Per Croydon. How important was bringing the history of London's forgotten space centre to a new generation? Did you foresee the demand for all the associated merchandise this project would deliver?

TOM: No, I didn't! But then again, I couldn't believe that such an amazing bit of local history had been buried under the sands of time. I always enjoyed the slightly Gerry Anderson flavour of Croydon when I first moved to the area, and I can't honestly say that it came as a big surprise when I picked up the first hints of the municipal space programme while working in a local reference library. In an era when any tool with too much money can apparently fling himself into the cosmos, I wanted to keep the torch burning for an altogether more community-focused chapter of the Space Age.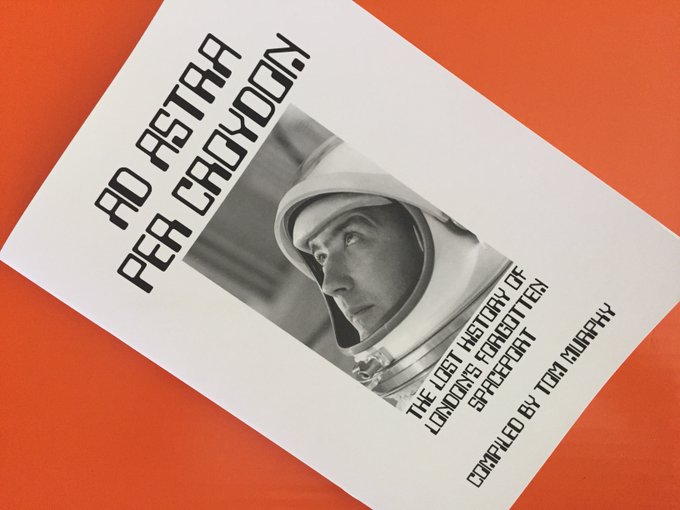 AO: We can't go through an interview without mentioning the oeuvre of Cosmo Chancer and your championing of his work. Do you think the Penge Sculpture Trail is finally getting the recognition it deserves?

JANE: Cosmo is one of the hardest working artists in London. It seems you can't walk down the street in Penge without tripping over one of his celebrated "urban interventions" – but sadly, he's been overlooked for the Turner Prize yet again. It's shameful! I like the stuff he does with fridges best – and his work with shopping trolleys is unparalleled. Of course, we have Sir Toby Carvery – Chair of the Penge Chamber of Commerce and Street-Cleaning – to thank for all this. As Sir Toby said himself when he was first searching for a sculptor-in-residence, nobody but Cosmo had the same combination of "dazzling self-belief and immediate availability".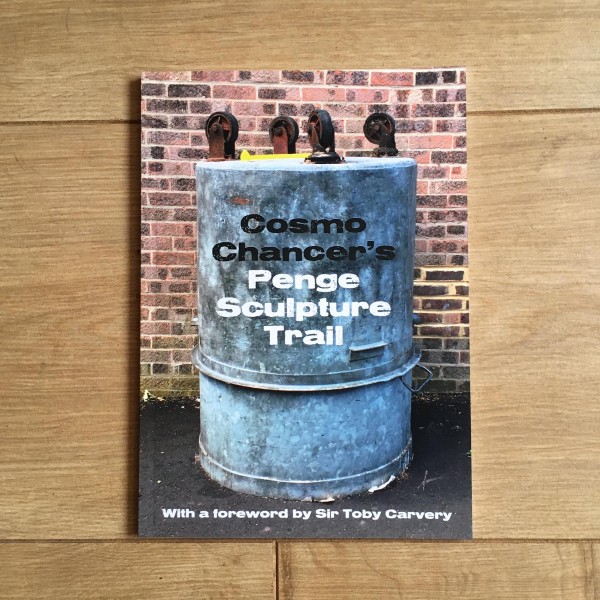 AO: On a more serious note, I've been very vocal about how the Colossive Cartographies series has been one of my very favourite small press projects in recent years, especially given how many of the UK's most exciting indie comics voices have been involved in them. What was the genesis of that series?
TOM: The creative possibilities thrown up by things being handmade has always been a big attraction to me in the small press. I wanted to explore this book arts angle, and along the way discovered the Turkish map fold – a method of folding up a sheet into a much smaller package that then springs open. I thought of approaching some friends and acquaintances in the comics and illustration world to see if they had any "orphan" one-pagers that we could publish in the format. However, I was taken aback by the degree to which people embraced the idea and produced incredible original work.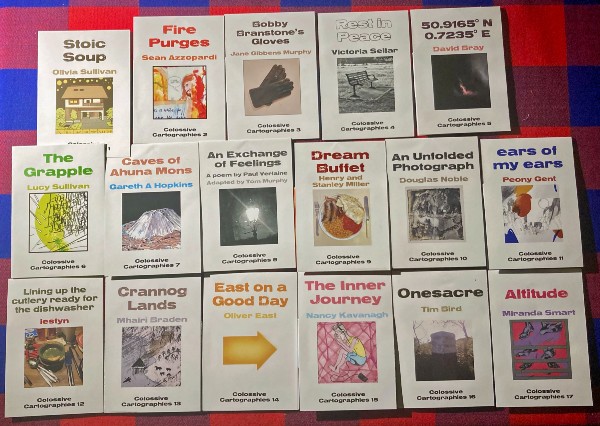 AO: What have been some of the most unexpected approaches from artists to the Cartographies format for you?
TOM: It really didn't take long before creators started to figure out how to use the folds and various planes of the whole package for particular effect. The beans on the back of Henry and Stan Miller's Dream Buffet made me chuckle and still do. Incorporating the piece of thread in Sarah Harris's Unravelling is also a lovely choice, fitting the medium and the message of her embroidered piece beautifully. The way Hannah Lee Miller laid out her panels in Not this conversation again so you can read it from various angles was also a treat.
Very early on I even managed to surprise myself. I was working with a very old friend, the painter and illustrator David Bray, on what eventually became No.5 in the series, and suddenly felt that the material seemed to lend itself to having one of its corners burned away. If David and I weren't so close, I doubt I'd have suggested putting his work to the flame, and fortunately he embraced the idea. I still don't think the neighbours have figured out what I'm doing when I'm ambling around our courtyard setting fire to bits of paper.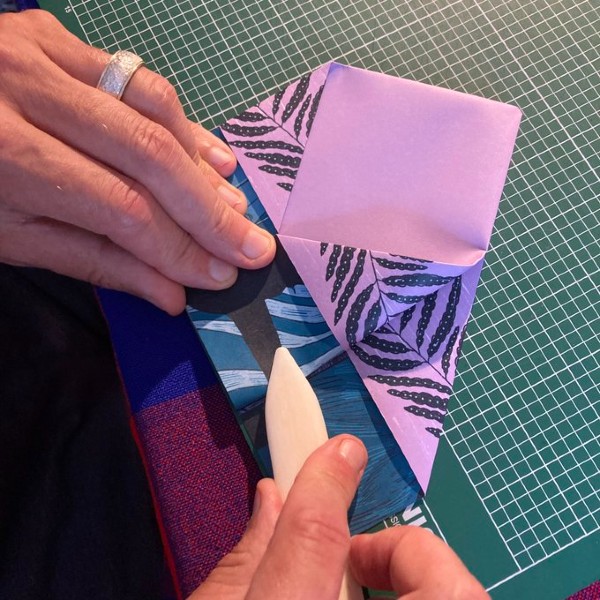 Making a Colossive cartography
AO: Who are some of the other creators you've published or distributed via CP? What kind of work do you look for in that regard?
TOM: I don't think we'd really anticipated publishing work by anyone else, but when Iestyn Pettigrew sent us a photocopied edition of Emergency – his incredibly powerful prose and photography zine about special-needs parenting and hidden disabilities – as part of a zine swap, it immediately felt right to try and bring it to a wider readership with the production values it deserved.
Conversely, our friend Victoria Sellar, a very talented writer and photographer, didn't know very much about the world of zines until we started Colossive, but it turned out to be just the right format for a couple of lovely pieces she was working on: 3.52 AM (below), a meditation on insomnia in words and photography, and Anything With a Face, about the guilt you feel when you go on holiday and leave your cat home alone.
Other collaborators, such as Tracey Pitcher and Jean-Paul Marsaud, just sort of washed into our lives and hung around.
AO: How have you had to adapt to the challenges of the last 18 months in a world without fairs and festivals in getting the word out about your zines and books?
JANE: Obviously, not being able to do zine fairs in person has been the least of anyone's problems during the pandemic – but it has been frustrating. It felt like we'd just got our act together. We'd even bought a card reader and a rack. And it's so nice to witness somebody stumble across our stuff for the first time, and to talk to them about what we do and why. Pre-Covid, there was one particularly surreal moment at a local makers' fair where I was having a very serious conversation with someone about Dad and the hospice – but I could also hear Tom telling another bemused customer that Croydon Spaceport was "a fascinating slice of local history" and he couldn't believe they'd never heard of it.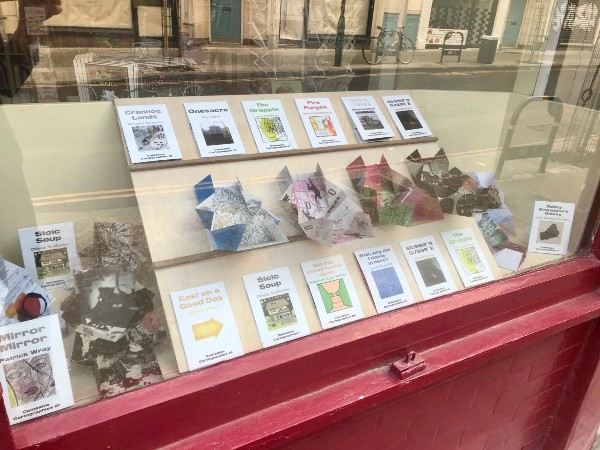 Selling online is still fun but you become over-reliant on social media posts – and you keep having to think of inventive new ways to effectively say "buy this zine" over and over again. Vince is quite helpful with that, though. It's nice to get feedback via Twitter and Instagram – but it's no substitute for meeting face to face. That said, I've just done a quick tally and we've published nearly 50 new titles since we last did a zine fair – so I think we're going to need a bigger rack when we do eventually get out there again! In the meantime, it's been great to be part of HCZF. Joe and Nora have done an amazing job – especially with the Ink Well exhibition in Gillett Square and the inspiring programme of events.
TOM: It's been a particular frustration that we haven't been able to get the Cartographies in front of people, as their tactile and interactive nature really springs into life when anyone gets their hands on them. When the lockdown started to ease earlier in the year, we were lucky enough to get the support of the peerless Tanya Peixoto at Hoxton's wonderful bookartbookshop. She was so excited by the Cartographies that she turned over a full window display to them (above). We'd been fans of the shop for years, so it was an incredible honour, and a real buzz to see passers-by stopping to admire them. Lockdown Books, a new radical bookseller in Herefordshire, has also been a champion for us, and has included our work in some lovely displays we've seen online.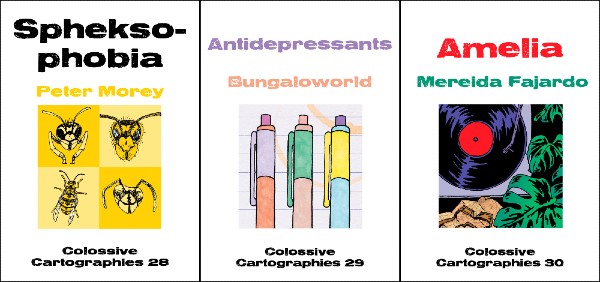 AO: Do you have anything debuting at this year's HCZF?
TOM: Well, Andy, we've got an exclusive for you… We've just published No28 in the Colossive Cartographies series – Spheksophobia by Peter Morey (Endswell), and we're thrilled to announce here that Series Five will be wrapped up very soon by Antidepressants by Bungaloworld, the wonderful Brighton-based illustrator, and Amelia by Mereida Fajardo, one of the current Broken Frontier 6 to Watch. All three (above) are gorgeous and intriguing bits of work that come at the format from slightly different angles, reflecting everything we love about the series.
Closer to home, I've finally produced a follow-up to the original High Precision Ghosts zine (below) I made at the start of the Colossive journey. Like the original it uses found imagery and a bit of book arts trickery to create a shifting non-linear narrative. As you can probably tell from the photo, this time it's taken the form of two tetra-tetra-flexagons (and comes complete with instructions and a handmade cover). Trying to map out the images to the correct bit of the pages nearly broke my poor addled brain, but I got there in the end.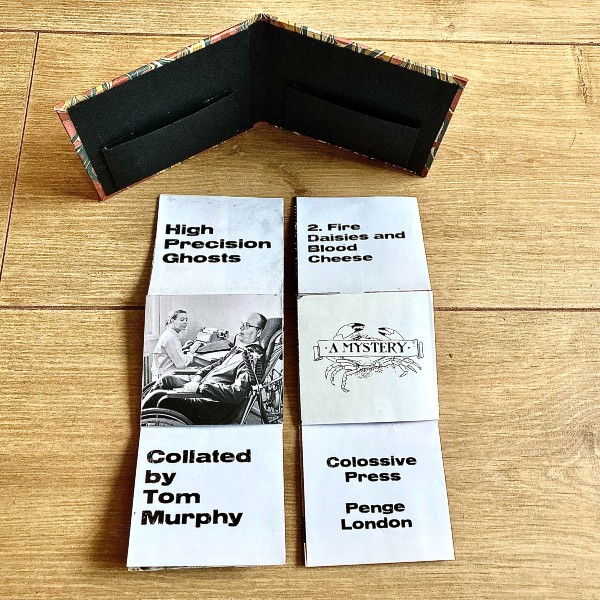 AO: And finally, the obligatory "what's next?" question… So what upcoming plans do you have for Colossive Press that you can tell us about?
TOM: I've got another, slightly more substantial bit of work in progress, including photographs from our partner-in-crime Jean-Paul Marsaud. It's entitled The Testing Site, and I'd originally intended to get it finished for HCZF, but that was probably a bit ambitious. Still, it should be done soon. It's another handmade thingy; I've knocked up a dummy copy and it looks rather handsome. It'll also give me the opportunity to toss around the word "hauntological" like I know what it means. J-P keeps sending us Jiffy bags full of his photographs, so I suppose I'll have to keep trying to find a use for them (if only to prevent one of his epic Gallic sulks). Tracey Pitcher has also spoken loosely about following up her riso-zines Skating for Godot and Your Actions Are Pointless If No One Notices to complete some sort of trilogy, so let's wait and see.
And, of course, the Cartographies juggernaut is still gathering speed. We've probably got around a dozen in the pipeline at the moment (including our first AUDIO-VISUAL Cartography). It's always a thrill to see who pops up next and what they've done. And one of our previous Cartographers is also producing something entirely original for us, but that's at the very earliest of stages, so probably one for early 2022.
Interiors from the unmissable Ad Astra Per Croydon
JANE: I have about 101 half-formed zine ideas at any one time. So it's just a case of tipping my head upside-down and seeing what falls out on to the page next. We're hoping to persuade Cosmo Chancer to produce a Cartography – although he's a very busy man, thanks to the fly-tippers of Penge. Tom and I also have vague plans to collaborate on an extension of the Cartography idea, but Jean-Paul is making too many demands on his time at the moment. And I really wouldn't want to get on the wrong side of J-P…
You can find Colossive Press in Hall Three at Hackney Comic + Zine Fair. You can also visit Colossive Press's online store on their site here. Follow Colossive Press on Twitter here and on Instagram here.
Follow HCZF on Instagram (@hackneycomicfair) and Twitter (@hackneycomics) for updates, and head over to www.hackneycomicfair.com for more information about the event.
Interview by Andy Oliver