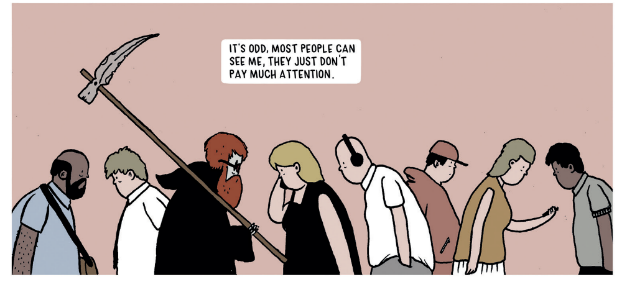 HCZF FORTNIGHT!
Many BF readers will remember that cartoonist Matthew Dooley's work was a fixture in such well-regarded anthologies as Dirty Rotten Comics and Off Life before his 2016 Cape/Observer/Comica Short Story Prize win for 'Colin Turnbull: A Tall Story'. That latter tale recounted the titular character's ambitions to win the Lancashire Tallest Milkman competition, with Dooley's success in that contest leading to his debut graphic novel Flake – a tale of warring seaside ice cream vans – being picked up for release by Jonathan Cape in 2020.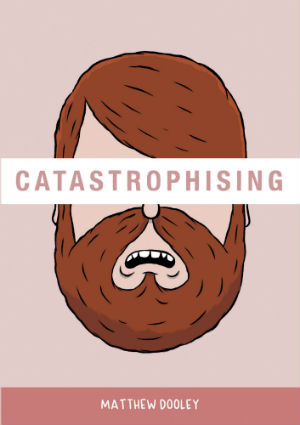 Catastrophising, Dooley's Hackney Comic + Zine Fair -debuting comic showcases his penchant for embedding the utterly incongruous into the everyday with such ease and comfort that the bizarre becomes almost mundane and routine in nature as a result. As the comic opens, Dooley recounts his latest career move as a newbie grim reaper, plying his trade in a very recognisable gig economy. It's full of the kind of deadpan humour that is such a trademark of Dooley's craft; a worldweary wit that is magnificent in its studied understatement.
Follow-up shorts include modern workplace politics examined through an allegorical tale of Charles I's executioner, existential reflections on the end of the world, job dissatisfaction explored through the midlife crisis of a prehistoric hunter-gatherer, and the unlikely problem of territorial ghosts. Throughout the dry, and sometimes even bleak, humour though there's a rich vein of social commentary here that focuses on the minutiae of contemporary living and our often doomed aspirations in a modern environment; one that hearkens back to that old Steve Gerber tagline for Howard the Duck about being trapped in a world we never made.
There are wilder flights of fancy here as well. The final story about dealing with an infestation of miniature classical Greek philosophers is a delight and there are the dark "listicle"-type two-pagers that fans of Dooley's previous output in comics like The Practical Implications of Immortality will no doubt relish. But whatever the subject, whatever the length, it's Dooley's droll and laidback delivery, brilliantly comedy pacing and expressive clarity of line that ensures that Catastrophising is such an appealingly unlikely mix of the cynical and the amiable. Pick up Catastrophising at Hackney Comic + Zine Fair in September as a thematic prologue to Dooley's much anticipated Jonathan Cape book next year.
For more on the work of Matthew Dooley visit his site here and follow him on Twitter here. 
For regular updates on all things small press follow Andy Oliver on Twitter here.
Review by Andy Oliver
Matthew Dooley will be exhibiting at Hackney Comic + Zine Fair on Sunday September 8th at Table 29.