HCZF MONTH! A couple of months back when I interviewed Mereida Fajardo about her practice I asked whether her constant experimentation with the form was a conscious decision to learn her storytelling craft through an interrogation of the medium's possibilities, rather than focusing on developing just one consistent style. Her reply was: "100%. I'm not the most skilled draughtsman so I'm more interested in expending my energy playing with form. I'm still figuring out how I like to work but at the moment I'd describe myself as a formalist – I'm fascinated by the mechanisms of comics, and I want to use the medium to tell stories that could only exist as comics, stories informed by their form. I think format is often overlooked in favour of tradition, but the medium has so much potential which is why the indie scene is so exciting right now."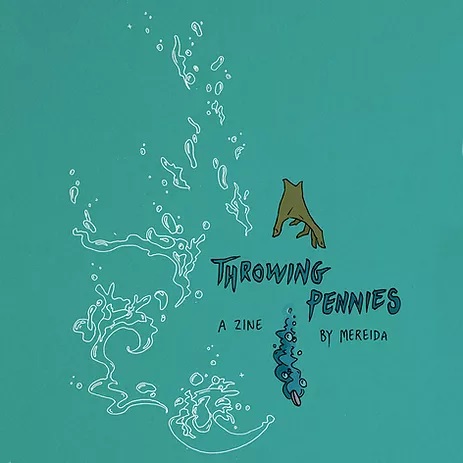 She went on to speak about how the act of reading a comic isn't a passive one and how in many ways comics are a collaboration between maker and reader. That's something that has been evident in so much of her work from some of the shorts in anthology Quark Soup, to abstract comic Quivertree, through to today's subject, Throwing Pennies. The latter being a debut comic at this month's Hackney Comic + Zine Fair.
Throwing Pennies examines a practice common in the Philippines of children diving for coins dropped off ferries at ports by tourists; something which can provide an important if insubstantial income for poorer local families but opens up questions of where the lines between tourist attraction, tradition and exploitation are drawn.
This is art that looks to manipulate the narrative possibilities of a physical object in terms of tactile connection and presentational interactivity. Contained within an aquatic-hued hand-folded envelope are three interlinked comics which all give very different viewpoints of the same event. Given their synchronicity there's no rigid reading order but the random order I consumed them in seemed to work well in contrasting the proceedings and the players in this sliver of captured time.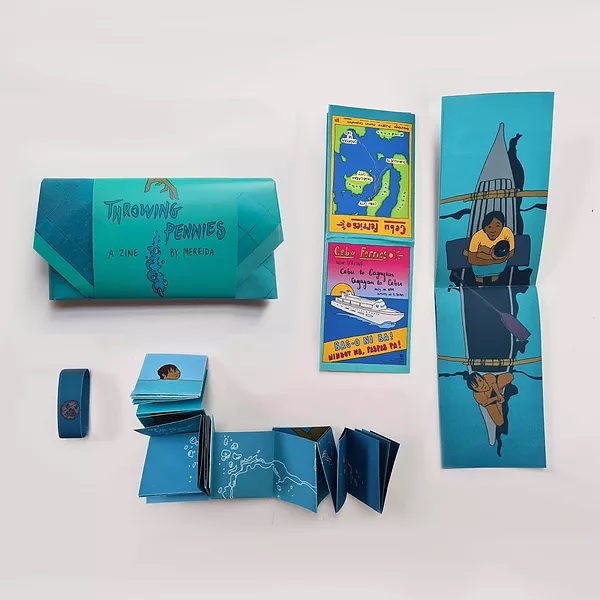 There's one fold-out larger image of the ferry itself which is initially presented in the form of a commercial advertisement but opens up into a view of the coin-dropping tourists looking down from the decks of the ferry, perhaps casually indifferent to the realities below. Secondly there's a minicomic of one of the diver's small boats giving us a view of them from above. Interestingly, for a landscape-sized comic we read it in a portrait style. Here a young boy sits awaiting for the opportunity to retrieve a discarded coin and dives off the boat unseen to achieve this end. The emphasis, though, is on his presumed mother and baby sibling who we slowly zoom in on while the diver is away, emphasising the very human truths sitting at the heart of events, and how something that may seem trivial to those above is crucial to the lives of those below.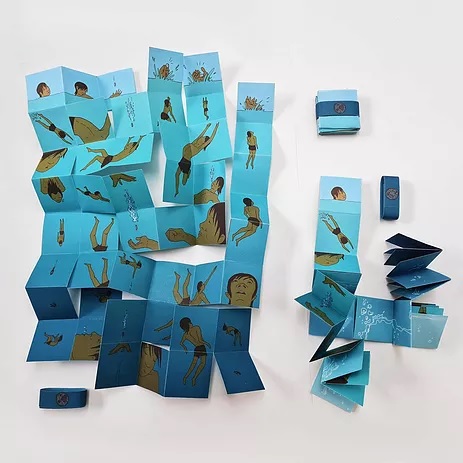 The third, and most elaborate, minicomic depicts the moments between the boy diving and returning to the boat in the previous comic. This is a quite remarkable construction that is basically stamp-sized on first glance but opens up into a constantly twisting series of images, intricately designed and cut to give the feeling of negotiating the watery depths with our protagonist through the constant unfolding, opening and contrasting of sequences that it involves. In conjunction all three ask us to perceive and experience the same point in time by using a variety of forms to bring alternate perspectives to life. Each is a discrete entity in its own right but together form a larger narrative that could never be portrayed with such ingenuity and empathy on a standard sequential comics page.
Every time I pick up a Mereida comic I find myself staggered again at the thought and invention involved in her constant exploration of what the form can do. I cannot quite make up my mind whether her approach to comics is one of evolving and redefining what already exists or one of knocking down the old and building something new on its foundations. Either way she is one of the freshest and most exciting new voices on the scene. Get to Hall Two at Hackney Comic + Zine Fair and make that selfsame discovery for yourself.
Merieda (W/A) • Self-published, £10.00
Follow HCZF on Instagram (@hackneycomicfair) and Twitter (@hackneycomics) for updates, and head over to www.hackneycomicfair.com for more information about the event.
Also available from Mereida's online store here
Review by Andy Oliver