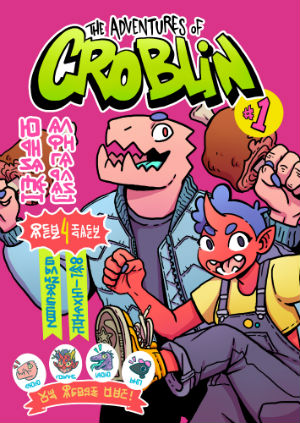 HCZF FORTNIGHT!
I have said in the past of Korinna Mei Veropoulou's art that her "cartooning pops with energy, with animated panel-to-panel storytelling and effective visual characterisation." We've looked at her self-published comics in the past like the futuristic LDN 2050 (with Alfie Garland) and her contributions to group anthology efforts like last year's Comic Book Slumber Party offering Escape from Bitch Mountain from Avery Hill. There's a versatility to her style that lends itself to a number of cross-genre approaches from sci-fi to fantasy to out and out comedy.
The Adventures of Croblin #1 – available at this weekend's Hackney Comic + Zine Fair – re=presents the first six episodes of her webcomic in print form. The premise of the comic is described as centring on "Croco and Goblin, two low level NPCs trying to make it big, or at least get through the day in one piece" and we are invited to "join them as they deal with life in the big city, getting into trouble and beating things up."
Essentially, then, the premise of the series is a kind of behind-the-scenes look at the lives of non-player characters, showing us what they get up to in the downtime in role-playing games. We watch the pair as they struggle to relax between campaigns, as their sometimes fractious relationship gets the better of them, and even observe their personal hygiene rituals when Croco takes Goblin for a fumigation at the local goblin cleaners. Through all the slapstick and occasional bickering, though, there's a true affection between the duo.
What marks this strip out as something special isn't simply its clever set-up, fun as it is; where it really shines is that despite its fantasy trappings it's just so familiar in so many respects. Croco's bromance with his pal Broco, or his experiences with a pair of cursed trainers that explore a recognisable materialism that we are all prone to, or the relationship between Croco and Goblin that is depicted in all its aspects from loving to longing to mutual exasperation.
Each episode lasts a handful of pages with a crisp, clear line and expressive characterisation ensuring we feel like we've known the characters for years rather than for just a few pages. The Adventures of Croblin is a far more sophisticated strip than it may appear on first glance. The first episode 'Hiss!', for example, uses speech balloon placement and lettering effects to fine effect in communicating a brief conflict between the pair while the muted colouring choices of 'Goblin at War' add an extra layer of poignancy to Croco's fretting about Goblin's temporary absence from their home. You can, of course, follow the Croblin webcomic online here but old school lovers of print comics can pick up a physical version of the first few stories this Sunday at Hackney Comic + Zine Fair.
For more on the work of work of Korinna Mei Veropoulou visit her site here and follow her on Twitter here.
For regular updates on all things small press follow Andy Oliver on Twitter here.
Review by Andy Oliver
Korinna Mei Veropoulou will be exhibiting at Hackney Comic + Zine Fair on Sunday September 8th at Table 9.