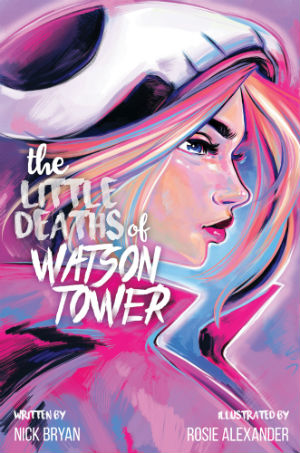 HCZF FORTNIGHT!
Teenager Kelly Arnold takes her mind off the sadness at the heart of her family life by hanging out with her friends at the nearby Watson Tower apartment block. There they run riot dressed as grim reapers, teasing each other, making mischief and unintentionally being a nuisance to the other residents.
With a terminally ill father at home, Kelly has other worries though. And when the kids provoke the ire of a mysterious resident of the flats, a supernatural change comes over their environment leading to all concerned being forced to confront their very real fears about their mortality…
Behind a strikingly coloured cover, writer Nick Bryan and artist Rosie Alexander's one-shot The Little Deaths of Watson Tower combines dark urban fantasy with a thoughtful meditation on life, loss and coming to terms with death. Bryan's story is both reflective and fun, catching the exuberance of youth and the complex interactions of youthful friendships with authentic and believable dialogue.
It's a tale where lessons are learnt and profound truths come to the surface but it's also one that has a fast-paced, non-stop rhythm to it as the confines of Watson Tower become a bizarre midway point between life and death.
Rosie Alexander's art is the perfect complement to Bryan's scripting, able to capture the intensity of the action-packed sequences that make up the bulk of the comic but also stepping back and allowing the more quietly emotional scenes to resonate where appropriate. Tight, often horizontal panel structures echo the environment of the flats and use of lettering to heighten emotion and tension is effective throughout. This was the debut comic of both creators and, given that, it's a notably assured first offering. Nick Bryan will be tabling at this weekend's HCZF for those wanting to sample a fuller array of his output to date.
You can buy Nick Bryan's comics from his online store here. 
Review by Andy Oliver
Nick Bryan will be exhibiting at Hackney Comic + Zine Fair on Sunday September 8th at Table 4.