When it comes to small press coverage for Broken Frontier I am always on the lookout for work that experiments with the form – practice that interrogates its perceived boundaries and seeks to exploit its storytelling potential in inventive and alternative ways. It was for that reason that I was so attracted to the comics output of Mereida Fajardo when I was considering our annual intake of 'Six Small Press Creators to Watch' for 2021. Her comics are sometimes abstract and open to reader interpretation, on other occasions more ephemeral and straightforward, but always knowingly teasing in their appreciation of the medium's possibilities.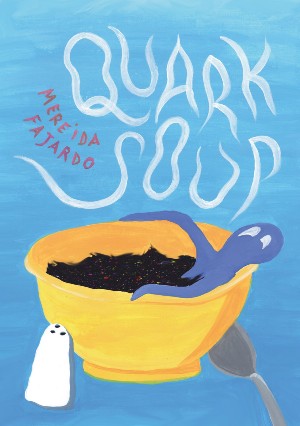 Quark Soup is a collection of short stories from Fajardo's first year of creating sequential art. Subject matter and approach are diverse and eclectic, signalling the inquisitive mindset of a younger creator fully exploring the opportunities of the comics page. While their styles are very different, some of Fajardo's wider output (like Quivertree which we will be returning to in the future at BF) reminds me of Olivia Sullivan's work. There's that same sense of authorial intent being less important than reader interaction with the page; that the audience are being invited to find their own meaning in each story. Quark Soup, though, is a mix of representational narrative and humorous offerings that takes us back to the beginnings of Fajardo's comics journey in 2019.
The wordless opening story 'Papercut' (below left) is a good example of that more oblique style of narrative. A seemingly frustrated artist becomes overwhelmed by the apparent oppression of the blank page; tedium and routine slowly evolving into nightmarish entrapment. Of course the qualifying adjectives there are "seemingly" and "apparent" because reader interpretation defines interaction here but it's a hauntingly evocative use of comics' own unique relationship with the passage of time that is both unsettling and perhaps by story's end optimistically hopeful too.
The surreal 'Pepi & Luce' (below right), featuring two friends who just happen to be a walking canine skull and a three-eyed bird, is similarly a wonderful exercise in comics absurdism; one where the sheer self-indulgent spectacle of the characters and their situations trumps any need for narrative coherence. 'Embryo' too asks us to immerse ourselves in the moment with a story of spiritual epiphany that slips into a carefully realised use of colour to emphasise a sudden moment of profound discovery and majestic enlightenment.
Other stories are more immediately accessible. The one-page 'Hypnic Jerk' translates that odd slumbering experience of a sudden start in one's sleep with a use of visual metaphor that perfectly captures the odd sensation of falling it induces. 'The Buddha One' (below left) is a tale of meditation interrupted by an annoying fly that expertly uses panel-to-panel transitions and page structures to create a sense of motion and relative time. Pacing and application of perspective is excellent here. Finally, 'Flu Season: A Microscopic Love Story' (below right) is the most immediately accessible short, recounting an inner body love story with a punchline-driven, rhyming narration.
It needs to be underlined that this is very much a collection representing Fajardo's early forays into exploring comics as a form and that sense of playfulness and self-discovery is very much in evidence. But it also underlines just how acute Fajardo's understanding of the mechanics of comics is. I am hugely excited to see where she goes with her practice in the months to come. Make sure to give her a follow via the social media links below.
For more on the work of Mereida Fajardo follow her on Twitter here and on Instagram here. You can visit her site here and buy a digital copy of Quark Soup for just £2.00 online store here.
Review by Andy Oliver