In some ways I feel like a bit of a cheat when approaching a review of the deliberately enigmatic short comic Quivertree by our 2021 Broken Frontier 'Six to Watch' artist Mereida Fajardo (aka the more singular Mereida). That's simply because she spoke about what she was attempting to evoke with its entrancingly uncertain style in an interview with us last month at BF.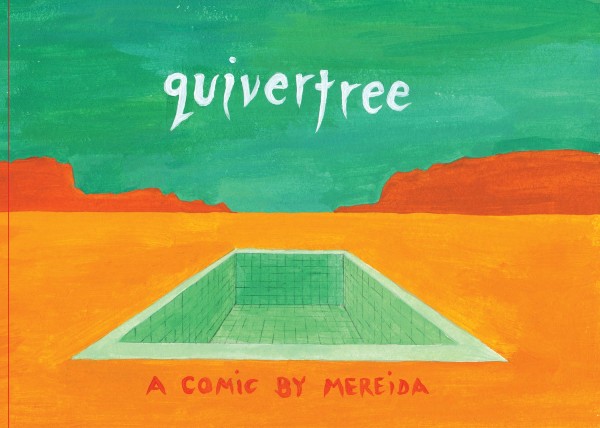 She said then that Quivertree was "the most deliberately abstract and ambiguous thing I've made, I think. It gestated during the languid days of lockdown 1.0 when I was dreaming vividly and longing for the outside world, so it follows more of a dream logic than maybe my other work. I drew on a wide range of influences such as the Peruvian desert, the work of artists Bill Viola and Heidi Bucher, and several species of plant I became thematically obsessed with. It's intended to be open to interpretation, but broadly I was thinking about individual vs shared memory, and how we are influenced by the spaces and landscapes around us, which are two themes I've carried forward."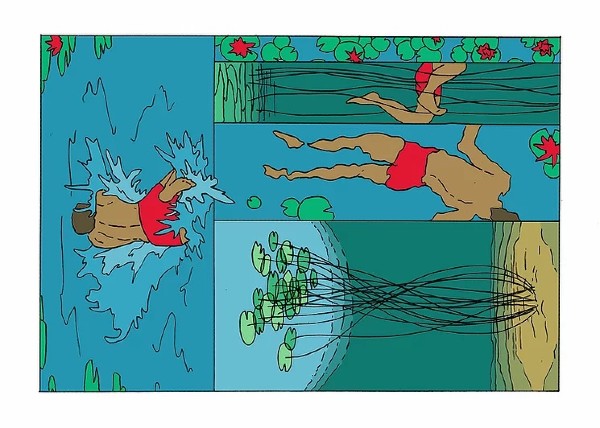 Quivertree is indeed both abstract and ambiguous but it's not oblique in the sense that the reader's own interpretive skills are a fundamental part of the reading experience. I say "interpretive" but reactive may be as appropriate a word as, like many abstract comics, we respond to it on as much an instinctive level as an intellectual one. From the very beginning, as our unnamed protagonist enters a pool in a desert environment, it's a cavalcade of differing perspectives, of alternative ways of seeing the same events, and thus the varied manners in which they can be experienced.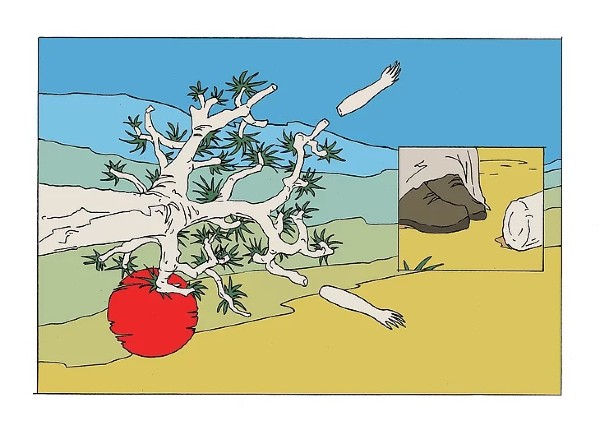 It's indicative of Mereida's ongoing and probing experimental enquiry in regards to the comics form and the functionality of its storytelling tools. As he progresses through this terrain panels become entwined with the central figure, like offshoots of his own existence held fast in fractured images and timeframes. The psychogeographical is always a recurring motif as individual and location become inextricably interlinked both thematically and formally; human physicality and outer world merging and influencing each other with an almost symbiotic link.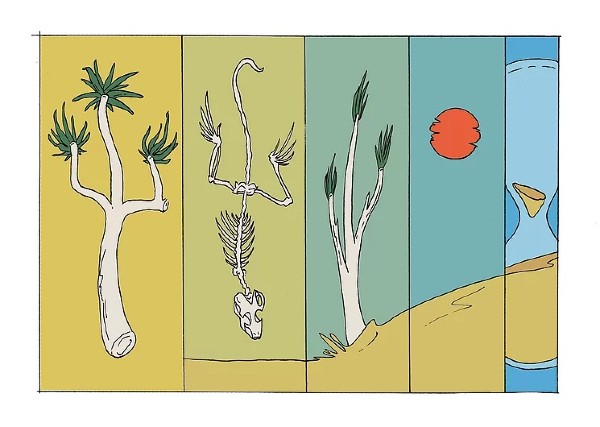 It's a fascinating journey, a visual stream-of-consciousness where the symbolic and the actual mirror each other in distorted reflection. Past impinges on present, linear sequence becomes confused and causality blurs. As ever from such a keen interrogator of the medium, experimentation is at the forefront – page structures shift, panels are manipulated to take on alternate storytelling roles, and "reality" is constantly made to bend and warp. Hidden truths are hinted at with the metaphorical presence of the titular quivertree (which can self-amputate its own branches to conserve water) and the all-encompassing interconnective nature of the quivering aspen.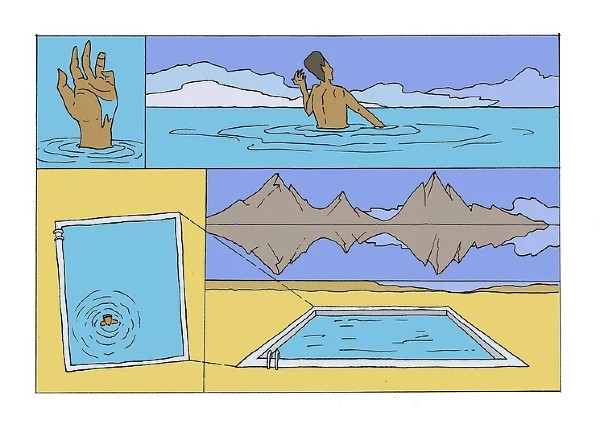 No two readers are going to experience or interpret Quivertree in the same way. There may be connected inferences they can take but everyone is open to find their own story and/or meaning here, and that's one of the profound joys of the narrative. Comics needs more creators willing to make the attempt to push the medium in new directions. And work like this, where the relationship between artist intent and audience reaction is deliberately obscured, is always welcome.
Mereida (W/A) • Self-published, £5.00
For more on the work of Mereida Fajardo follow her on Twitter here and on Instagram here. You can visit her site here and her online store here.
Quivertree is available in print here and in digital format here. 
Review by Andy Oliver