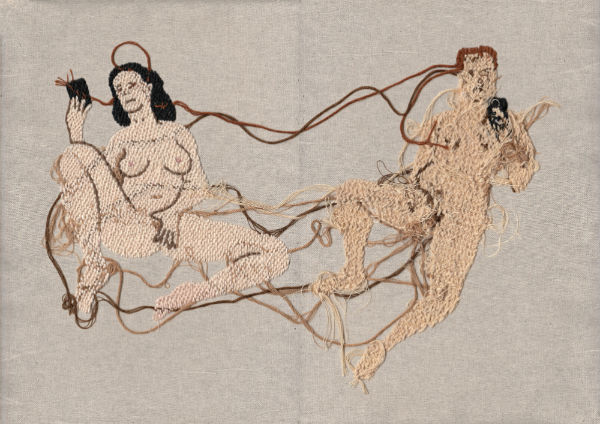 HCZF FORTNIGHT!
Two and a half years ago, Gareth Brookes contributed a story to the 'BFFs'-themed issue of Latvian publisher kuš! comics' digest-sized š! anthology. It was one of the standout short stories in the collection and was pure channelled Brookes at his experimental, visionary best. An embroidered comic strip that embedded narrative in presentation (and vice versa), I described its study of disaffected lovers here as " quite brilliant in both construction and conception."
Threadbare, the latest self-published comic from Brookes, sees the artist expanding on this approach with a more ambitious embroidery-based short story. It takes as its starting point a conversation Brookes overhead on a train when two older women looked back on the last time they were in love with a combination of wistful cynicism and weary resignation. It's a discussion that is painfully poignant in its dillusioned honesty as we revisit both of the women's pasts and the secrets that have shaped their lives.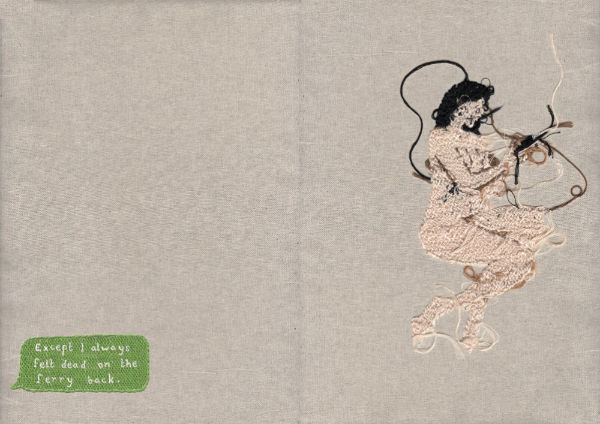 As with Brookes's previous embroidered work both sides of the original are often presented with not just the finished images on show but also, on many alternating pages, the stitching from the rear of the embroidery. These erotic vignettes tie into the main narrative in a manner that adds both the most intense intimacy to their accounts but also a sense of detachment in time; the latter enhanced by sections where only speech balloons float in isolation across the canvas of the page, inviting us to linger on and more fully immerse ourselves in the women's reflections on their past.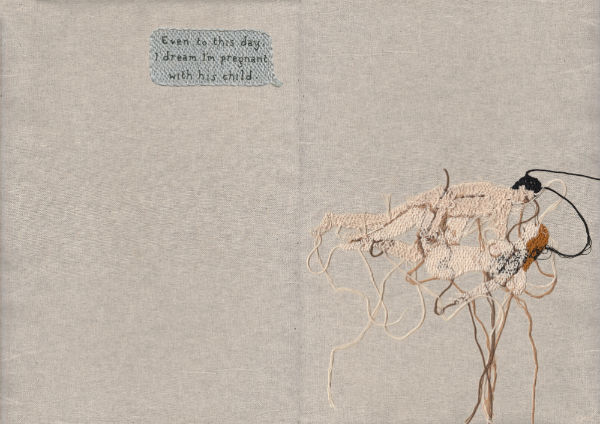 There's more to Threadbare than a sensual recreation of past dalliances however. Brookes opens the comic with both an aide memoire of post-night out "dos and don'ts" on his phone and a Twitter chat about the conversation he's overhearing that will make up the comic's contents. It's a thematic precusrsor to what is to come as the illustrative sequences don't just mirror the words of the women but also comment on our obsession with the tech that we carry around with us; mobile phones becoming fetishised, supplanting human partners as objects of affection in highly charged, interweaving visual metaphor.
Intricate and layered, and yet direct and immediate, Threadbare is an excellent entry point into the practice of Brookes for anyone attending the upcoming Hackney Comic + Zine Fair who has yet to sample his work. For those already familiar with his boundary-pushing approach it's a reminder of the genuinely new directions in which he continues to take the form.
For more on the work of Gareth Brookes visit his website here and follow him on Twitter here. You can buy Threadbare from his online store here from August 30th. 
For regular updates on all things small press follow Andy Oliver on Twitter here.
Review by Andy Oliver
Gareth Brookes will be exhibiting at Hackney Comic + Zine Fair on Sunday September 8th at Table 34.