ELCAF FORTNIGHT!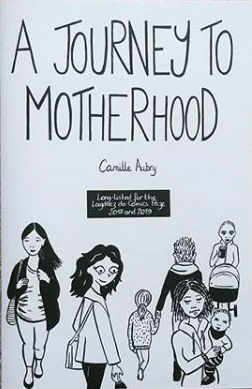 Two years ago at ELCAF I had the pleasure of meeting French artist Camille Aubry when I was giving portfolio reviews as part of the festival's Springboard Meetings programme. I've mentioned this before in reviews of Aubry's work at Broken Frontier but as we approach this year's festival it seems particularly important to underline as, since that time, she's produced three self-published comics and been longlisted twice for the Laydeez do Comics Prize. It's always an incredible pleasure, after all, to be there at the beginning of a creator's comics journey and see them going on to ever bigger and better things.
Aside from her Toddler Moments and Double Trouble minicomics presenting pithy observations on a young child's perspective on the world, Aubry has also been working on her longer-form graphic memoir A Journey to Motherhood, a no-holds-barred account of pregnancy and parenting told in an engagingly droll cartooning style that is notable for its accessibility and communicative use of visual metaphor.
At ELCAF Aubry will be debuting a limited edition collection of the early chapters of A Journey to Motherhood. Unsurprisingly, the story begins with the artist and her partner  discovering that she is pregnant; unexpectedly, though, this happens while they are on their honeymoon (cue exclamations of "amazing" and "wonderful" while thought balloons are expressing the more pragmatic reaction of "Shit!"). It's a scene that is indicative of the strident honesty that will be such an appealing part of A Journey to Motherhood as the reader progresses through its pages.
And so we follow the anxieties, reactions and trepidations of the pair as we observe them through Aubry's pregnancy to the birth of their son, and the ways in which their worlds are changed forever. There are bitingly funny moments here in terms of dialogue – a wistful look back at the hospital as the couple depart with their newborn provokes the question "Did you leave something behind?", answered by a withering response that needs to be read in its original delivery for the fullest impact. Equally, though, it's those little moments that stay with us – Aubry's sudden realisation of her unequivocal love for her son or the brilliantly effective rendering of sleepless nights worrying about him.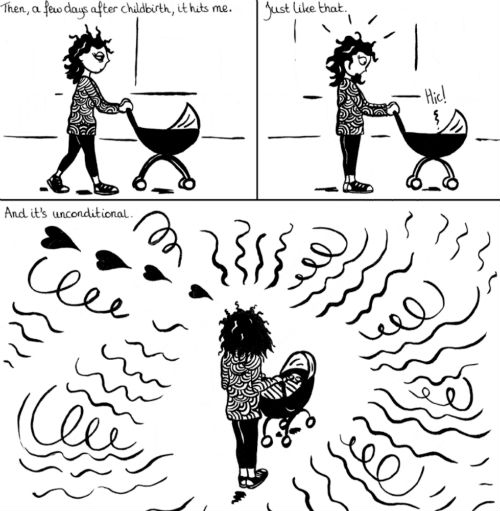 From the judgement of other parents to the fear of returning to work after maternity leave, Aubry brings us directly into her experiences with a line in illustrated metaphor that can be amusing and also deeply poignant; the communicative body language of her on-page self being a vital storytelling tool there. In that regard the book serves the purpose of both sharing her story with those for whom it will feel very familiar and those for whom it will be an education; sympathy and solidarity going hand-in-hand.
Publishers in the area of graphic medicine should be checking out this project with a definite eye on the future. Camille Aubry deftly captures both the trials and joys of motherhood with an uncompromising honesty and an endearing wit. Relatable and expressive slice-of-life cartooning at its empathetic best.
Camille Aubry will be exhibiting at ELCAF on Friday June 7th. For more on her work visit her site and online store here and follow her on Instagram here. 
For more on ELCAF 2019 visit the festival site here and follow them on Twitter here.