There are comics that feel like the subjects they touch on are inspired by direct personal experience, or that even if they are not their themes are so universal that we can all recognise and connect with them. Moonlit by Alxndra Cook (Wednesday's Child, Ghostly Thoughts) is one such short comic. On the one hand it's presented as a haunting fantasy story but it's primarily a tale of lost love, grief and coming to terms with both. Something that only the luckiest of readers will not be able to relate to.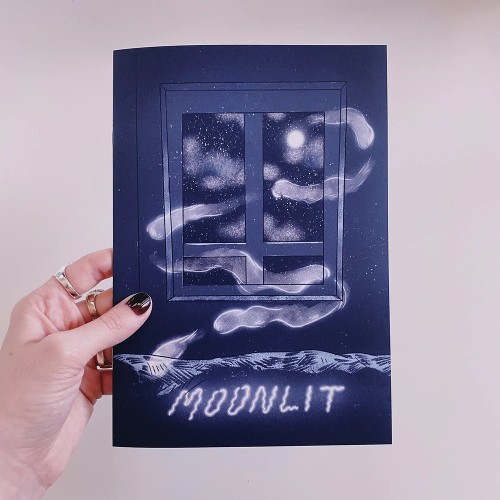 Moonlit uses the anthropomorphised characters of the moon and the sun, whose interconnected relationship is symbolic of a shared journey that is nevertheless still defined by separation and dissociation. Cook weaves that ethereal, supernatural coupling around a distinctly earthly partnership that has come to a recent end. The result is a lyrical reflection on acceptance, understanding and closure that is moving, subtly powerful and possessing of a resonance that is just so emotionally eloquent in delivery.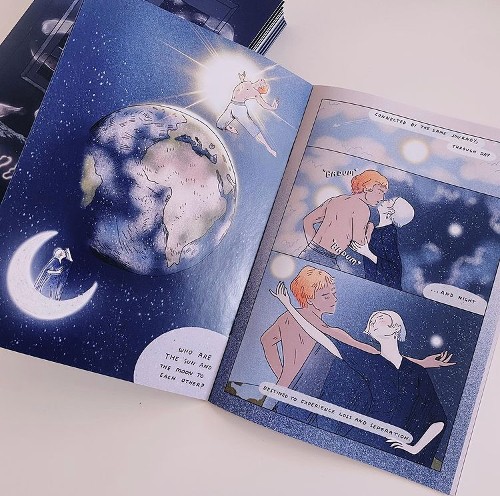 If you want an excellent example of a comics artist who uses colour as much as plot or visuals as a storytelling device then I would always point you towards Alxndra Cook's practice. Here the seemingly contradictory mix of eerily muted colour choices with odd splashes of more vibrant hues perfectly captures both the sense of melancholy and the spiritual she is looking to evoke. Without giving away too many discoveries that the reader should make for themselves in Moonlit there's a quite brilliant use of speech balloons to represent loss and the passage of time, and one  stunning two-panel sequence towards the end that again plays with time in the most heartbreaking fashion.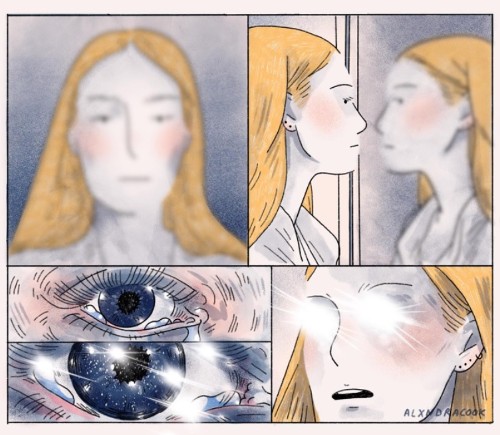 If there's one note I would give on Moonlit it's that the story is maybe just that little too bit overly compact. Just a couple more pages would have given the premise and the comic's thoughtful allegorical comparison a little more room for events to breathe on the page, and helped with both pacing and the segue from fantasy to something more reality-based. But, as storytelling problems go, having too many ideas to fit into an allocated page count is by far the least of creative concerns for an artist.
To echo sentiments I have expressed before elsewhere Cook's growing confidence with sequential narrative is a joy to see, with every new project underlining all the more what an exciting prospect she is. We should all be eagerly awaiting the day when we see something longer-form from Alxndra Cook on the small press comics shelves or, dare I say it, courtesy of one of the UK's finer indie-centric publishers…
Alxndra Cook (W/A) • Self-published, £4.00
For more on Alxndra Cook's work follow her on Instagram here and on Twitter here. 
Review by Andy Oliver