HCZF FORTNIGHT!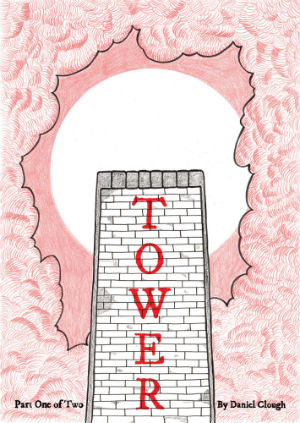 The village of Mortingford is home to the ancient Kempe Tower, an imposing and isolated structure hiding its own sinister secrets. When a sightseeing couple visit the Tower the supernatural forces that reside there are unleashed, with tragic consequences. But with the local authorities dismissing any claims of otherworldly influences the answers as to the tower's true nature and history may lie in the folklore of the local community…
We looked at Daniel Clough's sci-fi thriller Forest last week at Broken Frontier and here he proves himself a versatile writer from a cross-genre viewpoint with an atmospheric horror story that is both tense and terrifying, and also rather gloriously melodramatic in places as well. It's its opening sequence (below), though, that really hooks the reader and, without wanting to spoil its build-up, allows us to invest in the central characters in a very brief space of time. All before a perfect use of pacing and perspective provides a sequential art equivalent of a cinematic jump-scare…
The red colour scheme has its own obvious resonant thematic echoes and there's some intelligent use of speech balloon tails which arc around the back of the tower, never obscuring it, to emphasise its all-pervading presence at the heart of the story. In one poignant divergence from structured panels Clough also underlines the profound sense of loss his protagonist feels as events play out. It's his utilisation of these visual tricks that show an instinctive command of the narrative tools of comics and, while figurework and anatomy are rougher in places, his panel-to-panel storytelling is inherently strong.
Some genuinely creepy sequences later in the book ensure the audience's interest in the mystery of Kempe Tower will endure until the second and final instalment. Fear fans attending HCZF this coming Sunday will not be disappointed in an issue that nods to the great traditions of EC and Warren Comics by understanding that some of the very best horror is a synthesis of the unsettling and the unashamedly OTT.
For more on the work of Daniel Clough visit his site and online store here and follow him on Instagram here. 
For regular updates on all things small press follow Andy Oliver on Twitter here.
Review by Andy Oliver
Daniel Clough will be exhibiting at Hackney Comic + Zine Fair on Sunday September 8th at Table 39.