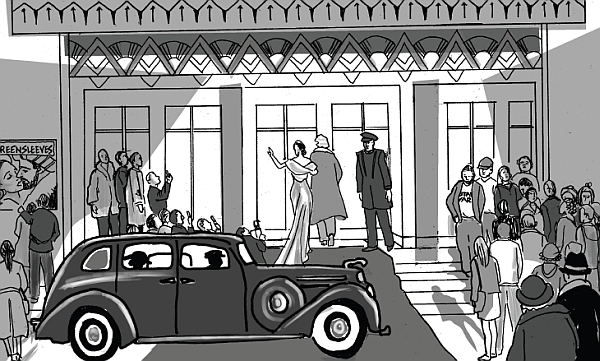 For those outside of the world of comics Jessica Martin will be best known as a versatile performer on both stage and screen – whether as star of musical theatre, multifaceted impressionist or, if you're a cult TV fan, for her guest-starring role in classic Doctor Who story 'The Greatest Show in the Galaxy'. But for UK comics aficionados she's the creator of 'It Girl' the critically-acclaimed comics biography of Clara Bow, a contributor to a number of well received anthology titles, and one of the shortlisted finalists in this year's prestigious Myriad First Graphic Novel Competition.
Martin's rapid rise in our comics consciousness is all the more remarkable given that she only became a face on the self-publishing scene in 2013. I've been following her burgeoning career in the world of sequential art for some time in 'Small Pressganged' – indeed we were the first site to review 'It Girl' here and I included the book in my annual "Best of" column for 2013 – so it was a pleasure to take this opportunity to chat with Jessica about rediscovering the world of comics, her love of classic cinema, the importance of self-publishing, and her upcoming graphic novel 'Elsie Harris Picture Palace'… (image below right © Jane Hobson)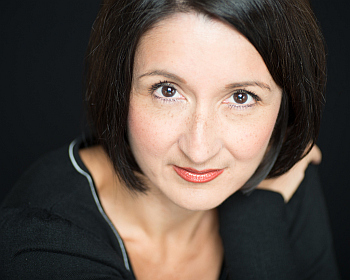 BROKEN FRONTIER: Comics is something that you've come to after a successful career in another area of the arts, and those who have seen you speaking about your work at events like Laydeez Do Comics or Gosh! Comics's Process night will be able to attest to your passion for it. What was it about the medium as a form of creative expression that so captured your imagination and inspired such dedication to a new artistic path? Was there one key, pivotal moment that motivated your entry into this world? 
JESSICA MARTIN: As you correctly mentioned I have spent most of my adult life carving a career in the arts. My first profession is as a musical theatre actress which I came to after starting out as an impressionist. The attraction to comics as a form of creative expression came to me as a natural evolution from my love of art and storytelling.
The initial 'eureka' moment happened on a visit to the Tate Modern a few years ago. No. I wasn't inspired to create some mind-blowing piece of theatrical installation art. In fact I was underwhelmed by the lack of pictures that 'spoke' to me. But I did enjoy looking at a wall of visitors' hand drawn postcards with comments about the Tate, just outside the main exhibition hall. I then felt compelled to buy a book called The Creative License by Danny Gregory in the museum bookshop. It is a beautiful hand drawn and written exploration of ways to get your inner Leonardo mojo going again. Many years ago I had been an almost compulsive draughtswoman, excelled in my 'A' level art but had rarely taken up sketching again in over twenty odd years. So the day after that visit to the Tate I started keeping a sketch journal and would draw anything and everything, everywhere! My long lost love had returned to me.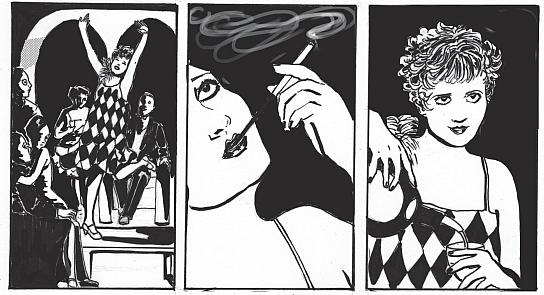 Clara Bow – the subject of Jessica's first self-published comics project
The next epiphany came when I was on tour with the show Spamalot. Phill Jupitus was in the production and with his background as a graphic designer I thought he'd be interested in looking at my now very full sketchbook. He said quite simply "You should do a graphic novel. You can draw and you've written scripts. Just do it for yourself and see where it takes you…"
I needed no further encouragement. I was on the yellow brick road…
BF: Your work has a very retro feel to it, one that certainly captures the feel of a certain classic era of comics for girls. How inspired are you by the comics you read in childhood?
MARTIN: My work has a retro feel to it because that is 'How I roll" as a modernist would say. As a child my visual influences were old films. My very first memory is of watching a documentary about Greta Garbo when I was about seven. I was utterly mesmerised by her look and all that eerie, ethereal black and white cinematography that could render her a saint or a sinner. The next Christmas my parents gave me a book called A Pictorial History of the Talkies by Daniel Blum. I still have and look at it to this day.
Inspirational comics from a Golden Age of British weeklies
I was lucky enough to grow up with an abundance of great girls' comics on the newsagents' shelves… Diana, Bunty, Jackie, Look-In, Princess Tina, Judy, Mandy, Twinkle, Tammy…all ages and tastes catered for and the art work was really good and varied. Plus these were the days of Ladybird Books and illustrated Puffin novels. I was indulging my nostalgic tastes too with old Girl and Schoolfriend annuals that belonged to my aunt.
BF: Since rediscovering the world of comics whose work has particularly influenced your approach?
MARTIN: Since rediscovering that world my first "Wow stop and look" moment was finding Bryan Talbot's Alice in Sunderland about eight years ago. That was before my proper initiation into comics but it certainly got me thinking that there were more ways to tell a story or recount history than text. It brought to mind illuminated manuscripts too with its intricacy and obvious dedication to the craft. When I seriously threw in my lot with comics, Gemma Bovery by Posy Simmonds, Alison Bechdel's Fun Home, Vertigo's Fables and Madame Xanadu, Kirby and Simon's Young Romance comics were really getting the creative juices flowing. Jaime Hernandez's Love and Rockets was revelatory. Although my style is not like any of these, the idea that you could do a graphic novel with strong characters and human as opposed to 'super human' interest was inspirational.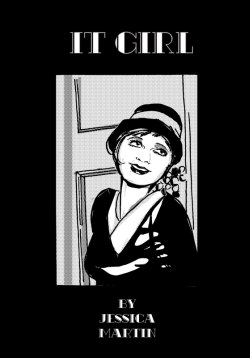 BF: Your first self-published minicomic It Girl (left), with its haunting biography of the largely forgotten silent film star Clara Bow, has been particularly well-received. Indeed, it made Small Pressganged's list of 'Ten UK Small Press Comics You Need to Own' for 2013. What was it about Clara's story that appealed to you as a subject and what has most pleased you about responses to the comic?
MARTIN: Clara Bow was a face very familar to my film buff eyes but I must confess I knew little about her aside from titbits picked up in the salacious Hollywood Babylon which I'd read years ago. I saw a documentary on BBC 4 about her last year that had me crying at the end. She had a tough life… which Hollywood star didn't? But she didn't chase the limelight and she was a vulnerable, open character… and she really did have "It". I think coming from a life in showbusiness as I do, I empathised with  the emotion Clara would have felt in dealing the extreme ups and downs of the industry. I am of course thrilled that my debut work has received attention  and generally good responses. Although to me it seems the most natural thing to create something about the genre I've loved all my life, it pleases me that in some way my 'traditional' style and choice of genre is considered groundbreaking. I'll be old news by the next one no doubt!
BF: How vital do you feel that self-publishing has been in getting your name and work out there? How important a role has it had in building up a core audience?
MARTIN: Self-publishing was the only route for me to fast track my way into building an audience for my comic work. In all the arts you have to manifest sufficient self-belief before that becomes 'others belief'. I don't mean that in an arrogant way. It's just the difference between playing air guitar in your bedroom or playing a real one in a rock stadium. Self-publishing a mini comic was also the perfect way for me to test the water before plunging into the deep end with a full length graphic novel. We're also in a time where technically so much more is possible in the world of self-publishing.
Pages from It Girl – Jessica's comics biography of silent film star Clara Bow
Years ago as an actress I would experience gaps between jobs which I regarded as 'me time' when I could create a one woman show or write a script. It opened up the creative channels and the hard work it took to do those things made me value myself and my work more. So when it came to spending time learning how to make comics, going to conventions and meeting people, reading every site I could find on inking, lettering, marketing, publishing… I developed a sense of making this happen as opposed to "If I get a publisher it will happen". Quite honestly my comic was going to be out there whatever the outcome with pitches to publishers. This is my baby we're talking about!
Self-publishing demystifies the whole publishing machine because effectively you get to role play at being a publishing house. You commission, edit, get the print run, market and distribute. The most magic ingredient is 'you'. I physically distributed my first run of It Girl by going into comic shops and book stores, meeting and chatting with the booksellers and that is so much more potent than sending your creation into the ether and crossing your fingers that the gods of comics are smiling down on you. I also created an online shop as well and I still haven't exhausted possible outlets for my It Girl comic. No major publisher is going to give more care and attention to your comic than you.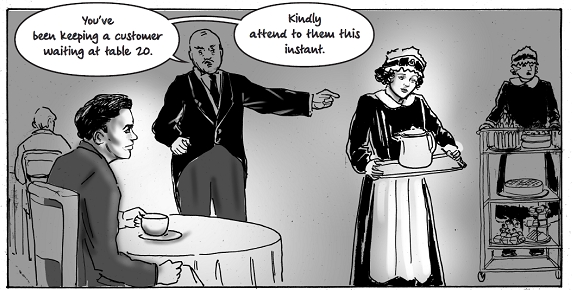 BF: Over the last year you've been working on your full-length graphic novel Elsie Harris Picture Palace (above and below). Can you elaborate on the book's central premise for the BF readership and how it ties into your love of classic cinema?
MARTIN: Elsie Harris Picture Palace is a coming of age, romantic adventure set in the 1930s. Elsie Harris starts off as a teenager waiting tables at a Lyons Corner House where a chance meeting sets her on a path to working in the film industry. My heroine is an avid movie goer (no surprise there) but the story draws on a lot of behind the scenes film history as opposed to the 'star overnight' scenario. I was reading a book about Alfred Hitchcock and was fascinated by his background in the silent movie art department and how much of a true 'artist' he literally was. What also struck me was how much his wife Alma Revell was the unsung power behind the throne. The seed for "Elsie" was sown.
BF: Elsie Harris Picture Palace is a project that I am personally very familiar with from my duties as one of the judges on the Myriad First Graphic Novel Competition this year. You were one of the six shortlisted finalists for the competition which was an incredible achievement given the number and quality of entries. How much of a watershed moment was that for you?
MARTIN: The whole Myriad Competition experience has been a major watershed moment for me. Corinne Pearlman of Myriad invited me to enter the competition after seeing my work at 'Thought Bubble" last year. This was the first time a publisher had approached me, even in an indirect way… as opposed to me bounding up to every publisher I could meet and trying to interest them in looking at my portfolio. That was one of those key moments when everything seemed 'real'. I have to mention at this stage my friend and mentor Mark Buckingham… known for his great art work on Fables and Dead Boy Detectives. I met him at the London Film and Comic Con just over a year ago and he looked at my portfolio of Elsie work in progress. He then became my active encourager and thanks to him I got to write my first published story Passing Thoughts which he illustrated for the Thought Bubble anthology 2013. So that was my first comic watershed moment.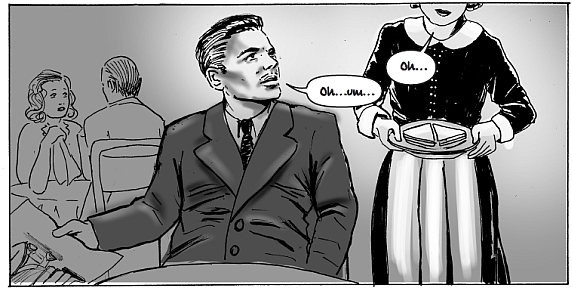 Anyway… back to the Myriad Competition..I decided to completely redo the first thirty pages of the Elsie Harris project which included rewriting and pencilling, inking, lettering everything from scratch. But I'd done an honest assessment of my work to date and also had a good chance to see the work of lots of other comic creators in the meantime and decided that what I had thought were finished pages were really only working sketches.
Proud doesn't begin to describe how I felt when it was announced I was on the Longlist of entrants and then to be on the Shortlist of six… after a year in comics!? Unreal.
What it has done for me psychologically is put me in a place where I seriously have to finish what I set out to do. Having your work publicly recognised in this way is an endorsement that you are on the right track and that thing that was in your in your head a short while ago is emerging like ectoplasm at a Victorian seance. To turn back now is not an option.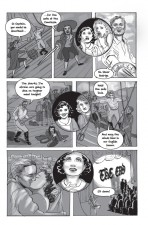 BF: One of the things that really stood out for me about Elsie Harris Picture Palace – and indeed something I mentioned at the British Library on the judging panel back in May – was how ably it used the language of comics to play with the readership's perception of time, space and perspective to heighten drama and manipulate the audience's emotional responses. Did the particular storytelling tricks of comics come to you intuitively or have you had to learn that craft as your work has progressed?
MARTIN: I think a combination of intuition and conscious technique have informed my comic storytelling technique. But to be honest, as in straightforward fiction writing there's an element of surprise no matter how meticulously you plan. Ideas can emerge when you've drawn something, look at it and the image offers up an alternative route to the one you were on before. It's good to keep the door open for the Ideas visitor to drop in.
BF: Given the period feel of your art could you tell us about the research side of your creative process? What have been your primary sources for reference?
MARTIN: My bookshelves are warped with the books I have amassed since taking up comic creation in general. I have a library of film books and old film annuals I have collected over the years which are now proving very useful for my Elsie research. I photocopied loads of pages out of my David.O.Selznick's Hollywood for my research files. Google images is a godsend and also the BFI where I can take notes from books and photographic reference from more rare or expensive books. The Cinema Museum is also a great source of physical reference. I love the research part but it can be an all too seductive procrastination device. I spent about three hours trying to track down a specific period film camera… then my daughter got hold of the iPad and found it in five minutes!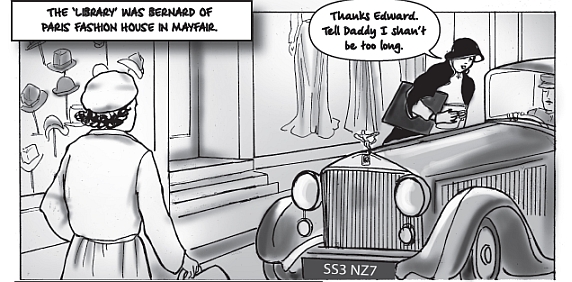 BF: You've been a part of two First World War anthologies this summer – To End All Wars from Soaring Penguin Press and To Arms! which evolved from the Gosh! Comics Process group. How did you become involved with these projects? What challenges were there to working with someone else's script on To End All Wars, and can you give us some background on Sapper Dorothy Lawrence, your choice of subject for your To Arms! contribution?
MARTIN: To End All Wars was an eleventh hour call. One of the artists had dropped out and John Anderson at Soaring Penguin got in touch to see if I could step in at short notice. He was familiar with my work and thought I had the right style for an 'historic' piece. The weird thing was, one of the writers, Christopher Colley, was an actor and we'd worked together years ago doing songs from World War One for a cabaret! His script read beautifully and it didn't take me long to envisage how it was going to go. Given the short amount of time it was to my advantage that I didn't have to come up with the script as well.
To Arms! came out of my presenting at Gosh Comics Process evening. Karim Iskander Flint, one of the editors was there and thought the It Girl style would suit their canon of indie contributions. I had to come up with the story as well and I knew immediately that I wanted to do a story about a soldier girl. I assumed there must have been some girl that dressed up like "Sweet Polly Oliver" of the English folk song fame (Google it!). As it turned out there was only this one British woman… Dorothy Lawrence and her history had been buried by the authorities of the time because it was considered highly embarrassing that a woman had 'slipped through the net' to get to the Front. Simon Jones, the historian has rediscovered her story and is I believe campaigning to have her commemorated in some way at the Imperial War Museum. I found her own memoir Sapper Dorothy Lawrence on Amazon and have adapted it into a seven-page story called "Tommy in Bloomers".
BF: To date your work has largely, if not exclusively, dealt with biographical and historical drama with heavy links to the world of cinema. Are there any other genres that you would like to play with in comics in the future?
MARTIN: I will probably stay with my running theme of strong female characters fictional or otherwise. I am collaborating with someone very experienced in comics  for which I am reading a lot of literature set in the Wild West. No it's not Deadwood… but think There Will Be Blood meets Saving Mr Banks (to use cinematic vernacular). I would also like to do something based on a play I wrote about American theatre pioneer Hallie Flanagan who was one of the first to fall foul of the House UnAmerican Activities Commitee… which morphed into the McCarthy witch hunts later on.
https://www.youtube.com/watch?v=ZgBHsT1z0RI
Clara Bow herself in probably her most well known film – 1927's 'It'
BF: And, finally, looking to the future when can we finally hope to see a completed edition of Elsie? And what projects – within comics and outside of it – should we be looking for from you in the near future? 
MARTIN: You heard it here first… Elsie Harris Picture Palace is coming out May 2015. You'll have to wait another week before I can tell you who's publishing it!  I am currently working on pages for my next mini comic Vivacity …a vignette about young Vivien Leigh to be launched at the next Thought Bubble. I'm co-ordinating a small press comic with five other creators… a film themed issue called Two Reel Comics and I'm doing art for a short horror story,  a trading card for Julia Scheele's next project Riot Grrrl and if I haven't collapsed… an exciting new musical for Christmas in Dublin …( again I can't announce details till it's all official).
For more on Jessica Martin visit her website here. It Girl is available to buy from her online store here priced £3.50.
For regular updates on all things small press follow Andy Oliver on Twitter here.