Debuting at Thought Bubble! From the roaring Twenties to a life of self-imposed solitude, writer/artist Jessica Martin tells the story of actress Clara Bow, forgotten icon from another era.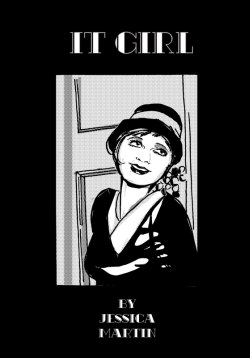 While the casual filmgoer may not be au fait with her work, more ardent fans of silent cinema will, no doubt, be acutely aware of the name of Clara Bow. Perhaps most celebrated as the original "It Girl", Bow made nearly fifty silent films in the 1920s, becoming one of the leading box office draws of her day. Sadly, with the advent of the talkies and a series of personal obstacles, her career began to wane and she lived out her later years as something of a recluse.
Her most famous film, 1927's It, contains her iconic performance as the feisty shop worker who crosses social classes in search of love, and showcases her astonishing, almost hypnotic screen presence; that same "It factor" implied in the movie's title. Despite her phenomenal popularity in her day, however, Bow's name is one largely forgotten outside of cinema history aficionados… something that debut creator Jessica Martin seeks to address in her first self-published comics work.
What is captured so perfectly here is that very essence of Clara; the vulnerability, the insecurities, and that childlike bemusement she projected. Martin traces her life from that poverty-stricken childhood to her unlikely climb up the Hollywood hierarchy, and her subsequent fall from grace. Jumping backwards and forwards in time, she uses the limited page count to economically recount the most salient points of her protagonist's career, immersing the reader in a real life melodrama, the poignancy of which would match any weepie that the silver screen of the time could have produced. What's so heart-rendingly communicated here is that if ever there was a public figure who fell prey to life's vicissitudes – the ultimate undeserving victim of the ficklest finger of fate – then it was surely this fragile soul hidden in a spirited exterior, so irrevocably damaged by her past.
http://www.youtube.com/watch?v=ZgBHsT1z0RI
Setting out to tell the story of any cinematic star's life, let alone one as eventful as Clara Bow's, in just twelve pages would be a daunting task for even the most seasoned artist. To attempt to do so in your first foray into published work is an ambitious undertaking indeed. The great strength of It Girl is in its ability to appeal to both those readers cognisant, and those unfamiliar, with its central character's history. While there's enough material here for a graphic novel in its own right (and there's a thought for the future!) Martin provides an able précis of Bow's rise and fall, summarising the pivotal points but still managing to fully engage the reader's empathy with Clara in just a handful of pages.
The retro period feel of the piece is gorgeously observed and beautifully referenced, and Martin's visual interpretation of Clara has an almost haunting authenticity, with those unforgettable eyes and their plaintive, lingering quality being particularly well realised.  But what is so remarkable here – and bearing in mind this is, if not Jessica's first comics material (more on that further down), then certainly her debut self-published piece – is the confidence with which It Girl is structured.
There's an intuitive and assured sense here of how to deftly manipulate the page to convey information and evoke emotion, while remaining true to the spirit of the subject matter, that is incredibly assured in such early work. Without giving too much away, pick up a copy at Thought Bubble and just check out the montage of Clara's beaus, or the use of intense close-ups to express mood or feeling, to see what I mean.
It Girl only serves to emphasise how much it's worth watching out for Martin's graphic novel-in-progress Elsie Harris Picture Palace in the future –  another hearkening back to a golden age of cinema but this time with an overtly fictional approach. A number of preview pages of that book are included in It Girl. One of the privileges of being involved in online reviewing is the opportunity it affords for sneak peeks at ongoing work and, having seen how Elsie has been shaping up over the last few months I think this is going to be a very special book indeed.
A memorable tribute to one of cinema's forgotten stars, It Girl is both a vivid recreation of a decades gone era of cinema and a welcome introduction to the stylish and elegant art of Jessica Martin.
It Girl is on sale at Thought Bubble priced £3.00 from Jessica (on Sunday only) in the Royal Armouries Hall at Table 23 with Mark Buckingham. For more on Jessica Martin check out her official site here. It Girl is also available to buy via Jessica's online store here.