The back cover blurb to Andrew Waugh's A Bunch of Amateurs describes the book as "comic vignettes about the boffins, tinkerers and inventors who changed scientific history from their kitchen tables". It's a slightly irreverent promotional blurb that gives an indication of the tone of the interiors of this biographical comic on some of history's most unlikely scientific geniuses.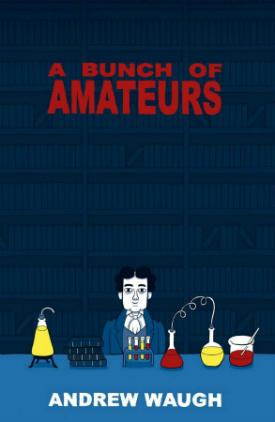 In twenty pages Waugh shines a mirthful spotlight on the achievements of Gregor Mendel ("the father of modern genetics"), Hedy Lamarr (Hollywood actress who also co-invented an early form of spread-spectrum communication technology), Mary Anning (Victorian fossil hunter extraordinaire who made some of the most vital finds in paleontological history), and Michael Farady (celebrated scientist who was nonetheless entirely self-taught).
Each strip runs between four and six pages and mischievously mixes fact with speculative shorthand silliness. Waugh's wonderfully ridiculous humour grounds the lives of each of his subjects in a mundane reality that underlines the thematic premise of the book – of "ordinary" or unlikely people achieving remarkable things. Mendel's experimentation with pea plants in the Augustinian community in which he lived as a friar – and which form the groundwork of our modern understanding of heredity – is framed, for example, in the terms of an exasperated monastery cook whose menu options have been seriously limited by Mendel's pea-based horticultural investigations.
Similarly, Lamarr's attempts to help the war effort with her discoveries becomes a verbal fencing match with two gormless sexist officials incapable of separating her on-screen persona from the real person, while Mary Anning is depicted as a seaside huckster taking advantage of the tourists. And if you've ever worked in a library or a bookshop you'll be nodding in familiar agreement at the entry for Michael Faraday asked to locate a book on the vaguest of physical descriptions (see top banner image).
There's something faintly ludicrous about all of these scenarios but the off-the-wall presentation of each serves to remind us of the remarkable scientific achievements of men and women working against the odds in often unprivileged circumstances or against an establishment that, on spurious grounds, would never have taken them seriously.
Crucially, A Bunch of Amateurs is also a very funny piece of comics. Waugh has a great eye for comic timing both in terms of dialogue build-up and panel-to-panel pacing. His visual characterisation is also superb with a withering glance or an inane piece of gurning speaking comedic volumes. The use of colour is also carefully chosen throughout – seaside blues for Mary Anning, sepia browns for Faraday's dusty bookstore, verdant greens for Mendel, and so on.  And all of the strips herein have a common thread of protagonist getting one up on imbecilic authority figures which, of course, is an appealing little echo back to the great traditions of British humour comics of yesteryear.
Wittily constructed with a serious point to make at its light-hearted core, A Bunch of Amateurs is a pithy collection of clever shorts. Succinct but cuttingly droll.
For more on Andrew Waugh's work check out his website here. You can buy copies of A Bunch of Amateurs here priced £4.00.
For regular updates on all things small press follow Andy Oliver on Twitter here.