Simon Moreton's minimalist storytelling style in his Smoo Comics series has marked him out as a small press creator with a unique approach to the comics page. He's been covered here in 'Small Pressganged' in the past with his work also making my 2012 'Ten UK Small Press Comics You Need to Own!' end of year round-up, and I described Smoo Comics #5 last year as "understated yet emotionally eloquent, this is slice-of-life storytelling at its most open, candid and sincere."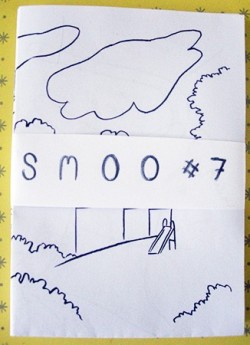 While in terms of content  Smoo Comics #7 covers Moreton's usual territory with its thought-provoking autobiographical reflections, in terms of presentation it's a little more experimental with its format. The inspiration behind this particular multi-item issue is a visit back to his childhood home of Caynham and the memories stirred up by his return to the village where he spent many of his formative years.
Smoo #7 comprises three minicomics and a map of Caynham along with an accompanying letter adding some extra perspective to the comic's creation. The comics can be read in any order but I would suggest giving them a read in a random order then coming back to them a day or two later and tackling them in a different sequence. They're set at different points in Moreton's life but such is their complementary nature that an alternate reading arrangement can evoke distinct and discrete emotional responses to them.
The three pages reproduced here come from the comic that examines the veracity of our early recollections and how we build a mythology around those experiences. It's the stuff of Moreton's boyhood nostalgia – the thrill of exploring abandoned buildings, the sanctity of the familial home and those hazy reminiscences of events that may or may not have happened in the way that our memory has chosen to record them.
The next minicomic contrasts the here and now with the then and long gone. It also touches on themes of dealing with depression and its effects that have been a recurring theme of previous editions of Smoo. It's a raw and haunting short but also one that has a beautifully poetic feel to it with a perfect synthesis of imagery, pacing and sentiment; pensive rather than sombre with a resonant mix of the contemplative and the resigned.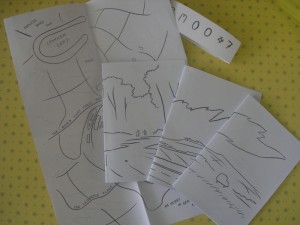 Every time I read a Simon Moreton comic I'm struck by how the more reductionist his art becomes the more expressive it is. That's never been more in evidence than in the final minicomic in this set which is a lingering look at that April visit to Caynham that he made years later revisiting those childhood stamping grounds. It works in harmony with the other two stories to create something far greater than the sum of its parts; each of the three books echoing and mirroring the perspectives and emotional ranges of the others.
Smoo Comics #7 is possibly Simon Moreton's most intensely personal work to date and yet it remains wholly accessible. Moreton has a canny knack of engendering an empathic response from his readership, inviting them into his meandering narratives and providing something both identifiable and familiar. Let's pirate a phrase from the alleged mainstream of comics and call this the perfect "entry point" to his work. If you haven't tried the sequential art of this quite extraordinary creator yet then there's no place better to start than Smoo Comics #7.
Smoo Comics #7 is available to buy here priced £4.60. For more on Simon's comics check out his site here.