Debuting at Thought Bubble! Today's column takes a look at Adam Murphy's Fever Dreams, a collection dredged up from the darkest corners of his imagination…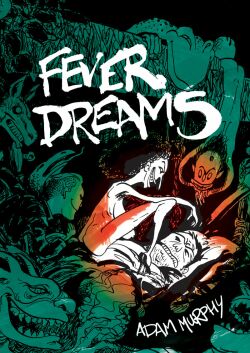 Adam Murphy is the creator behind British kids weekly comic The Phoenix's Corpse Talk. It's a strip where Adam enlightens the younger readership about the lives of history's movers and shakers by interviewing their cadavers about their exploits. A clever conceit that dresses up a mission to educate in the kind of gruesome icky-ness that children just love to experience in their reading matter.
Fever Dreams is something altogether different. Murphy describes the book as a project designed "to create by listening, without judgement or fear, to whatever was churning in my subconscious mind" and the result is fourteen stories of varying lengths that have an uninhibited flow to them. It's material that, visually, has all the quirkily cartooned tics of Murphy's all-ages stuff (albeit with a variety of artistic approaches) but in tone could not be more different. An unrepressed adult anthology that, in terms of its presentation, acts as a kind of patchwork stream-of-consciousness.
The first thing that came to mind when approaching this review was a comparison with one of Winsor McCay's classic works but what we're supplied with here is less Dream of the Rarebit Fiend and more Dream of the Half a Bottle of Absinthe and a Vindaloo Fiend. Murphy's insistence that elements of Fever Dreams would represent the deepest depths of his psyche proves to be a candidly accurate one. This is unrestrained and often very explicit work with an acutely raw honesty to it.
Unsurprisingly, much of Fever Dreams defiantly shows that peculiar logic found only in dreams. To give one example 'Marine Biology' (below), the opening story of a sub-mariner's deep sea encounter with a mermaid, appears at first to be taking a traditional approach to that old theme of two incompatible worlds meeting briefly. But there's an unseen twist in the tale that leads to a conclusion that is both bizarre and yet rather poignant; one that from the get-go underlines that there will be no compromising the "mission statement" the author has set himself. Murphy's colouring here is simply beautiful giving a quite otherworldly atmosphere to this undersea realm.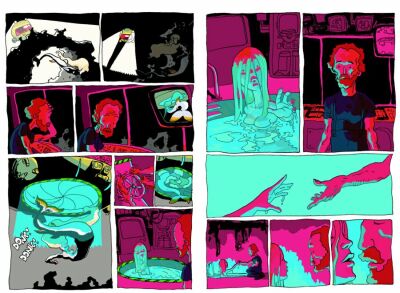 The entries that most resonated for me throughout were largely those that most directly followed the claim that Murphy would be following the muse of his inner voice without restriction. 'On the Menu' (below), wherein a young man begins a philosophical debate with a demon in a diner, was the stand-out for me but I was also rather taken by the darkly witty untitled 4-pager in which a skeleton takes a brief sabbatical from its host body. Some well played sight gags here and, again, very much the type of odd concept that crawls into your personal dreamscape in the wee dark hours.
Some pieces are far more conventionally structured working up to a punchline, whether verbal or visual; a spiritual lesson on the nature of God in 'Listen Carefully, God is Speaking' for example, or the ill-fated antics of the treasure hunter in 'Deep Sea' (below). There are subtler mini-narratives as well, however. I'll point you in the direction of a tender short concerning a small boy and his red balloon in that regard. In general though, the briefer offerings are, perhaps, a little too throwaway, intermingled as they are within the longer work the slightness of what they have to say becomes more pronounced.
The material here was created over three years and that does show in that the contents of Fever Dreams do feel quite disparate at times; as a collection of stories it certainly has something of a disjointed feel to it. But then, ultimately, the whole reason for the exercise in the first place was to illustrate Murphy's otherwise hidden mental meanderings, regardless of their nature, so it would perhaps be missing the point entirely to be critical on that criteria. This is a journey through his subconscious, warts and all, and that's reflected in these visual ruminations that can be in turns moving, slapstick and sometimes seriously disturbing.
From The Phoenix to the spiritual comics anthology Wu Wei, Adam Murphy is a creator whose work I've felt for some time deserves a much higher profile. Whether Fever Dreams will be too radical a departure for the older portions of his established audience is open to debate but it would be a tiresome world indeed if artists didn't continually try to push the boundaries of their work. The more explicit parts (and they are indeed conspicuously unconstrained) may not be to every reader's taste, but Fever Dreams is a bold experiment in committing to the comics page without compromise and a showcase for a very different side of Adam Murphy's work.
Fever Dreams is available at Thought Bubble priced £8.00 from Adam's table 86B in New Dock Hall. For more on his work check out his website here.