Reading the background information which arrived with my copy of London artist Darren Cullen's Join the Army I wasn't surprised to note the polarised reactions this most uncompromising of anti-war comics has garnered to date. Three potential printers refused to have anything to do with it and it has provoked the ire of the English Defence League online, and yet Cullen also points to testimony from former serving soldiers to the veracity of the morbid humour contained within its pages.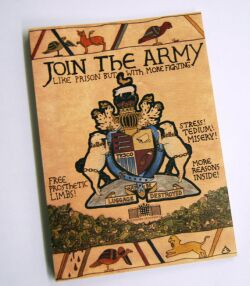 Just a quick glance at the acidic cover copy – "Join the Army. Like prison but with more fighting" – gives you an idea of the type of material you're about to immerse yourself in. Cullen has created this mock armed forces recruitment publication as a counterpoint to his perception of pro-military advertising propaganda within the media. If you think of Join the Army as a cross between the physicality of Nobrow's Leporello series of publications, the panoramic structure of Joe Sacco's recent The Great War, and the self-consciously manufactured offensiveness of British monthly Viz at its most bitingly incisive then you will be roughly on the right lines.
With its concertina format Join the Army has a tactile dimension to it that obviously allows Cullen presentational opportunities that would not have been possible in the same way digitally; the potential of which he adeptly exploits. One side comprises a Bayeaux tapestry-style offering underlining the futility of warfare which echoes the naive but unforgettable imagery of its inspiration. Bickering MPs a lifetime away from the horrors of the frontline are juxtaposed with images of JCBs dumping great piles of corpses, violent army training camps, and slaughter on foreign shores. It's not understated satire by any means but by re-appropriating one of history's most iconic representations of the battlefield with his bludgeoning wit Cullen adds an extra layer of commentary to his raw but highly charged visuals. As much as we may wish to fool ourselves otherwise, we're still no further on than when we were firing sharpened sticks of wood into a monarch's eye 1,000 years ago…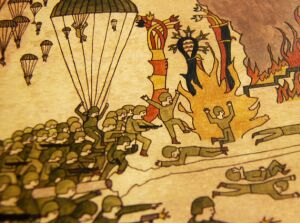 Turn Join the Army the other way round and it can be read more traditionally as a series of comics, mock advertisements and illustrated parodies. There's a familiar refrain in these recruitment spoofs via the tagline "Army – Be the Meat" which sums up the tone of the piece, and I doubt it will shock anyone if I note that Cullen is even more provocative in his delivery here. However, what may superficially seem like an unrelentingly sardonic parade of bad taste humour – a butcher's diagram for the best cuts of meat on a British soldier, ads for "Tank Tread Skull Remover", and so on – works on a far deeper level, making acutely cutting observations on those institutions that brand the practice of warfare as an exciting career opportunity.
I'm sure there will be those who will be offended by Join the Army because they either can't see or don't want to see the points the artist is making. Equally, there will also certainly be those who fully understand the message and yet still feel the material crosses a line. But, however confrontational Cullen's approach is, there's a sense of purpose to the black wit that sits behind his scathing and deliberately unrefined sending up of the way in which a life in the armed forces is sold to potential recruits. At times the comic does have the subtlety of a sledgehammer but, after all, that's part of its mission – not just to lampoon its targets but to mirror their excesses as well.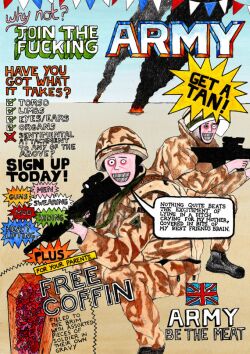 Controversial? Absolutely, and I can fully understand why this is a comic that will divide opinion. But, to state the blindingly obvious, one of the reasons art exists is to push boundaries and create debate and, to use a somewhat apt metaphor, Cullen is certainly unafraid to stick his head above the parapet in that regard.
Join the Army serves as both a clever piece of graphic design and a defiantly antagonistic refutation of the glorification of combat, and is, without a doubt, one of the most intriguing uses of the medium to come across my 'Small Pressganged' desk in 2013…
Join the Army is available from Darren's shop here priced £7.00 for the standard edition and £10.00 for the deluxe edition. For more on his work check his site here.