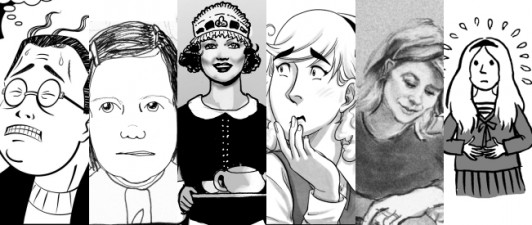 On Friday 23rd May the winner of the Myriad First Graphic Novel Competition will be revealed at the British Library as part of the Comics Unmasked programme of events. On the night, Comics Unmasked co-curator Paul Gravett will be in discussion with the competition judges – Myriad Creative Director Corinne Pearlman, novelist Meg Rosoff, graphic novelists Woodrow Phoenix and Nicola Streeten, and Broken Frontier's own Managing Editor Andy Oliver – to discover what qualities they were looking for in the winning entry.
With tickets now available to buy from the British Library site here Broken Frontier is today presenting a page from each of the shortlisted six creators' entries to give you an idea of what you can expect to see on the big night. Corinne Pearlman said of the final six "The shortlist is an amazing reflection of what's happening right now in graphic novels: four of the works are graphic memoir and two are fiction; five are by women; three involve health issues." Join the judges, previous winner Gareth Brookes (The Black Project) and the six finalists at the British Library on the 23rd to find out just who has taken the ultimate prize in the 2014 Myriad First Graphic Novel Competition!
Hole in the Heart – Henny Beaumont
When the hospital registrar tells you that your new baby might have Down's Syndrome, the diagnosis may change your life forever…

Panic Attacks – Francesca Cassavetti
Moving from London to Paris sounded wonderful, with the promise of a new life and new friends. Within a few years that illusion would be shattered. What happens when a child grows up living a lie of the happy family?
Mumoirs – Wallis Eates
Wallis Eates grew up as the only child of a single mother, in an era when everyone from Margaret Thatcher to Madonna had something to say about single mothers and fatherless children…
Elsie Harris Picture Palace – Jessica Martin
A rags to riches romance that begins in the film industry of the Thirties, the story charts the fortunes of Londoner Elsie Harris from a 'Nippy' at the Lyons Corner House to international film director in the forties and fifties.
For the Love of God, Marie – Jade Sarson
Marie is a girl with the gift of understanding, who is often misunderstood. This graphic novel follows her life and loves, as she tries to understand and love those few special people who need her help to be themselves.
Sack, Crack & Back (& Brain) – Robert Wells
Twenty-five years of chronic – and mostly very embarrassing – health problems may not be the easiest of tales to tell, but Robert Wells promises plenty of laughs as he gets to grips…
To book a ticket for the First Graphic Novel Competition event at Comics Unmasked visit the British Library site here.