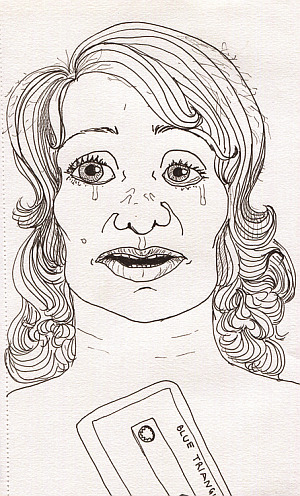 One of the great privileges of my involvement, in a judging capacity, in last year's Myriad First Graphic Novel Competition was the opportunity it provided for an exclusive look at exciting and often experimental work-in-progress from a number of hugely talented newer creators on the scene. Wallis Eates was one such artist, and also one of the six shortlisted finalists in the competition for her impressive take on the graphic memoir in Mumoirs – an account of "growing up as a single child to an unmarried mother in the 1980s".
Now, before we go any further, I need to clarify that the four self-published Wallis Eates offerings I'm looking at today that fall under the umbrella title of Fleeting Faces are not comics. They sit very firmly in the realm of illustrated stories. Anecdotal shorts or, as Eates describes them on her site, "snapshots of people gone by". However 'Small Pressganged' has never shied away from covering zines in the past when relevant to a comics audience and Fleeting Faces is an obvious thematic complement to her work on Mumoirs.
What immediately struck me about these brief visitations to Eates's past is how emblematic they are of the unflinchingly candid and honest work I saw from her on Mumoirs (visit her site here for some examples of that project). Each consists of between just 5-7 pages of remembrances of memorable characters from her past with distinctive titles like Dead Dave, Jilted Jolene, DeLorean the Backward Step-Cousin and Basement Sue, and sensitively captures her impressions of each of these individuals from the perspective of her younger (usually child-aged) self.
There's a dark humour to each of these pieces that leaves the reader with a simultaneous sensation of being morbidly amused and yet also awkwardly guilty given the autobiographical nature of the work. Dead Dave (below right) is a prose portrait of a former boyfriend of Eates's mother in the early '90s – "I met Dead Dave four years before he died, when he still moved his body around and said things. Did things. To others, to himself" – that in just a few transitory paragraphs builds up a full and revealing picture of her feelings towards an indifferent chancer, and yet still manages to end on a tender and poignant note.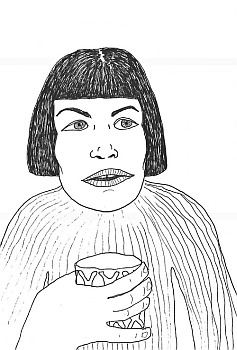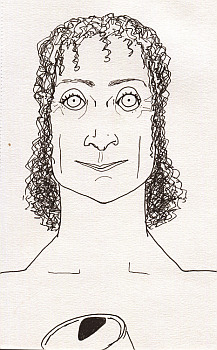 In each of these character vignettes Eates veers from carefully constructed witty paragraphs full of knowing pop cultural references and droll observational commentary – "Ann was like a good-looking version of Margaret Thatcher, all peach and pearlescence, flowery blouses and talcum powder" – to raw, unrestrained and near stream-of-consciousness recollection. That child's eye view of the world is never bettered than in Basement Sue (below left), an account of her mother's former colleague who died from a brain haemorrhage at just 33, evoking in the young Wallis the potential of "my worst fear – mum-death."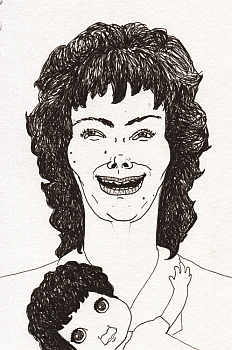 Again in both DeLorean the Backward Step-Cousin (above left) and Jilted Jolene (top image) it's that ability to take us into the mind of her past self and the way she interpreted the world around her that makes each of these zines such an utterly compelling read. Formative friendships with a child in an adult's body, and a girl in a neighbouring flat, make up the subject matter of these last two publications, both of which adopt that same blasé, matter-of-fact, discursive approach. There's what I can only term a crude elegance to her use of language throughout – "…her brother got an actual girlfriend, one with spots so raw you could taste them…" – an emotional openness that is both endearing and welcoming.
Whenever I'm asked for advice by aspiring creators looking to produce longer-form comics narratives about promoting their work and getting their name out there the first thing I suggest to them is to self-publish a chapter or a self-contained sequence from their projects. Having something for reviewers to consider is the first step on the journey to finding an audience, building up a profile and potentially coming to the attention of a publisher. These four "issues" of Fleeting Faces may not be comics per se but they provide an excellent entry point to Eates's style and the tone of her work on Mumoirs. Most importantly, they will hopefully help that latter project move one step closer to finding a publisher because someone, somewhere out there, really needs to pick it up, and soon!
The Fleeting Faces zines are available at London's Gosh! Comics in their small press section priced £1.00 each. You can also read the unillustrated versions online on Wallis Eates's site here.
For regular updates on all things small press follow Andy Oliver on Twitter here.