"I actually can't even believe it, and there are all of the emotions, but the best thing is I get to finish the book now."
The words of our very own Broken Frontier team member Jenny Robins on winning the 2018 Myriad First Graphic Novel Competition last night (her other responses were "Aaaaaaaaaaaaaaaaaaaaaaaaaaaaaaah" and "I guess they liked my comic.") The announcement came at the end of an evening of fascinating comics discussion with all the shortlisted creators at the Basement Bar of Hodge Jones and Allen in North London.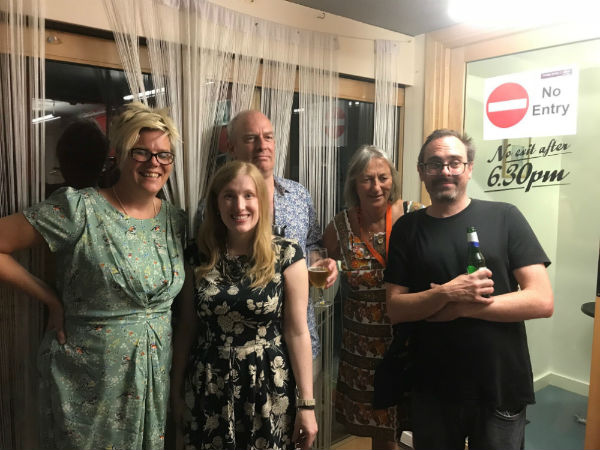 Jenny Robins (second left) and left to right judges Kate Evans, Martin Rowson, Corinne Pearlman and 2012 winner Gareth Brookes
As you can imagine, the Broken Frontier Bullpen is in full celebratory mode today as we clink our glasses in a toast to Jenny and look forward to seeing her graphic novel, Biscuits (assorted) published by Myriad further down the line. It was a big night for the site with our 2017 BF 'Six Small Press Creators to Watch' star Sabba Khan also shortlisted. Panel Borders host Alex Fitch chatted to each of the shortlistees with additional input from the judging panel of Corinne Pearlman, Kate Evans, Sarah Shaffi, Wei Ming Kam and Martin Rowson.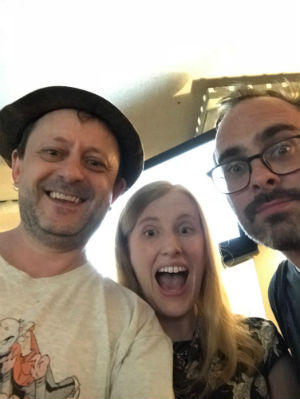 A celebratory moment post-announcement for Jenny with BF Editor-in-Chief Andy Oliver (left) and graphic novelist Gareth Brookes (right)
If you want to check out the artists behind the seven final projects (and, of course you do!) they were:
Cathy Brett WHO KILLED JO-JO?
Sabba Khan PLURALISM
Clarrie Pope & Blanche Pope WELCOME HOME
Jenny Robins BISCUITS (ASSORTED)
Zara Slattery COMA COMIC
Anna Trench EZRA STONELEIGH
Sarah Ushurhe PERSEVERE
We've said a lot in the past about the First Graphic Novel Competition, its importance to aspiring graphic novelists and Myriad's proactive role in nurturing new talent (you can read more about that here at Broken Frontier) and we have no doubt that you will be hearing a lot more from the finalists in the months and years to come.
But today is Jenny's day and we're absolutely thrilled for her here at BF. Those of you in central London tomorrow for the Small Press Day celebrations will be able to meet her at London's Gosh! Comics from 7pm when we launch the 2018 Broken Frontier Small Press Yearbook (you can also order it online here). Not only does it have a Jenny Robins cover but there's also a new comic by her in its pages. Jenny is also speaking at Laydeez do Comics on Monday night. You can book for that here.
For more on the work of Jenny Robins visit her site here and you can buy a promo zine of Biscuits (Assorted) at her online store here. You can also follow her on Twitter here and Instagram here. 
The full Myriad Editions press release follows below.
Myriad Editions is delighted to announce that the winner of the 2018 First Graphic Novel Competition (FGNC) is Jenny Robins. The announcement was made by former FGNC winner Jade Sarson at a packed event hosted by solicitors Hodge Jones and Allen on Thursday 5 July. The winner is offered the chance to develop their work with Myriad with a view to publication.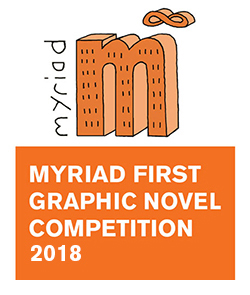 Jenny Robins was chosen for her graphic-novel-in-progress Biscuits (assorted) interweaving stories featuring a diverse cast of women living in London. The characters include Maya, who overshares on public transport, Hana, a relentlessly positive supermarket employee and Sarah, a cancer patient completing a data analysis on London's playgrounds with her daughter. Biscuits (assorted) was chosen from 109 entries, over 60% by women.
'Like an excellent tin of biscuits – the expensive kind where some are wrapped in colourful foil – we couldn't resist reading just one more page of Biscuits (assorted)' said journalist and blogger Sarah Shaffi, joint organiser of BAME in Publishing with fellow judge writer Wei Ming Kam. 'Funny and quirky, we loved the strong art style, which thrummed with personality. The women of Biscuits (assorted) are the women we know, the women we are ourselves. [It] captures the chaotic nature of living in London – a beautifully coherent, and often very funny, piece of work.'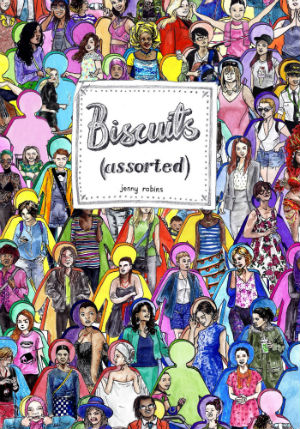 'This was an incredibly strong shortlist, any one of which deserved to win and I hope every one of them makes it to print' said cartoonist Kate Evans, author of Threads, also a judge alongside Myriad Creative Director, Corinne Pearlman and cartoonist Martin Rowson. who said how much he had enjoyed the judging and confessed to having his mind changed many times. 'What I love about [Jenny's] drawings is the certain knowledge is that the reader could step through the frames and keep walking for months.'
Jenny Robins said: 'I am so thrilled and grateful…to have won this prize, most of all because it means I get to make a whole book. The impact that this award will have on me, but also on everyone that was able to enter, is so great and Myriad are such a force for good in developing comics talent that it is an honour to be included, let alone chosen.'
The First Graphic Novel Competition, a companion to the First Drafts Competition, continues Myriad's mission to encourage new or established creators who have not previously published a full-length graphic work. Entrants are asked for 15-30 pages of a graphic work-in-progress, fiction or non-fiction, with or without words. Myriad has a track record in publishing shortlisted works as well as those of the winners.