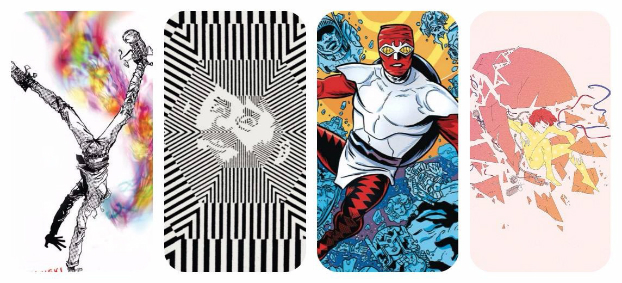 It's nearly Wednesday, and you know what that means: a fresh load of comics and graphic novels! With so many publications hitting your local comics store or digital storefront, the BF team are here to lead you through the woods with our weekly staff picks. Satisfaction guaranteed!
Comic of the Week
Fante Bukowski Two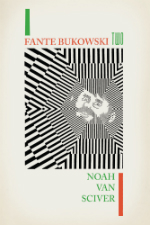 Noah Van Sciver (Disquiet, Broken Frontier Anthology) brings us a sequel to the much beloved novella about an aspiring, but talentless, writer searching for that golden idea that will rock him to success.
The first volume earned Van Sciver an Eisner nomination for best writer/artist and he's nominated for another Eisner this year for best single issue. Don't miss out on his hilarious and compassionate critique on self-important, fame-hungry writers who view themselves as the next great American novelist.
Noah Van Sciver (W/A) • Fantagraphics, $14.99
– Tyler Chin-Tanner
Goatherded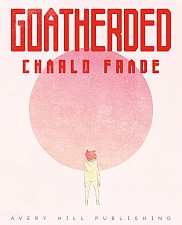 Avery Hill Publishing could never be accused of having a "house style" when it comes to choosing their publishing projects. From Rachael Smith's offbeat character studies to Simon Moreton's pensive autobio minimalism through to the dreamy visual metaphor of Tillie Walden and the wicked whimsy of EdieOP, their list embodies the very notion of eclecticism.
This week sees the debut of the second book in their 2017 schedule, Charlo Frade's Goatherded. Within the environs of a desolate alien landscape a boy begins a journey of discovery that will raise as many questions as it answers. Frade's first full-length comic is a hauntingly strange personal odyssey brought to bizarre life by his layered, representational imagery.
If you're at TCAF this coming weekend make sure it has a prominent place on your "must-buy" list. If you're not then pre-order it from the AHP online store here.
Charlo Frade (W/A) • Avery Hill Publishing, £7.00
– Andy Oliver
Teeter Topple

Mark is a 20-something whose life is upended by a personal tragedy. Aimless and haunted by nightmarish visions, he moves back home with his less-than-thrilled parents. His only source of comfort are his puppets, who have come to life and thrown him into a psychedelic fantasy world perfectly crafted to allow him to break into a million pieces and put himself back together again.
A graduate of the Kubert School of Cartooning and Graphic Art, Karl Slominski (Tad Caldwell & the Monster Kid, Golgotha) has a gorgeous artistic sensibility that blends the best of underground comix mania with flawless use of perspective that he uses to ground his protagonist (and the reader) and also to literally turn the world upside down. His captivating line work and beautiful characterization effortlessly draw you into Mark's fractured life and through multiple artistic styles as Mark reconnects with the world.
Karl Slominski (W/A) • 215 Ink, $14.99
– Karen O'Brien
A.D. After Death Book Three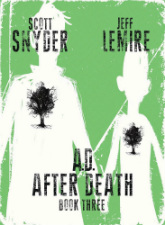 This week, the third and final volume of Scott Snyder and Jeff Lemire's sci-fi epic drops from Image Comics, raising the stakes for protagonist Jonah Cooke as he seeks to outrun his past in a future where death has been cured. A densely packed, emotionally charged saga that combines Snyder's beautiful extended prose passages with Lemire's gorgeous visuals, A.D. After Death is a triumph of the graphic narrative by two of the most respected creators in the biz.
Pushing the boundaries of form and content and built upon a solid foundation of supreme world-building and fully realised character development, the series showcases not only the talents of its two creators but the potential of comics' unique storytelling mechanics. This is a must-have series for fans of either collaborator.
Scott Snyder (W), Jeff Lemire (A) • Image Comics, $5.99
– Jason Wilkins
Face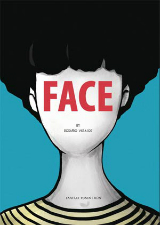 It had its UK launch night at London's Gosh! Comics earlier this year and this week sees Rosario Villajos's graphic novel Face distributed to comic stores.
An exploration of identity, how we (and those around us) define ourselves and our desire to find our own place in society, this story of a featureless protagonist uses thoughtful visual metaphor to examine its core themes.
An impressive debut from an exciting new creator to watch, Face deserves your consideration this coming New Comic Book Day.
Rosario Villajos (W/A) • Fanfare/Ponent Mon, $14.95
– Andy Oliver
Bug!: The Adventures of Forager #1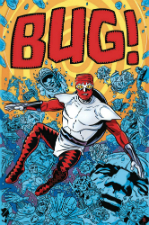 DC's Young Animal imprint is proving to be a wellspring of refreshingly skewed comics creativity. Series such as Cave Carson Has a Cybernetic Eye and Shade the Changing Girl have re-imagined and rejuvenated lost or forgotten properties for a new generation of readers. The imprint's latest release is Bug!: The Adventures of Forager, a tribute to the work of Jack Kirby celebrating the King's centenary year.
The plot follows the little-known New God Forager as he awakes from his cocoon to find himself in a mysterious realm populated by all manner of strangeness. Featuring stunning artwork by Mike Allred and a bizarre plot that would do Kirby proud, this fun, beautifully illustrated book will literally make your head spin!
Lee Allred (W), Michael Allred (A) • DC/Young Animal, $3.99
– Jason Wilkins
Regression #1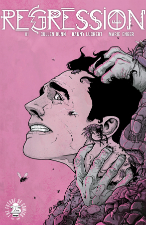 Anyone who's ever had a nightmare knows that the mind is capable of conjuring up some incredibly frightening visions. This week, Eisner-nominated writer Cullen Bunn unleashes his imagination to take readers into the frightening world of the mind with his Image comics debut – a new series called Regression.
Adrian is a man plagued by nightmares, and, in order to find peace of mind, he undergoes past-life regression therapy. Allowing himself to be hypnotized, he penetrates through the psychic layers of his consciousness and experiences a terrifying vision. But, the therapy doesn't have the desired effect – something dark has followed Adrian back to the world of reality and it may be diabolical enough to drive him insane.
If the cover of issue #1 is any indication, the levels of grotesquerie to be found within the pages of Regression will surely strike a nerve with fans of Bunn. His penchant for writing amazing horror stories is unquestionable; and, artist Danny Luckert and colorist Marie Enger look to be the perfect creative team to match his nightmarish visions, making this series one to investigate.
Cullen Bunn (W), Danny Luckert (A), Marie Enger (C) • Image Comics, $3.99
– Matthew Box
Minor Leagues #3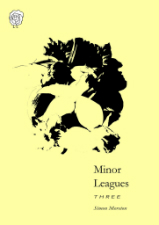 We liked Simon Moreton's ongoing zine series so much here at Broken Frontier last year that it was nominated in the best new series category in our annual BF Awards alongside the likes of DC's All-Star Batman and Dark Horse's Black Hammer.
The power of Moreton's trademark stripped back visuals and raw autobio in Minor Leagues has rarely been equalled across his vast body of work. In this series, to date, his use of prose, poetry and photography have allowed him alternative methods of expression to explore the recurring themes of his work.
This third issue of Minor Leagues is described by Moreton as "68 pages of comics/writing about: teenage indiscretions, believing in aliens, the loss of my Dad, Spring, memories, grief, everything". You can order a copy from his online store here. And you should. Because work like this embodies everything that Broken Frontier exists to champion.
Simon Moreton (W/A) • Lydstep Lettuce, £3.00
– Andy Oliver