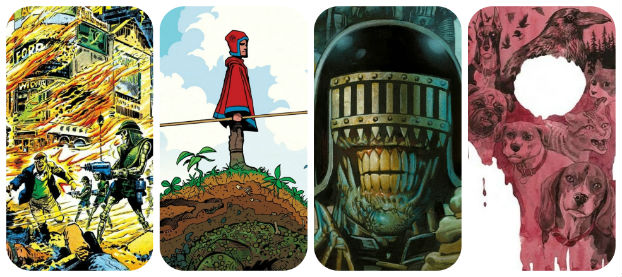 It's nearly Wednesday, and you know what that means: a fresh load of comics and graphic novels! With so many publications hitting your local comics store, comics event or digital storefront, the BF team are here to lead you through the woods with our weekly staff picks. Satisfaction guaranteed!
Comic of the Week
Beasts of Burden: The Presence of Others #1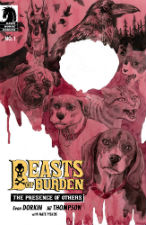 Beasts of Burden: The Presence of Others #1 debuts this week as the Wise Dogs of Burden Hill are once again called upon to defend their haunted town. A team of human paranormal investigators arrives and inadvertently disturbs the graveyard where the "Master" rests, thus setting off a supernatural chain of events with dire consequences for the gifted four-legged guardians.
Beasts of Burden co-creators writer Evan Dorkin and artist Jill Thompson team up for this two-part story from Dark Horse Comics. Dorkin never hesitates to place his protagonists in life-threatening situations that require a combination of intelligence and heroics to overcome, and Thompson's lushly painted panels beautifully convey the simultaneous anxiety and thrill the Wise Dogs experience in the execution of their sacred duties.
Solid supernatural mystery/adventure. Beautiful art. I'm a longtime fan, and you will be, too.
Evan Dorkin (W), Jill Thompson (A) • Dark Horse Comics, $3.99
– Karen O'Brien
2000 AD Villains Takeover Special
Earlier this year we previewed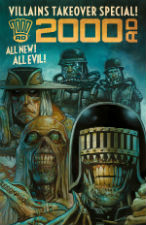 this week's 2000 AD Villains Takeover Special; one of a number of one-shots Rebellion is putting out in 2019 spotlighting the various strands of their publishing output. This one put the emphasis on the antagonists with stories featuring Judge Dredd's Judge Death, Slaine's Lord Slough Feg, Strontium Dog's Stix and a number of others.
These specials are the ideal opportunity for readers new to the worlds of Rebellion to get a taste of classic 2000 AD characters or for lapsed readers to check out old favourites without coming in halfway into serialised stories. Creators involved include Rob Williams, Henrik Sahlstrom, Pat Mills, Chris Weston, Kyle Hotz, Matt Smith, Henry Flint, Karl Stock and Kael Ngu, and at £0.99/$0.99 this is the year's most accessibly priced bargain.
Bring on the Bad Guys! 2000 AD-style…
Anthology – Various creators • Rebellion, £0.99/$0.99
– Andy Oliver
Gogor #1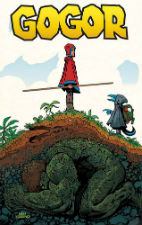 With a whopping 28 pages of story in its first issue Gogor #1 introduces us to writer-artist Ken Garing's fast-paced, fantasy world in a cracking debut.
The book features a student named Armano who, in a realm of floating islands called Altara, finds himself on a quest to awaken the sleeping giant Gogor as the soldiers of the Domus continue to impose their control on the land. We've seen a preview copy and this imaginative and captivating piece of world-building looks set to be one of the sleeper hits of the year.
Ken Garing (W/A) • Image Comics, $3.99
– Andy Oliver
Descendent #1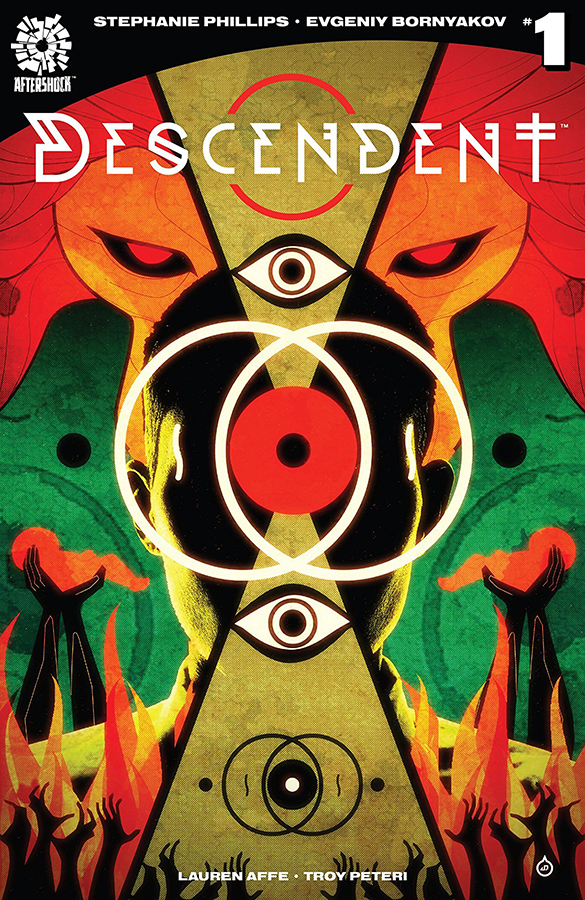 Fans of conspiracy theories and paranormal investigations will find plenty to pique their interest in this new series that feels like a cross between The Da Vinci Code and The X-Files.
A high-profile kidnapping brings together an unlikely pair of characters; FBI agent Joanna Hernandez and conspiracy theorist David Corey. As they start putting together the collective pieces, their investigation sends them down a rabbit hole of the dark side of American history. This includes witches, monsters, and of course, a century old cult that has been pulling the strings of a lot more events than they suspected.
Stephanie Phillips (W), Evgeniy Bornyakov (A), Lauren Affe (C), Troy Peteri (L) • AfterShock Comics, $3.99
– Tyler Chin-Tanner
oh no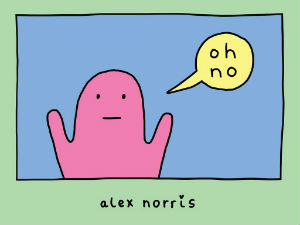 Alex Norris's webcomics sensation Webcomic Name comes to print in this collection of running gag strips that combine material first seen online with all-new comics for the diehard fans.
Norris has become an internet phenomenon for these three-panel strips that all end in the same plaintive punchline of "oh no", but it's as much the journey as the destination that is important in his work. If you're in any way engaged with comics social media it seems impossible that you won't have encountered a Norris comic before. These strips range from the slapstick to the observational, the ridiculously silly to the philosophically profound. You can read a full review of this volume here at Broken Frontier.
Alex Norris (W/A) • Andrews McMeel Publishing, £9.99
– Andy Oliver
Five Years #1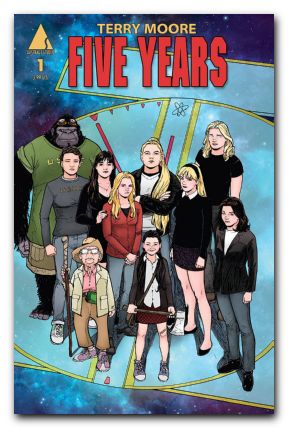 Continuing the crossover epic he began in Strangers in Paradise XXV, Terry Moore unleashes Five Years #1 this week. The characters from the Terryverse (Strangers in Paradise, Echo, Rachel Rising, Motor Girl) join forces on a mission to stop the end of the world. Once upon an ancient time, Lilith wrote down the formula for the ultimate weapon. That anti-life formula was leaked to the nations of the world, and now the race is on to build and test the Phi Bomb.
Tambi initiates a race against the clock to find the labs and stop their work and enlists Ivy Raven, Julie Martin, Rachel, and Zoe to help. Katchoo has bowed out of that endeavor as she and Francine move their household—and Samantha Locklear, the kids' new bodyguard—to the beach where Katchoo is working on her own solution to the problem.
Moore sets the stage for another suspenseful adventure as his characters team up to do what they do best. If you're new to the Terryverse, you'll enjoy Five Years best if you read the omnibus edition of SiP XXV first. If you're already a fan, this book was your "pick of the week," too, and we can geek out about it later.
Terry Moore (W/A) • Abstract Studios, $3.99
– Karen O'Brien
Walt and Skeezix Vol. 7: 1933-1934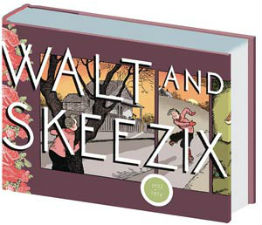 With a cover designed by Chris Ware this latest collection of Frank King's classic newspaper strips revisits the 1930s as the Gasoline Alley gang's adventures continue through the Great Depression and Skeezix's role in the narrative comes to the foreground.
Full of supplementary material including an introduction by comics journalist Jeet Heer, King's personal photographs and correspondence, rare unpublished art and sketchbook drawings, this is another chance to immerse yourself in the world of Gasoline Alley and a vital part of American comics history.
Frank King (W/A) • Drawn & Quarterly, $49.95
– Andy Oliver
Invasion 1984!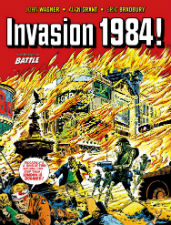 One of the things that makes the Treasury of British Comics collections of classic material such fun is that it doesn't just give readers an opportunity to revisit their own childhood favourites. Its scope is so wide that whatever your age there will be work published that you'll be encountering for the very first time.
Their latest edition sees a strip from 1970s/1980s war comic Battle with an unlikely sci-fi theme as Invasion 1984! hits shelves. Watch as skeletal alien forces destroy major cities with the determined Storm Squad taking the battle back to the invaders! Written by the ever reliable team of Wagner and Grant with art by the under-rated Eric Bradbury this is sure to be another indispensable addition to your Treasury collection.
John Wagner and Alan Grant (W), Eric Bradbury (A) • Rebellion, £14.99
– Andy Oliver