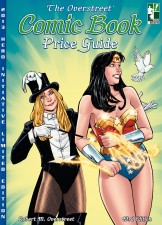 For the fourth consecutive year, Gemstone Publishing and The Hero Initiative have teamed up to raise money for comic creators in need, and this time they're embracing not only indy comics but a cosplay theme with cover artist Terry Moore's Strangers In Paradise taking center stage.
Katchoo and Francine from Moore's long-running, award-winning Strangers In Paradise are featured on the cover of The Overstreet Comic Book Price Guide #43 Hero Initiative Edition. This exclusive, 500-copy, limited hardcover edition of The Overstreet Comic Book Price Guide #43 will go on sale at Comic-Con International: San Diego on Wednesday, July 17, 2013 at the Hero Initiative booth.
Illustrated by Terry Moore and colored by Brian Miller of Hi-Fi Design, the Hero Initiative edition will be available exclusively from Hero with all money raised going to the 501 (c)(3) charity. An extremely limited number of copies will be available from Hero's website and through a select group of participating retailers. There will be no softcover edition of this version, and it will retail for $35.
"Since The Overstreet Comic Book Price Guide #40, the Hero Initiative Edition has become a tradition. Now, with Overstreet #43, we're very happy to see that tradition expand to include one of the best-loved indy creators the medium has known, Terry Moore. His Strangers In Paradise, Echo, and current series, Rachel Rising, have been beacons calling other indy creators to follow their own muses, and we're glad he shared his work with us to help a truly great cause," said Steve Geppi, President and CEO of Gemstone Publishing.
"Steve Geppi, Bob Overstreet, and their team at Gemstone Publishing not only deliver the Bible for serious comic book collectors each and every year, but their dedication to fundraising for Hero is something has been clearly demonstrated as well. People talk about raising 'awareness,' but they're helping us raise money to actually make a difference in the lives of the creators we help," said Hero Initiative President Jim McLauchlin.
"I miss them almost every day," Terry Moore said of cover subjects Francine and Katchoo from his Strangers In Paradise, which celebrates its 20th anniversary in 2013. "The only way to write an ongoing series is to have the characters on your mind all the time in the most real way possible. You think of them, not as literary devices, but as people in your life. If you like them, and devote years to them, then you can't just cut them off."
"I'm not sure how many artists could do this but sure enough Terry has done it," said color artist Brian Miller of Hi-Fi. "He somehow manages to compose this stunningly beautiful concept with Katchoo and Francine as Zatanna and Wonder Woman then he incorporates all these little details which draws your eye into staring at the illustration for hours. The entire composition is a master class in visual storytelling. Once done admiring and absorbing all that he had created I could not wait to dive in and start coloring!"
This marks the fourth consecutive year that Gemstone and Hero have worked together to create a special limited fundraiser edition of the Guide. For The Overstreet Comic Book Price Guide #40, John Romita, Jr., Klaus Janson and Dean White provided a 40th anniversary recreation of Conan The Barbarian #1. For The Overstreet Comic Book Price Guide #41, John Romita, Sr., Tom Palmer and Dean White presented a selection of top Marvel heroes. For The Overstreet Comic Book Price Guide #42, writer-artist Matt Wagner teamed his Grendel with DC Comics' Batman, colored by Ryan Brown. As is the case with this new edition, all funds from the sales of these volumes went to The Hero Initiative.
The standard editions of The Overstreet Comic Book Price Guide #43 feature a bold "New 52" generation Superman by Andy Kubert in honor of the character's 75th anniversary and a commanding trio of X-Men by Mike Deodato, Jr. commemorating the team's 50th anniversary. Those editions are scheduled to go on sale in comic shops and at Comic-Con the same day, Wednesday, July 17, 2012. Retailers can still place reorders with Diamond Comic Distributors for those editions, while the limited edition will only be available from Hero.