It's almost Wednesday, and you know what that means: a fresh load of comics and graphic novels! With so many publications hitting your local comics store or digital storefront, BF is here to lead you through the woods. These are the books that need to be on your pull list this week.
Comic of the Week
Southern Bastards #1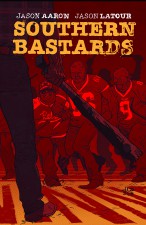 Welcome to Craw County, Alabama, home of Boss BBQ, the state champion Runnin' Rebs football team and more bastards than you've ever seen. When Earl Tubb returns to his hometown after forty years away, his plan is to be there only three days. Just enough time to clear out a house full of painful memories. But Earl quickly becomes entangled in local affairs when he discovers that Euless Boss isn't just a successful high school coach but the head to the town's criminal activities. Looks like Earl's stay is going to be a bit longer than he expected.
This southern fried crime series has been described as the Dukes of Hazzard meets the Coen Brothers…on meth! It's brought to you by Jason Aaron and Jason Latour, two creators who've collaborated together in the past on such titles as Scalped and Wolverine: Japan's Most Wanted. Both Aaron and Latour hail from the South (Alabama and North Carolina respectively) and they tapped into this past for the style and flavor of the series.
As Latour put it, "It's kind of an unshakable feeling, and my relationship with the South is a thing I've felt conflicted with my whole life. It's always kind of been there like a devil clawing at me from inside. This project is a chance to let it out."
Jason Aaron (W), Jason Latour (A) • Image Comics, $3.50
– Tyler Chin-Tanner

Amazing Spider-Man #1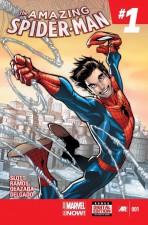 The Superior Spider-Man is dead. Long live the Amazing Spider-Man.
Of course you knew it wouldn't last forever. In fact, you probably (rightly) guessed that he would be back before this summer's big blockbuster release. But regardless, Peter Parker is back. And that's reason enough to pick up this book.
No? Well if that's not reason enough how about Dan Slott and Humberto Ramos? These two creators have done more to shape this character in the modern era than almost anyone else. It might be disappointing to some that there isn't a new creative team for this new #1, but if there is a team anywhere that deserves to hold onto a book a little longer, it's this team on this book. How will Peter deal the mess of his life that's been made in the last few months? It's a brand new day for Spidey.
Dan Slott (W), Humberto Ramos (A) • Marvel Comics, $3.99
– Levi Hunt
Atomic Robo: The Knights of the Golden Circle #1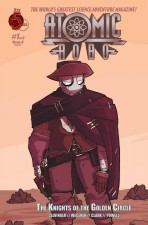 One of indie comics' enduring success stories, Brian Clevinger and Scott Wegener's epic tale of science adventure enters its ninth volume – something that will please its army of fans (including A-listers Matt Fraction, Greg Rucka and Gail Simone, all of whom have written introductions for previous volumes). Given the soul-searching going on in the comics world at the moment, the creators' forceful stand against the cheesy exploitation of female characters should come as sweet music to readers' ears.
The solicitation text gives an indication of the free-wheeling imaginative adventure that drives these books: "There was an explosion, some crystals, a lot of lava, and several nuclear warheads. Plus, a crazy time-traveling dinosaur. Now it's 1884 and Atomic Robo is up against the notorious Butcher Boys. The fate of the West is at stake, but can Atomic Robo save the day before his nuclear fuel runs dry?" Yikes – let's hope so!
Brian Clevinger (W), Scott Wegener (A) • Red 5 Comics, $3.50
– Tom Murphy
Rachel Rising #25
It's a new story arc for Rachel Rising and the long winter has finally given way to spring in Manson. With the changing of the season, young men's thoughts turn to love, but Rachel doesn't know who to trust and is focused on finding out who killed her and placed her in a shallow grave.
Rachel is the most endearing dead character in comics and Terry Moore has dropped her into a world where you just don't know what is coming next. You have to pay attention to the people in Moore's comics: the way they act and react to different situations reveals some of the best character-building moments around.
Terry Moore (W/A) • Abstract Studios, $3.99
– Karen O'Brien
Vertigo Quarterly: Cyan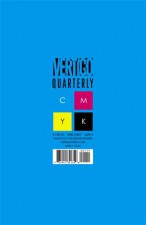 Vertigo pays homage to the history of the four-colour printing process – the main means of producing coloured comics from the 1940s right through to the 70s – with their new quarterly four-piece CMYK anthology series, named for the four colours that in themselves created the medium and style iconic to a whole era of comic books – cyan, magenta, yellow and black.
CYAN is the first of the set, furnished with stories and artwork from a range of today's comic book talent – Jock, Fabio Moon, James Tynion IV, Robert Robi, Shaun Simon, Amy Chu, Joe Keatinge, Cris Peter, Tony Atkins and the list goes on. The colour itself serves as a unifying point for the creators, bonding the stories together be it through mood, plot points or the colouring technique of the pages themselves – one way or another, all these stories must start with cyan blue.
Various (W/A) • DC/Vertigo, $7.99
– Conori Bell-Bhuiyan
Dream Police #1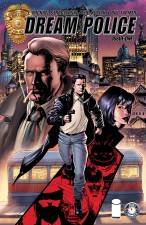 Detectives Joe Thursday and Frank Stanford patrol the dreamscape and preserve order in the alternative universe of dreams, nightmares, and the great void. This realm is inhabited by changelings, echos, wisps, ethers, and the super-creepy nightwalkers. When Frank steps away and disappears, the woman who replaces him says he is Joe's partner…and always has been. This sets Joe on a mission that will shake the foundations of the dreamscape as we know it.
Writer J. Michael Straczynski commented to Image on its website: "I've been fascinated with the idea that the dreamscape is a real place, stitched together from echoes of the physical world, where we go to find some measure of relief, or adventure, or understanding. If that's the case, then there has to be some means of providing order and protecting dreamers from danger…which led me to the notion of the Dream Police."
J. Michael Straczynski (W), Sid Kotian (A) • Image Comics, $2.99
– Karen O'Brien
Batwoman Annual #1
Batwoman was 'cut off with a goddamn'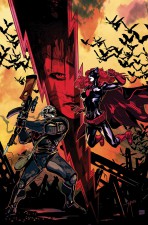 as my grandma likes to say when J.H. Williams III and Haden Blackman were booted off 'because lesbians', which is not something my grandma would like to say but serves as a splendid explanation for DC's medieval editorial policy.
The writer who took over Batwoman – Marc Andreyko – is using this annual to conclude the DEO storyline which the original team began. Thus, he draws a line under the whole sorry affair; though he may not be successful if mediocre comic book journalists keep writing 'because lesbians' each time he publishes an issue.
Can you tell that I'm less than convinced? This is because I am all 'batted-out'. I am for diversity and representation in DC, but I don't understood why I should bloody care about another bloody Bat in bloody Gotham. Let them stretch their spandex elsewhere, out of the shadow of the man who is pigeonholed into the position of 'white man who is best at everything'.
Putting my unreasonable Bat-prejudice aside, this issue will give some of you readers closure. Whether it will translate well for newer readers is harder to say. But buy it, because in the words of a male friend of mine, 'Love Kate. Strong women, right?'
Indeed, my friend. Indeed.
Marc Andreyko (W), Trevor McCarthy (A) • DC Comics, $4.99
– Joe Krawec (and Ryan Patry)