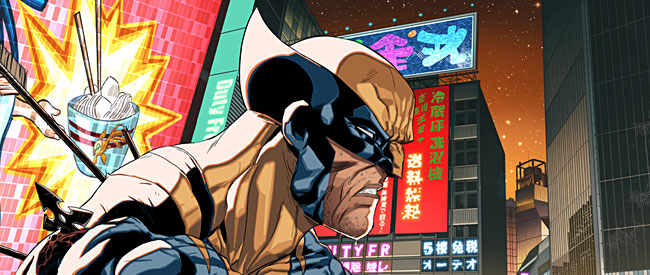 Wolverine makes his Marvel Infinite Comics debut.
Wolverine: Japan's Most Wanted #1 is the first of a weekly 13-part digital story under Marvel's Infinite Comics initiative. Wolverine is in Tokyo battling the Silver Samurai, Sabretooth, and a whole lot of Hand ninjas on the vague mission of taking away what belongs to Sabretooth. We are thrown right into the action at issue's start, as Wolverine is already hours into a Tokyo rooftop fight with Hand ninjas.
The issue is told entirely as one big action set piece. This decision really helps sell the idea of the format as something you can't get in print. The digital comic finds a happy medium between the unmoving pictures of a traditional comic and the awkward animation of motion comics. What this means is that there are animated transitions between certain panels to create the feel of action, while retaining its essential "comic book"-ness.
There are times where the action in this book is so fluid that a sequence of Wolverine unsheathing his claws, getting shot with an arrow, or crashing through the window of a building feels animated. A lot of the credit for this goes to artists Yves Bigerel (layouts) and Paco Diaz, who give the comic the look and style of an animated show.
The animated feeling also owes credit to the breakneck pace of co-plotter Jason Aaron and scripter Jason Latour's story.
But, even though the story flies by in an entertaining way, I couldn't help but feel a bit empty when it was all over. Jason Aaron has been the writer to define Wolverine in his modern solo stories, but all of that depth seen in his previous stories is set to the side in favor of stabbing. I'm sure we'll get a better understanding of Wolverine's motivation and get some character development in installments to come, but almost none of that is present in the opener.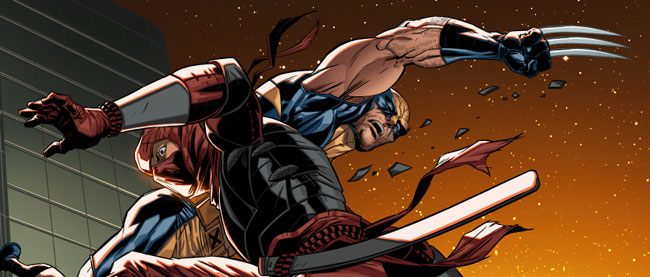 It's important to keep in mind that this is the first of a long, weekly series and as such the plotting will be a bit different than a usual monthly comic book. This issue largely succeeds in what it's trying to do: dazzle with non-stop action that takes advantage of the medium, but some readers may be put off by the fact that they paid $2.99 for such a quick read. Especially when you keep in mind that previous Infinite Comics have ranged from $0.99 to $1.99 while DC's similar offerings come in at $0.99.
Longtime Wolverine fans and action lovers will find a quick but enjoyable, bloody romp. Others who are just interested in trying out these animated digital comics would probably be better served with Batman '66.
Jason Aaron & Jason Latour (W), Paco Diaz & Yves Bigerel, Marvel/Infinite Comics, $2.99, July 9, 2013. Available in the Marvel Comics app.