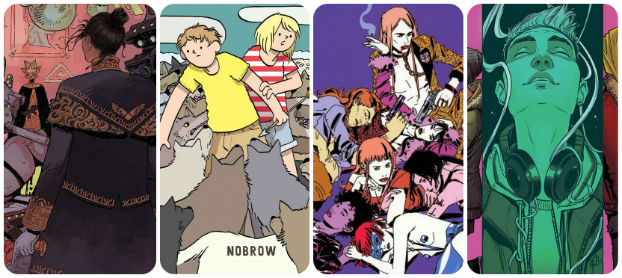 It's nearly Wednesday, and you know what that means: a fresh load of comics and graphic novels! With so many publications hitting your local comics store, comics event or digital storefront, the BF team are here to lead you through the woods with our weekly staff picks. Satisfaction guaranteed!
Comic of the Week
Alienated #1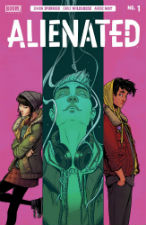 Outside of their more obviously licensed books, BOOM! Studios' line of serial comics across their various imprints has felt notably considered in curation of late. They've been one of the most interesting monthly comics publishers when it comes to putting an intriguing spin on genre comics standards and that's reflected in this week's Alienated which has already sold out at distributor level.
Writer Simon Spurrier and artist Chris Wildgoose bring us a coming-of-age tale with a sci-fi twist as three teenage outsiders find an unearthly creature with amazing powers. But there's something darker to this entity and they find that their good intentions won't be enough enough when dealing with it and its more predatory urges. Spurrier can always be relied on to provide an unpredictable yarn and Wildgoose's visual storytelling has been wowing readers on books like Batgirl. Definitely one of the key monthly comics releases of the year so far!
Simon Spurrier (W), Chris Wildgoose (A) • BOOM! Studios, $3.99
– Andy Oliver
Stig and Tilde: Leader of the Pack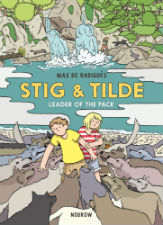 Last year at Broken Frontier we reviewed the first volume of Max de Radiguès' Stig and Tilde which followed the two teenage twins of the title as they took off to sea as part of a local tradition that demanded they spend a month living alone on a small island offshore. Sent off course to the wrong island they ended up encountering supernatural forces and a disturbing presence already at home there.
This second instalment sees their adventures exploring the local islands continue as they find themselves facing residents of a more feral, canine kind. Max de Radiguès has been on something of a run of acclaimed books of late including Weegee: Serial Photographer, Hobo Mom and Simon & Louise. All of which have had glowing reviews at BF. Make sure to grab a copy of Leader of the Pack to see just what all the fuss is about this week.
Max de Radiguès (W/A) • Nobrow Press, £9.99
– Andy Oliver
Tartarus #1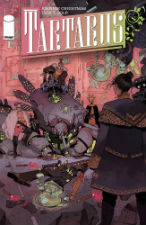 Solicitations that compare the comic in question to other pop cultural properties usually feel a little uninspiring but the comparison of new Image series Tartarus to Breaking Bad set in Mos Eisley has a certain undeniable appeal to it.
Johnnie Christmas and Jack T. Cole's sci-fi saga opens with a double-sized first issue as we meet wrongly accused young cadet Tilde whose mother turns out to have been the ruthless leader of the colony Tartarus; a location which played a significant role in the recent war. We've seen a preview of this and it cracks along at a breath-taking pace with dynamic visuals and an atmospheric use of colour.
Johnnie Christmas (W) Jack T. Cole (A), Jim Campbell (L) • Image Comics, $5.99
– Andy Oliver
Loud!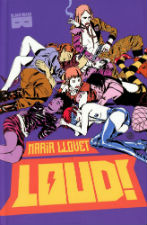 When a book has sold out at distributor level it means there's some significant buzz around it. This week we have two titles that have done just that in our Staff Picks with Loud!, an original graphic novel from Black Mask, joining Alienated in that category.
Maria Llovet's spellbinding artwork captivated readers on Faithless, her collaboration with Brian Azzarello from BOOM! Studios, and this nightclub-set tale looks similarly haunting. A mixed cast of nightclub patrons including vampires, junkies, hitmen, a pregnant teenager, a dominatrix and more are about to have a night "that none of them will ever forget… if they survive." A long-form offering written and illustrated by one of the hottest new artistic talents in serial comics.
Maria Llovet (W/A) • Black Mask Studios, $16.99
– Andy Oliver
A Man and His Cat Vol.1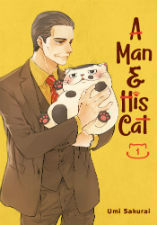 Now I'd be the first to admit that manga aren't my specialist subject. However, a certain fishy-breathed member of our household <insert your joke here> would never forgive me if I didn't recommend a book about the blossoming relationship between a middle-aged bloke and his pointy-eared pal.
Apparently one of the top manga launches of 2018 in Japan, A Man and His Cat tells the tale of a "chubby, homely" cat who finds himself persistently overlooked by "potential pet parents". Just as he's beginning to despair, salvation arrives in the form of an "older gentleman" who has decided that the marginalised moggie is just what he needs in his life. I'll stick my neko out and say this is worth a look for all you cat-lovers.
Umi Sakurai (W/A) • Square Enix Manga, $12.99
– Tom Murphy