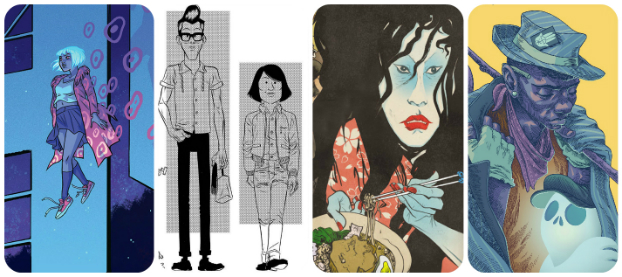 It's nearly Wednesday, and you know what that means: a fresh load of comics and graphic novels! With so many publications hitting your local comics store, comics events or digital storefront, the BF team are here to lead you through the woods with our weekly staff picks. Satisfaction guaranteed!
Comic of the Week
Hungry Ghosts #1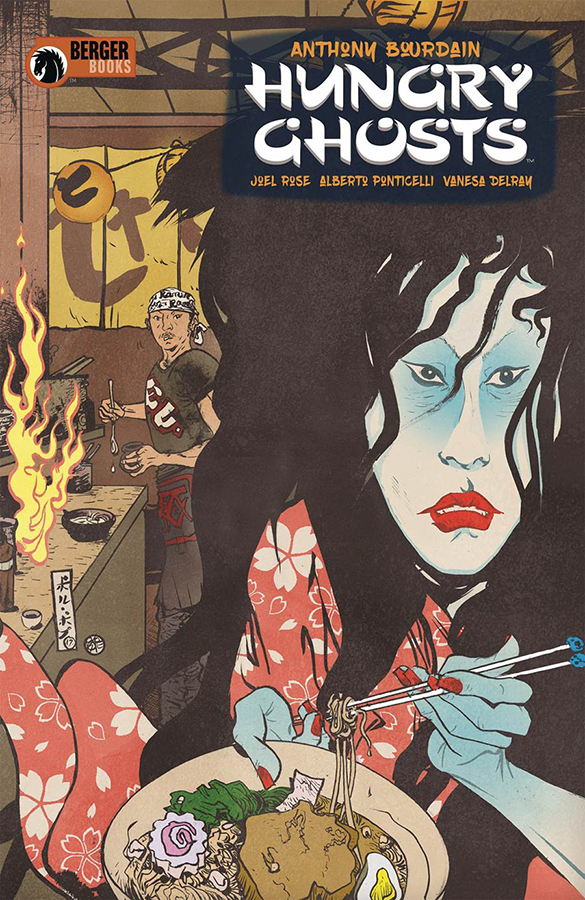 Berger Books kicks off right here! Legendary editor and founder of the Vertigo imprint for DC comics, Karen Berger, joins Dark Horse comics for this new line of creator-owned comics and what better way to launch the imprint than with a story by celebrity chef and star of Parts Unknown, Anthony Bourdain? 
Inspired by a game played by samurai warriors to test their courage, this new anthology series challenges a circle of international chefs to spin their own terrifying tales all with the common theme of food and filled with adventures of pirates, soldiers, ghosts and demons. Only those who tell the best stories will survive.
Anthony Bourdain & Joel Rose (W) Alberto Ponticelli & Vanesa Del Rey (A) Jose Villarrubia (C) Dark Horse Comics, $3.99
– Tyler Chin-Tanner
Godshaper TPB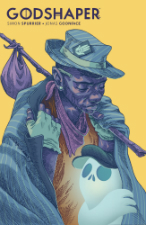 The late, laconic Irish comedian Dave Allen used to sign off his observations with the blessing "May your god go with you." And the febrile imagination of writer Simon Spurrier hit upon a similar notion for Godshaper, his high-concept collaboration with rising star artist Jonas Goonface (who I assume must be related to the twins Hugo and Quentin Goonface, who were in my house at prep school).
Anyway, in their six-part series, collected here, Spurrier and Goonface depict a world where everyone has their own personal deity to watch over them. Everyone, that is, except those like the book's protagonist, Ennay. As a 'Shaper', he is a godless pariah who instead has the ability to mould and manipulate the gods of others.
Teaming up with Bud, a friendly god who lacks a human, Ennay hits the road in an unforgiving world of religion, greed, prejudice and consumerism, all given a rollicking rockabilly aesthetic by an exciting new artistic talent.
Simon Spurrier (W), Jonas Goonface (A), Colin Bell (L) • BOOM! Studios, $19.99
– Tom Murphy
The Weird World of Lagoola Gardner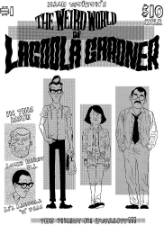 Lagoola Gardner inherits his grandmother's possessions, and his world will never be the same. Her crystal ball and fez were used in her work as a medium, and when worn by Lagoola, they become an antenna to the spiritual plane where she now resides. Maybe he should be freaked out by all of this. Most people would be. But Lagoola is only too happy to put these new tools to work in his side business as an investigator of all things macabre.
Canadian comics creator Zach Worton started drawing as a kid by copying the art of Peanuts comic strips in the newspaper. His debut graphic novel, The Klondike, was published by Drawn & Quarterly in 2011. His engaging style takes on an underground comix aesthetic in The Weird World of Lagoola Gardner, and he's not kidding about delving into the macabre. This comic is for adults, and only those who take their weird with a dash of humor and a good dose of horror.
Zach Worton (W/A) • Fantagraphics Books, $10.00
– Karen O'Brien
Shade the Changing Girl Vol. 2: Little Runaway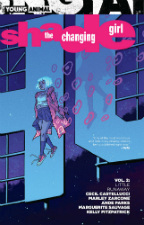 Doom Patrol might have been the look-at-me flagbearer for DC's Young Animal line, but Cecil Castellucci and Marley Zarcone's Shade the Changing Girl soon became the standout title for a lot of readers (including the motley crew here at Broken Frontier, who nominated the book and its creators for best writer, artist and continuing series in our awards for 2017).
Castellucci and Zarcone – plus their various collaborators – came up with a treatment that built on the now classic Shade series by Peter Milligan and Chris Bachalo while also taking it in an exciting new direction. If Rac Shade had it hard turning up in the body of a mass murderer, spare a thought for new protagonist Loma, whose hitch-hike on the stolen madness coat dropped her into the teeming adolescent mind of high-school mean girl Megan.
The first volume rolled out its mysteries beautifully, on both Earth and Meta, blending sharp teen drama with trippy cosmic shenanigans. This second collection follows Loma/Shade/Megan as she leaves small-town life far behind and takes the madness power on the road. First stop: Gotham City!
Cecil Castellucci (W), Marley Zarcone, Marguerite Sauvage, Ande Parks (A), Kelly Fitzpatrick (C), Saida Temofonte (L) • DC/Young Animal, $16.99
– Tom Murphy
Lazaretto #5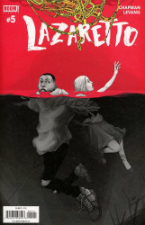 Featuring the work of Broken Frontier Best Letterer Award winner Aditya Bidikar and Breakout Talent Award nominee Jey Levang, (and let's obviously not forget writer Clay McLeod Chapman whose taut thriller has kept us glued to each sickly page of every disturbing issue!), this BOOM! Studios miniseries comes to its terrifying conclusion this week.
Charting the battle for survival of two new students, Charlie and Tamara, after a deadly virus has seen them quarantined on their university grounds, Lazaretto has been a mucus-splattered body horrorfest from start to finish. Of course, we have a particular interest in this breakout work from artist Jey Levang given that they were one of our Broken Frontier 'Six Small Press Creators to Watch' for 2016. But even knowing just what a talent Jey is we were still wowed every instalment by their hugely impressive debut in US comics.
If you haven't been picking this up in its serialised incarnation make sure to grab the trade when it arrives. In the meantime we'll have a full review of Lazaretto #5 up on the site in the next couple of days.
Clay McLeod Chapman (W), Jey Levang (A), Aditya Bidikar (L), Ignacio Valicenti (CA) • BOOM! Studios, $3.99
– Andy Oliver
The Battle of Churubusco: American Rebels in the Mexican-American War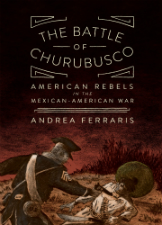 Translated from an original graphic novel by Italian cartoonist Andrea Ferraris, The Battle of Churubusco takes a look back at the bloody history of US-Mexican relations, while touching on contemporary issues of migration, nationalism and imperialism.
Set during the 1846-48 war between the countries, the book follows the fortunes of Gaetano Rizzo, a young Sicilian immigrant who joins the US Army but has a crisis of conscience in the face of the atrocities being committed in its name. Deserting his unit, he goes to fight on behalf of Mexico as part of the San Patricios – a motley international battalion, founded by Irish Catholics, that is still revered to this day.
Better known as a long-standing artist for European Disney comics, Ferraris uses a richly textured charcoal style to capture the heat and dust of the environment and the shocking visceral experience of war.
Andrea Ferraris (W/A), Jamie Richards (Tr) • Fantagraphics Books, $22.99
– Tom Murphy