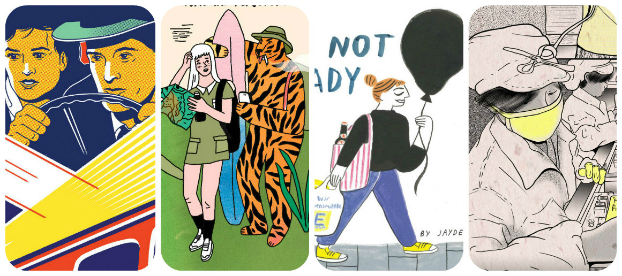 ELCAF FORTNIGHT!
It's nearly ELCAF, and you know what that means: a fresh load of indie comics, zines and illustration-based publications! Normally every week our Staff Picks allow the BF team to choose some of the most notable new releases coming to the shelves of your local comic store. But for one week only we're re-focusing the feature to give you just a small selection of some of the exciting comics and graphic novels debuting at this weekend's East London Comics and Arts Festival.
This is not intended as a comprehensive round-up! The joy of an event like ELCAF is in that sense of personal discovery after all. But below are ten debut comics to look out for that caught our eye during our ELCAF Fortnight. Some of them have had extensive coverage already at BF while some of them we just ran out of time to spotlight. But all of them are worth picking up over the weekend!
Comic of the Festival
Xenos: At the Edge of Life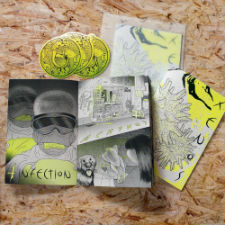 Just a few short weeks ago we were speaking in great depth about the powerful social commentary of Cat Sims in Black Matter in our review of that minicomic here at Broken Frontier. Sims is one of our 2018 'Six Small Press Creators to Watch' here at BF and her comics work is seeing a rapid rise in profile with Xenos also recently appearing on ELCAF's own list of ten must-read festival books at Stack Magazine.
In five parallel but thematically related sections Sims examines the effects of technological development on the environment in mini-narratives that explore contemporary issues like the plight of migrant workers, intensive animal farming and emerging diseases, all with a speculative twist. Combining her intricately rendered and uncompromisingly bleak visuals with a storytelling style that asks the reader to interact with and take their own meaning from the page, Xenos is Sims' most powerful and memorable work to date. Read a full interview with Cat here at BF.
Cat Sims (W/A) 
Tropical Wildchilds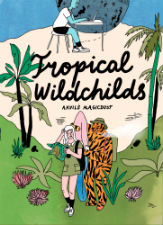 Last year at Broken Frontier for our ELCAF 2017 coverage we looked at Akvile Magicdust's self-published collection of her Lucy the Confused Girl strips that originally appeared on Vice.com. The comics followed the adventures of the odd trio of the titular Lucy and her friends Alien and Tiger with a thinly veiled commentary on modern living at the heart of their bizarre misadventures.
Magicdust won last year's ELCAF x WeTransfer Award to bring an original idea to printed life. In the pages of Tropical Wildchilds she revisits those characters in a longer-form narrative that ranges across the universe from a distant alien planet to the Amazonian rainforest with the same quirky visuals and casually understated wit of its predecessor.
Akvile Magicdust (W/A)
Summer Break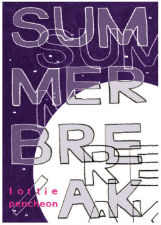 How do we even begin to select just one book from the most recent Shortbox collection given the excellent work on offer within from Niv Sekar, Joe Sparrow, Anatola Howard and George Mager? However, Lottie Pencheon's Summer Break particularly resonated this time around with an unforgettable example of powerful graphic medicine that will surely propel Pencheon to the far wider level of recognition that she has long deserved.
This is autobio that doesn't simply explore or explain living with mental health issues but one that uses the unique properties of comics to more directly experience Pencheon's sense of dislocation and isolation. Not just one of the best comics you'll pick up at ELCAF but simply one of the best comics you'll pick up this year.
Lottie Pencheon (W/A), Shortbox 
The Great North Wood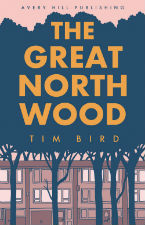 The latest psychogeographical offering from British Comic Award-winning Tim Bird, The Great North Wood is another of Bird's evocative explorations of place, space, memory and time taking us on a non-linear journey through "the ghost of a forest that used to cover what is now suburban south-east London."
We're quoted on the book's back cover saying "the echoes of the past permeate the present in Tim Bird's latest powerful exploration of how time and place intersect. With its lyrical cadence and haunting imagery this is, without a doubt, Bird's finest work to date." You can also read a review here at BF and an interview with Tim Bird here.
Tim Bird (W/A), Avery Hill Publishing
I'm Not Ready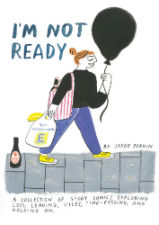 Our 2018 Broken Frontier 'Six Small Press Creators to Watch' artist Jayde Perkin is debuting two books at ELCAF this year. We gave What a Life a full review last week at Broken Frontier but she also has an anthology collection of her short comics stories that is equally deserving of your attention.
In I'm Not Ready Perkin tackles subject matter including exploitative advertising and marketing, her relationship with nicotine, and some of the most moving and affecting explorations of the grieving process you will ever read on the comics page.
Jayde Perkin is a major new talent just awaiting discovery by a publisher. If you happen to be one and you're ELCAF-bound this weekend then you need to make her table one of your first stops.
Jayde Perkin (W/A)
Coin-Op #7: The Doppler Issue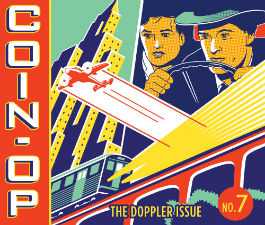 This past month Top Shelf Productions published a handsome collection of two decades of sibling creative team Peter and Maria Hoey's Coin-Op Anthology comics (reviewed here at BF). The duo will be at ELCAF this weekend where they will also have the latest issue of the ongoing Coin-Op series ready to dazzle punters with the truly stunning comics/graphic design that resides within its pages.
This is beautiful, intuitive comics storytelling that exploits the possibilities of the form with both gusto and relish. Stories include 'Supply Chains', 'Saltz and Pepz and the Eternal Sea', 'Omegaville', 'Ida Lupino', 'Served Cold' and 'The Spectral Screen'. But we suspect preview spreads here will give you a far better idea of why you should be picking this one up than anything we can say here…
Peter Hoey and Maria Hoey (W/A)
@POTUS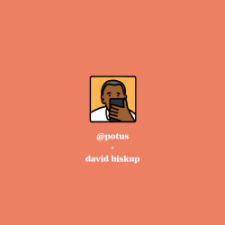 David Biskup's @POTUS comic comes with a fascinatingly checkered history. Originally written as a wistful humour comic about Barack Obama saying goodbye to his Twitter handle, it went through a dramatic re-write when Trump unexpectedly won the 2016 election. Events then took an even darker turn when it was pulled from the platform it had been created for due to fears surrounding its humour at the expense of Trump.
Creator David Biskup has rescued it from online oblivion for ELCAF in a printed version. Full of Biskup's distinctive pensive pacing and understated satire it perfectly captures the confusion of a specific moment in time from a very distinctive perspective.
David Biskup (W/A)
Sutra: Songs from the World of OM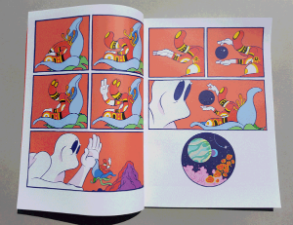 The latest compilation of stories from the psychedelic but unforgiving world of OM via Broken Frontier 2018 'Six Small Press Creators to Watch' arist Andy Barron may just be his finest collection to date. A series that can be jumped straight into by new readers thanks to its self-contained nature, Sutra is an essential pick for both existing fans and those coming to Barron's work fresh.
Barron describes Sutra as "new short stories digging deeper into the world of OM and the relationships between the characters. For people who have read Mantra and Tantra, it will give you a better understanding; for people who are new to the series, it's a perfect introduction into the world of OM." Read a review here and an interview with Andy here.
Andy Barron (W/A)
Artificially Coloured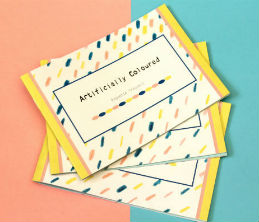 The Baguette Trousers collective consist of Chloe Elise Dennis, Luke Finch and Sinae Carrotate Park and are making their festival debut at ELCAF this year. The three creators have very diverse artistic styles making this collection all the more intriguing as a showcase for their work.
Artificially Coloured explores childhood memories, focusing on objects or moments in time that hold particular attachments from that time. From Dennis's beautiful re-creation of kite-flying to Finch's stuffed toys comedy through to Tate's look at the simple joy of an ice cream it's a recommended introduction to the work of this exciting group of artists. Read a full review here.
Chloe Elie Dennis, Luke Finch, Sinae Carrotate Park (W/A)
Written in Water
After attending the ELCAF Springboard Meetings last year Chloe Elise Dennis has had a very busy year of comics creation both with her own work and also as part of the aforementioned exciting Baguette Trousers collective.
Written in Water is a deeply affecting story of a dissolving friendship between two girls that employs authentic sounding dialgue and the most potent visual metaphor in a short comic that seems both haunting and yet familiar. It's always pleasing for us at Broken Frontier to see artists we featured at the beginning of their journeys moving onwards and developing in their practice and we think you, too, should be checking out this emerging talent at ELCAF this year. Read a full review here.
Chloe Elise Dennis (W/A)
Catch up on all our ELCAF Fortnight articles to date here. ELCAF runs from June 22nd-24th. Full details on the ELCAF site here and you can also follow the festival on Twitter here.