It's almost Wednesday, and you know what that means: a fresh load of comics and graphic novels! With so many publications hitting your local comics store or digital storefront, BF is here to lead you through the woods. These are the books that need to be on your pull list this week.
Comic of the Week
Herobear and the Kid: Saving Time #1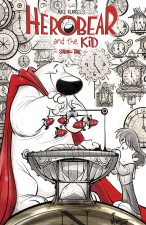 It's the first new Herobear adventure in ten years, and you need to request two copies for your pull list – one for you and one to give to a child.
Tired of hearing how kids don't read comics because they don't go to comic shops? Do something about it and pass this along to the kids in your life, they will thank you for it, and clean their rooms in exchange for the next issue. Heck, they might even do their homework. It's worth a try.
Don't make the mistake of thinking that this kid-friendly title is just for kids, however. No writer/artist assembles a page the way that Mike Kunkel does – his animated style sends his characters soaring off the page with exuberance and purpose.
Tyler and Herobear are on the trail of a mystery – Henry the magical butler is missing, and they are determined to find out what happened and help their friend. I can't wait to read this.
Mike Kunkel (W/A) • Boom! Studios, $3.99
– Karen O'Brien
---
Someplace Strange HC
Two brothers and their running wild imaginations set out on a solemn quest to kill the bogeyman and rid the world of half-seen under-the-bed horrors in this new hardcover edition of Ann Nocenti's Someplace Strange. After deciding they've had enough of scary dreams and determined to go get the bogeyman and put a stop to them for good, the pair of would-be heros head for the nearest spooky old house they can find. Along with the art-punk foul-tempered nihilist sidekick Joy that they pick up along the way, the brothers James (a.k.a Spike) and Edward venture into a world of magic and fantasy where dreams and reality mingle and nightmares can spawn into monsters.
Whimsical yet disconcerting, surreal yet hyper-real and wildly weird, Nocenti's storywriting is matched by John Bolton's rich and equally surreal painted artwork, making this an adventure story like no other – perfect for adults and children alike.
Ann Nocenti (W), John Bolton (A) • Dark Horse, $19.99
– Conori Bell-Bhuiyan

---
Justice League United #0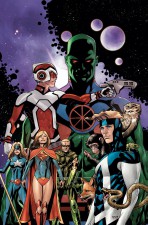 With Forever Evil behind us, the Justice League is ready to go in a new direction, and Jeff Lemire is taking them there in Justice League United, debuting with an inaugural 'zero issue', in what's common practice for Big Two major book launches this week.
Teaming with artist Mike McKone, who continues the cleaner style he deployed in Avengers: Endless Wartime, Lemire has put together a roster featuring Adam Strange, Martian Manhunter, Hawkman, Stargirl, Supergirl and Green Arrow – a stark departure from the more traditional names that were part of the Justice League of America line-up. Also aboard is Equinox, a 16-year-old Canadian girl whose mind will be blown away by all the universe-spanning adventures she'll be part of.
First stops: Canada, Rann and Thanagar. Better get your oxygen flasks out from storage.
Jeff Lemire (W), Mike McKone (A) DC Comics, $3.99
– Frederik Hautain
---
The Love Bunglers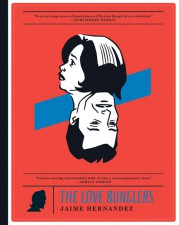 We can all be a bit hasty to read something and call it a masterpiece, but when Jaime Hernandez delivered his 'Love Bunglers/Browntown/Return to Me' cycle of stories in Love and Rockets: New Stories #3 & 4 (2010-11), even the most circumspect of commentators had to admit that something very special was happening.
Having followed these characters in real time since around 1987, these pages exerted a stranglehold over me – an emotional intensity that I've never felt from a comic before or since. As the tale reached its climax, I remember a tightness across my chest and a reluctance to turn the page. And when I did, there was THAT spread: the one that comics readers and commentators will probably talk about for decades to come.
Even if you haven't shared the accumulated history of Maggie and Ray over the past 30 years, this is a universal story of literally breathtaking power. If you've ever felt deterred from delving into Jaime's body of work by the sheer volume of material, you're missing out on a unique achievement.
It might seem counter-intuitive to suggest that you jump in at what might be the end of it all, but once you've been through this story with the characters, you'll want to immerse yourself in the hundreds of pages that led them there. And your life – in comics and beyond – will be immeasurably richer.
Jaime Hernandez (W/A) • Fantagraphics Books, $19.99
– Tom Murphy
---
The Flash #30
A new creative team has taken the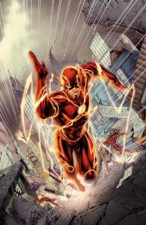 helm of The Flash. And this new team promises to give fans something (or rather, someone) they have been clamouring for since 2011.
Barry Allen may still be the fastest man alive, but in-between the lightning streaks and lines of red that zip from page-to-page, another figure may be seen. The name of this person is familiar. We knew him in the pre-52, a dimension where he laid down a legacy of fun – all bad puns and light-heartedness. But his humour merely served as a deflection; a means to cope with his enormous power. Because whilst Batman may be the cleverest and Superman the strongest, it is the speedsters who have the ability to manipulate the universe at the sub-atomic level. And that's one hell of a responsibility to bear.
So with open arms and a watchful eye on what is to come, we welcome back Wally West. And Lord, how we've missed him. Let's just hope that he is the Wally West we truly deserve – a young man who puts the flash into The Flash.
Van Jensen (W), Robert Venditti (W), Brett Booth (A), Norm Rapmund (A) • DC Comics, $2.99
– Joe Krawec
---
The Eltingville Club #1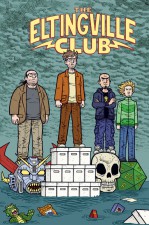 One of indie comics' finest creators has a new book on the shelves that you won't be able to resist. Evan Dorkin (Beasts of Burden) is closing down the Eltingville Comic Book, Science Fiction, Fantasy, Horror, and Role-Playing Club in a two-issue mini-series that promises to be a satirical gem.
Yes, the Club's four members are based on real people from Dorkin's past, and you'll probably recognize them as twenty-sided-dice-rolling companions (nerds) from your own dining room table.
Dorkin's art style and panel layouts are straight out of the unofficial manual to creating cool underground comics, and you better pay attention to every one of them if you want to catch the biting satire, too-close-for-comfort spoofs, and not-so-subtle humor woven through the issue.
Evan Dorkin (W/A) • Dark Horse Comics, $3.99
– Karen O'Brien
---
Original Sin #0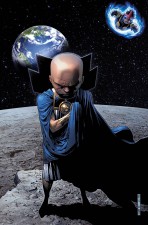 Who killed The Watcher? That's the question – with a humongous Q – to be answered in Original Sin, from Jason Aaron and Mike Deodato Jr.
But before the Marvel event of the year kicks off in earnest next month, Mark Waid and Jim Cheung team up for a lead-in tale that sees the new Nova facing Uatu for the first time in his young life. Quite possibly, it will also be the last…
Cheung has been Marvel's go-to 'event' artist for a while now, and he always turns in jaw-dropping pages that burst with energy. This issue is no different.
Mark Waid (W), Jim Cheung (A) Marvel Comics, $3.99
– Frederik Hautain
---
7th Sword #1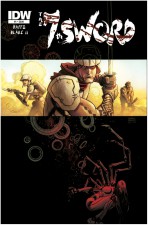 On a planet where explosive weaponry is unusable, Daniel Cray – a Samurai mercenary – stumbles upon the legendary city of ZenZion, a mysterious desert outpost currently under siege from a vicious warlord. The peace-loving citizenry beg Cray to help defend them… forcing Cray to reluctantly draw his deadly "Malathane" sword one last time to battle a relentless army of robots and their savage masters.
7th Sword is a new seven-issue series combing science fiction with a samurai epic. It comes to you from the minds of screenwriter John Raffo (Dragon: The Bruce Lee Story) and interior artist Nelson Blake II (Witchblade, The Darkness), with covers by Andrew Robinson (The Fifth Beatle, Dusty Star).
John Raffo (W),  Nelson Blake II (A) • IDW, $3.99
– Tyler Chin-Tanner

Mind MGMT #21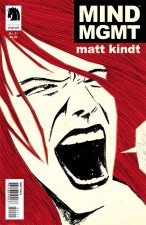 I'm a huge fan of gimmick comics. I'm a particularly big fan of the "silent issue" gimmick. From G.I. Joe to Sixth Gun and Marvel's " 'Nuff Said" month, I always enjoy the experiment.
The biggest key to a silent issue is a great artist, willing to try some experimental layouts to tell the story effectively. Matt Kindt is such an artist.
But the really interesting thing about this issue is that it won't be silent in the typical way of a silent issue. You will find still actually find dialogue on most pages as the majority of the storytelling is done via thought balloons. This is a world full of psychics and Kindt is showing that in an interesting way here. Gimmicks aside, Mind MGMT is one of the best ongoing comics out there right now and perhaps doesn't get the attention it deserves. If nothing else, use this fun experiment as a way to try out the mindbending series.
Matt Kindt (W/A) • Dark Horse Comics, $3.99
– Levi Hunt
---