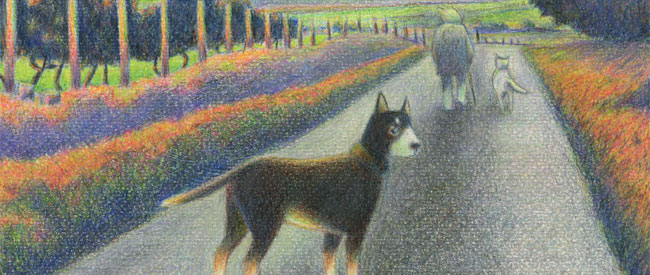 Coming a decade after her last new book, Carol Swain's atmospheric, intoxicating blend of meticulous observation and magic realism is one of the graphic novels of the year.
A few months ago I tried to complement a couple of young-ish UK cartoonists by saying that their work had something of the tone of Carol Swain about it. I was subsequently a bit gob-smacked when it turned out that neither of them was even familiar with her work.
Back in the late 1980s I was lucky enough to have just started following the UK indie comics scene when Carol Swain emerged, seemingly fully formed, like Venus from the sea.
As a fine artist who had only recently discovered the form, her aesthetic was clear and distinct: spare, textured and atmospheric, characterised by an air of mystery and a seam of dry humour. In a flourish of critical acclaim for her short stories, she was probably one of the first creators to be described as the "Raymond Carver of comics".
And while her style has remained steadfast down the years, the scale and ambition of her work have certainly expanded – as, unfortunately, have the gaps between its publication. Ten years have passed since Foodboy, her last book-length work (also published by Fantagraphics), but Gast, at 176 pages, marks a great leap forward.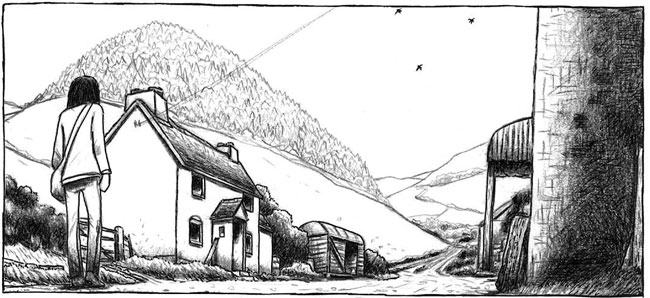 At the heart of Gast is Helen, an 11-year-old girl who has moved with her family to the same part of rural Wales depicted in Foodboy and Swain's first full-length story, Invasion of the Mind Sappers (Fantagraphics, 1996).
A keen observer and recorder of nature, Helen is intrigued when she hears about the death of a 'rare bird' at a nearby farmhouse. As her curiosity gets the better of her, and with the help of a couple of unlikely accomplices, she starts to piece together something of the truth about the life and death of Emrys Bowen, the 'rare bird' of Cuddig Farm.
However, this isn't a detective story with a neatly tied-up conclusion. At its heart it's a character study of Helen, an isolated young woman very much entering the transition between childhood and adulthood, innocence and experience.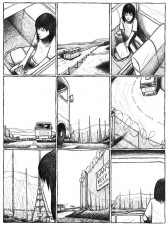 The focalisation of the story through Helen's naive point of view allows for a slightly distanced treatment, mixing Swain's usual oblique approach with a strong sense of observation. However, more than in her other long-form work, Swain uses Gast to plunge headlong into full-blown magical realism, in the form of talking animals.
Bill the local egg man lays the ground for it early on, when he says that his hens told him they had stopped laying because they were upset by Emrys's death. However, Helen's investigation really gathers pace when she strikes up a dialogue with the dead man's two dogs, who have been left on the farm. She's subsequently introduced to the Tup – one of the dead man's sheep – and later questioned by inquisitive birds.
It was only having read the book for the second time that I even considered the possibility that a reader could be turned off or thrown out of it by the talking animals, who turn up in what is otherwise a meticulously measured piece of naturalism. Maybe that's a sign of the trust that Swain engenders in her readers, as well as her mastery of the medium.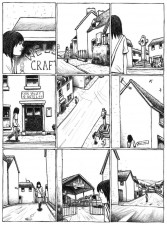 Even in her early shorts, it often seemed that Swain had hatched the idea of 'decompressed storytelling' long before it became a Thing in mainstream comics.
However, she takes the practice to the next level in Gast, transplanting the reader into the viewpoint of the mostly solitary Helen as she observes and records every aspect of her new environment. Gast is also a much 'quieter' book than Foodboy or Mind-Sappers, which read like Bendis-style banter-fests in comparison.
That quietness and the expanded page-count of the book also highlight another manifestation of Swain's mastery of the form: the way she creates fertile ground for themes to grow, without forcing them or having to resort to on-the-nose imagery or dialogue.
Woven through the pages, impressing lightly on Helen's still child-like mind, are issues such as transgenderism and isolation, appearance and identity, the harsh truths surrounding the commercialisation of nature and the issue of suicide among struggling farmers.
The book's climax is a bonfire that carries pagan, sacrificial connotations, and the final pages have a palpable sense of the seasons turning and Helen moving on, having catalogued her strange experiences. Given what Helen has learnt (if maybe not totally understood) about Emrys, it's no coincidence that the book opens and closes with images of birds – those perennial symbols of freedom – taking flight.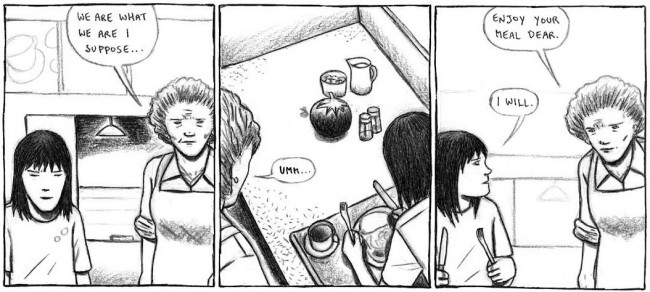 Gast is an important book, capping the all-too-skinny bibliography of one of our most fascinating creators. Having re-read Foodboy and Mind-Sappers in preparation, I was taken aback by how much her work has developed while still retaining its unique style. Like Jaime Hernandez with The Love-Bunglers, this is a work by a fully mature artist at the height of their powers – and my graphic novel of 2014 so far.
Carol Swain (W/A) • Fantagraphics, $22.99, July 2014