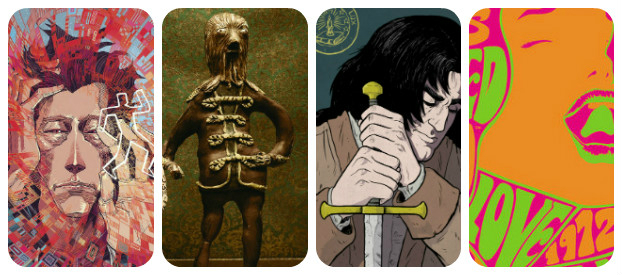 It's nearly Wednesday, and you know what that means: a fresh load of comics and graphic novels! With so many publications hitting your local comics store or digital storefront, the BF staff is here to lead you through the woods with our weekly staff picks. Satisfaction guaranteed!
Comic of the Week
Bright-Eyed at Midnight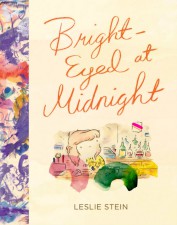 When you've been round the block as many times as I have, you can find that a lot of diary comics play a tune you've heard before. However, every now and then someone chooses to chronicle their life in a way that demands your full attention.
Beginning at the very start of 2014, insomniac artist Leslie Stein (Eye of the Majestic Creature) resolved to draw a page of comics at midnight every day for a year. Using pen and ink and vibrant watercolours, she created a series of meditative and often poetic observations, the best of which are collected here.
In a freeform and – ironically – almost dreamlike style she explores her 1980s childhood, travel, artist's block, drinking, punters at the bar where she works, and recording and playing rock shows, along with quiet moments of introspection and loneliness. In Bright-Eyed at Midnight, Stein gives the reader that rare and special gift of seeing the world through another pair of eyes.
Leslie Stein (W/A) • Fantagraphics Books, $22.99
– Tom Murphy
Fedor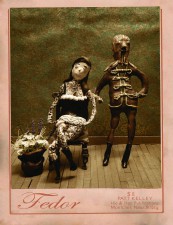 New Jersey micropublisher Hic & Hoc Publications describes itself as an outfit "that publishes mostly psychedelic comedies and psychedelic tragicomedies, with some psychedelic tragedies thrown in for good measure." Given that tongue-in-cheek mini-mission statement, creator Patt Kelley's idiosyncratic approach to comics narrative seems a natural fit for the publisher.
We've reviewed both Kelley's debut graphic novel What Am I Going to Do Without You? from Top Shelf here at BF in the past, and also the first issue of his self-published series Scout here, noting that his work is "both whimsical and yet disturbingly dark".
Fedor is his latest Burtonesque offering, touted as a semi-sequel to Tod Browning's classic 1932 film Freaks. It follows the adventures of historical figure and circus sideshow attraction JoJo the Dog-Faced Boy and his fractious relationship with a fellow performer, the Tattooed Girl. Kelley is one of those indie creators who has long deserved far wider acclaim for his work. If you've yet to come across his comics, then Fedor would be the perfect starting point.
Patt Kelley (W/A) • Hic & Hoc Publications, $6.00
– Andy Oliver 
This Damned Band #1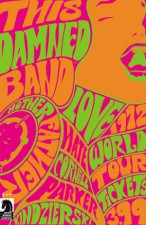 For international rock heroes Motherfather, their self-proclaimed affinity with the occult is just smart marketing. Too bad no one told the demons crashing their world tour that…
Witty Brit writer Paul Cornell frames the action with a classic rock motif: the documentary film crew following the band. This first issue gives readers a backstage look at Motherfather's memorable members, ranging from working-class hero drummer Bob to mysterious guitarist and band founder Clive.
But the real draw here is the art team of Tony Parker and colorist Lovern Kindzierski. The pair capture the 1970s setting so well you'll almost swear you can feel the feather boas. If you prefer your dark fantasy with a comedic bent, This Damned Band is playing your song.
Paul Cornell (W), Tony Parker (A), Lovern Kindzierski (C) • Dark Horse Comics, $3.99
– Paul Mirek
The Lion of Rora
T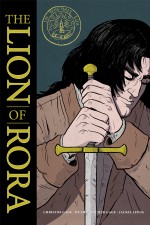 his week, married writing duo Christos Gage (Avengers Academy, Daredevil) and Ruth Fletcher Gage (Law and Order: SVU, Daredevil) explore history and religion in their new creator-owned graphic novel from Oni Press. The Gages delve into what is probably unknown historical territory for most of us, recounting the bravery and heroism of Joshua Janavel, the so-called Lion of Rora, an Italian insurgent who fought for religious freedom for the Protestant Waldensian faith in the 17th century.
Along with talented newcomer Jackie Lewis (Play Ball), the Gages construct a rousing, action-packed saga of the Waldensian revolution without sacrificing historical accuracy or character development. Featuring stunning artwork and a brisk pace, this easy-reading OGN pulls the veil back on this forgotten brutal conflict that provided the spark for religious reformation and revolutions in France and America.
As the solicitations state, if you're a fan of Braveheart or 300 and like your historical fiction chock full of bloody battles and inspirational monologues, then this snapshot of a seminal moment in world history is a must-read for summer.
Christos Gage & Ruth Fletcher Gage (W), Jackie Lewis (A) • Oni Press, $24.99.
– Jason Wilkins
John Flood #1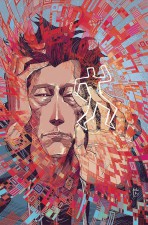 From fan-favorite scribe Justin Jordan (Luther Strode, Deep State) comes a new twist on the detective yarn that pits an insomniac private eye, who exists in a perpetual dream state, against one of the most prolific murderers in history.
The product of an experimental government program, Jordan's newest quirky protagonist no longer needs to sleep. Able to view patterns and details hidden from the rest of the waking world by their need to sleep, John Flood uses his unique skillset to track down a serial killer who may be responsible for the deaths of thousands.
Featuring eye-popping visuals from Portuguese wunderkind Jorge Coehlo (Polarity, Sleepy Hollow), this surreal foray into crime fiction is a refreshing departure from the genre's tried-and-true conventions, yet still pays respectful tribute to those classic sleuths who came before.
Justin Jordan (W), Jorge Coehlo (A) • BOOM! Studios, $3.99.
– Jason Wilkins
King #1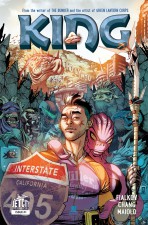 Anyone who thought the commute through Los Angeles was tough now should see what King, the last human on Earth, has to put up with on the 405 freeway, after a war between aliens and gods has made the planet virtually uninhabitable for anyone other than mutants, primordial beings and cross-species freaks.
Working for the LA Department of Reclamation, King scours the wasteland in search of the elusive "life seed" – the only hope for restoring earth's natural resources and its ability to sustain human life. But before he can get to that, he just needs to make sure he gets to work on time without being eaten by a pterodactyl wearing a Lakers jersey.
From critically acclaimed comic book writer – and contributor to the Broken Frontier Anthology – Joshua Hale Fialkov (The Bunker and I, Vampire) and superstar artists Bernard Chang and Marcelo Maiolo (Green Lantern Corps, Batman Beyond), this post-apocalyptic action/adventure comedy is an absolute feast for the eyes, starring a main character who's journey will keep readers coming back for more.
Joshua Hale Fialkov (W), Bernard Chang & Marcelo Maiolo (A) • Jet City Comics, $2.99.
EDIT: Josh Fialkov has let us know that King #1 is actually being published on August 19. Sorry for the confusion.
– Tyler Chin-Tanner