It's nearly Wednesday, and you know what that means: a fresh load of comics and graphic novels! With so many publications hitting your local comics store or digital storefront, the BF staff is here to lead you through the woods with our weekly staff picks. Satisfaction guaranteed.
Comic of the Week
Towerkind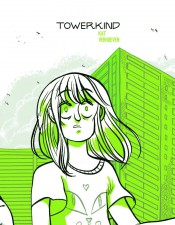 Last year I was lucky enough to stumble across Towerkind, a gripping and intense 13-issue series of mini-comics by Canadian artist Kat Verhoeven. Now I'm happy to report that Montreal's Conundrum Press are publishing what looks like a very nicely designed collected edition, with an introduction by another BF favourite, Georgia Webber.
The series tells an oblique end-of-the-world story, as a diverse group of kids in Toronto's densely populated St James Town housing project manifest supernatural abilities and begin to sense an impending catastrophe. Concentrating intimately on character and emotion rather than widescreen disaster porn, Verhoeven takes the reader on an unexpected route to the apocalypse.
As I said in my review, the most striking thing about Towerkind is that as soon as you finish it, you want to go straight back to the beginning and start again – and you STILL can't say that about many comics.
Kat Verhoeven (W, A) • Conundrum Press, $15.00
– Tom Murphy
Starve #1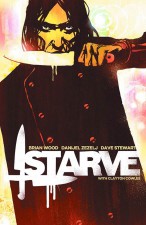 Having spent almost half of my life in commercial kitchens, to say that I was intrigued by the newest creator-owned delicacy by Brian Wood (Rebels) and Danijel Zezelj (Luna Park) would be a gross understatement.
Despite what the Food Network would have you believe, a cook's life isn't for everyone. Long hours, substance abuse of one kind or another, and smelling like garlic or fish or fryer oil all the time isn't for the faint of heart. Sure, the stray cats on your way home love you, but your family? They may just learn to hate you. It's not a trade-off most sane people are willing to make.
A revenge story for the 21st century set against the backdrop of a despicable, lurid reality cooking show, Starve chronicles the quest of an Anthony Bourdain-esque celebrity chef to take out those responsible for tanking his career.
Less about the daily grind most chefs and line cooks have to endure and more about the rampant invasion of celebrity chefs overrunning the airwaves, Starve is set in a near-future where the "haves" literally have almost everything and the "have-nots" virtually nothing. The besieged 0.1% of the population keeps the hungry masses in line using the one thing we all need: food.
A simmering, cutting look at the cooking cult of celebrity, featuring Zezelj's gut-wrenching, visceral art, this is one book that should make it to the reading menus of discerning comics connoisseurs everywhere.
Brian Wood (W), Danijel Zezelj (A) • Image Comics, $3.99.
– Jason Wilkins
The Disciples #1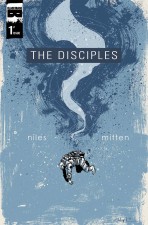 Steve Niles is one of the founders of Black Mask Studios, but this is his first work published under the punk-flavored banner. The four-issue mini-series represents new territory for the venerable horror creator – literally. While previous series like Criminal Macabre and 30 Days of Night have focused on Earth-bound threats, The Disciples transports readers to Jupiter's moon of Ganymede, for a new spin on an old noir tale.
Niles is teaming up with frequent collaborator Christopher Mitten. The artist's striking cover for the first issue immediately had me hooked – and not just because I'm a fan of other sci-fi/horror hybrids like Alien and Dead Space.
The minimalist design is perfectly suited to The Disciples' dark world of cultists and kidnappings on the edge of civilization. If you need further convincing, horror film legend Wes Craven has already signed on to adapt the book for TV.
Steve Niles (W), Christopher Mitten (A), Jay Fotos (C) • Black Mask, $3.99
– Paul Mirek
Golemchik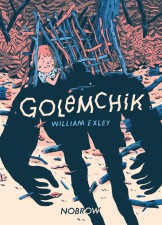 Although his book has been available in the UK for a while, poster and album illustrator William Exley makes his US comics debut this week, with this charming story of a boy and his golem. Like the best childhood stories, though, it's tinged with a kind of loss; in an interview with Comics Bulletin, Exley said that films like Lord of the Flies and Stand By Me helped to spur the project's development.
Visually, Exley's work has echoes of  both Jordan Crane and classic Peanuts, but Golemchik feels like the arrival of a singular new talent. The late summer color palette grounds the fantastic tale in a twilight world of aimless youth – one that may feel quite familiar to readers who preferred the world of comics to that of summer camp.
Golemchik is the latest in Nobrow's 17×23 series, which has spotlighted some of the finest new young artists in recent years. Enjoy a refreshing break from the Big Two's big events and add this one to your collection.
William Exley (W/A) • Nobrow Press, $5.95
– Paul Mirek
Blubber #1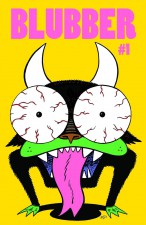 We've said it before and we'll say it again: there really is no stopping Gilbert Hernandez. While we're waiting for the next volume of Love and Rockets: New Stories, here's an all-new, standalone one-shot comic from Beto, featuring "six mostly wordless, throroughly surreal adventures featuring a cast of misfits, monsters and anthropomorphs".
The preview that Beto provided on Twitter – featuring what looked like a diarrhoeal penguin bouncing through a desert landscape – gives an indication of the free-wheeling lunacy that's likely to lurk within these pages. Add to that the cartoonist's warning that the book is "not for the squeamish", and I think we all know what to expect.
In the same week that Dark Horse Comics resurrects his 2002 mini-series Grip: The Strange World of Men in a new expanded hardback edition, Blubber highlights the amazing longevity and tireless creativity that mark out Gilbert Hernandez as one of our living comics treasures.
Gilbert Hernandez (W, A) • Fantagraphics Books, $3.99
– Tom Murphy
It Will All Hurt #1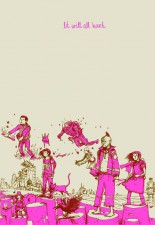 Serving as a companion storyline to this year's Eisner-nominated graphic novel, The Wrenchies, Farel Dalrymple's beloved webcomic is finally available in a beautiful print edition for retailer distribution by its online host and small press publisher, Study Group Comics.
Almendra doesn't remember how she got on this weird and distant world. All she knows is that she needs to leave or she will die. Her escape requires confronting the Sword Wizard, and to do this she must enlist the help of some strange allies, including Robot Todd, Hawk Daughter, Thaddeus the crow, an alien astronaut, and a cat who's really just there to narrate this epic tale to all us.
Farel Dalrymple (W/A) • Study Group Comics, $8.00
– Tyler Chin-Tanner

21st Century Tank Girl #1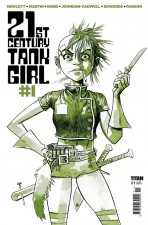 Bare-knuckled, bare-chested, and enthusiastically giving the finger to anyone who doesn't like it, 21st Century Tank Girl #1 would win if they gave an Eisner Award for the comic with the most unapologetic attitude. Series creators Alan Martin and Jamie Hewlett (Gorillaz) are reuniting for a whole new incarnation of the "foul-mouthed, gun-toting, swill-swigging hellion."
In addition to Hewlett's exciting return, Titan Comics brings together a team of artists to join in the fun and recommends that readers, "get your head down, put your hands over your private parts, and prepare for a chaotic collection of strips, pin-ups, and random carnage."
Alan Martin (W), Jamie Hewlett, Warwick Johnson-Cadwell, Philip Bond, Jonathan Edwards, Brett Parson, Jim Mahfood, Craig Knowles (A) • Titan Comics, $3.99
-Karen O'Brien
Swear Jar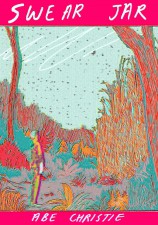 Collecting a number of artist Abe Christie's short strips from 2014 and 2015, Swear Jar marks Avery Hill Publishing's latest elevation of a self-publisher to the ranks of their ever-growing micropublished line. After its debut at last weekend's Crouch End Cartoon Art Festival, the book goes on full release this week and is available on AHP's online store and, no doubt in due course, also from discerning UK small press-promoting stores.
An often oblique and yet strangely familiar compilation, Swear Jar showcases Christie's contemplative shorts, taking in meditations on lost friendships, dreamlike cycling quests, and reflections on one's place in the world. You can read a full review of Swear Jar here at Broken Frontier.
Abe Christie (W/A) • Avery Hill Publishing, £6.00
– Andy Oliver
 Titan #1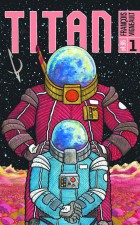 When Monsignor Joao da Silva is sent to Homestead Station on the moon of Titan, he finds himself caught in the simmering tensions between the genetically engineered Titan workers and the Terran management. Joao must work against the clock to discover what is going on, but will his relationship with his Titan Union liaison prove to be one fraught with conflict, or is something much deeper going on between them?
François Vigneault's online space-epic is finally available in print for retailer distribution by its online host and small-press publisher, Study Group Comics.
François Vigneault (W/A) • Study Group Comics, $4.95
– Tyler Chin-Tanner