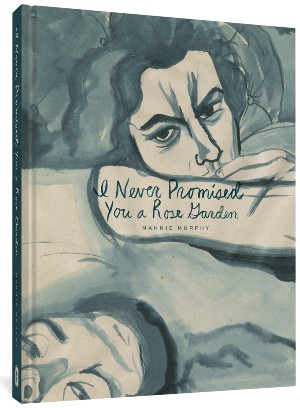 I Never Promised You a Rose Garden is bookended (although they are heavily featured in the middle too) by two young men. One is River Phoenix, the beautiful young actor who died of an overdose on Halloween 1993 at age 23. The other is Ken Death, a neo-Nazi skinhead who (also at 23) was involved in the hate-crime killing of Ethiopian student Mulugeta Seraw. How are these two related, aside from genderqueer author Mannie Murphy's childhood crush on both of them (before Ken was convicted of murder, of course)?
What about Phoenix's signature roles being in Gus Van Sant's acclaimed piece of New Queer Cinema My Own Private Idaho (1991), playing a narcoleptic hustler who roams around the streets of Portland, Oregon. The same Portland where Ken Death roamed (and eventually murdered), being a local legend in the community and the subject of the 3-minute short Ken Death Gets Out of Jail (1987), by Gus Van Sant. The same Portland where Mannie Murphy was raised. What results in Rose Garden is an incredible portrait of the city, musings on intersectional identity, groupthink dynamics, childhood abuse and celebrity media, and an elegy for progressive potential when discrimination has been baked into the soil.
Murphy's tapestry touches on many strands – the filmography of Van Sant, the "Children of God" cult which raised River Phoenix, the 1986 Mount Hood disaster, the skinhead brawl on the Geraldo Rivera Show, lyrics from the Red Hot Chili Peppers – but none of them feel ancillary. Murphy effortlessly connects each of these dots to show the bigger picture, with informed context to detail each incident and how it points to recurring systemic issues. In some ways its reminiscent of Box Brown's Tetris: The Games People Play, another "documentary comic" that encompasses sprawling historical anecdotes.
But Murphy is somehow less focused and more pressing, burrowing down into the very foundation of Portland, extrapolating its queer subculture from its "port" status (a transient area for sailors and hustlers) and white nationalism from the Whitman Massacre (and subsequent laws encoded against non-whites). Portland is often conceived as a hipster-liberal "utopia," but Murphy examines how the decentralised libertarianism encourages a skinhead counterculture, false promises leading the country astray.
The ambitious scope of Rose Garden may make it seem dry or overwhelming at first glance. But what truly elevates Murphy's project is their delivery, as the book is not academic but rather lyrical and elegant and its hums along each piece (no matter how ugly the material may be). Murphy is uncensored toward their hometown, but their personal familiarity nevertheless shines through, able to record the cruising spots, anti-police protests and local skinheads (knowing Ken Death personally) in an intimate way unimaginable through "regular" historical documents. Sometimes Murphy does hold back, intonating toward their personal history without divulging details, but it's a minor critique of a book which exudes a personal feeling if not a life-story.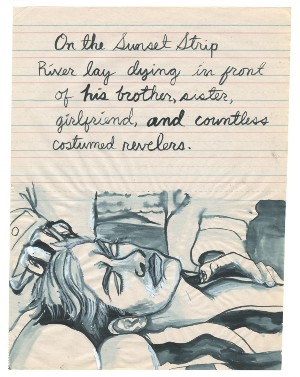 This intimacy extends to the artwork. Rose Garden is not a "traditional comic" so much as an "illustrated diary," each page having hand-drawn ink pictures on newsprint, accompanied by a short cursive paragraph. It's reminiscent of Emil Ferris' My Favorite Thing is Monsters, but purposefully more simplistic than Ferris' refined crosshatching. Murphy leaves in their mistakes and watery images, presenting personalised pictures that seem to stare into the reader's very soul. Sometimes the prints seep through to the opposite page, creating a mood of haunting melancholy for events which (literally) bleed into one another.
"Oregon did not begin well, nor does this story end well." Murphy writes, "White supremacy is written into Oregon's foundations, with no signs of crumbling." The seeds were tainted from the start, the city of Portland – America itself – is built on spoiled ground. Rose Garden may lack a conclusion to these sprawling topics, but its main body is so persuasive and incentivising it doesn't much matter. I Never Promised You a Rose Garden is a singular and utterly remarkable piece of underground history, seamlessly tying anecdotes (big and small) into a unique perspective that must not be ignored.
Mannie Murphy (W/A) • Fantagraphics Books, $24.99
Review by Bruno Savill de Jong