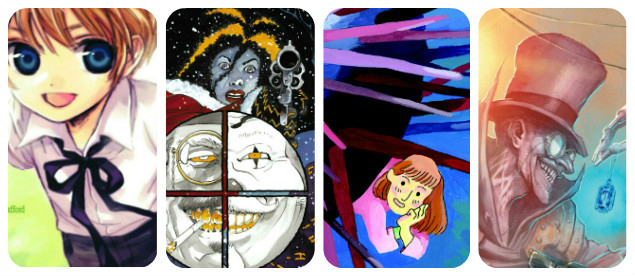 It's nearly Wednesday, and you know what that means: a fresh load of comics and graphic novels! With so many publications hitting your local comics store or digital storefront, the BF staff is here to lead you through the woods with our weekly staff picks. Satisfaction guaranteed!
Comic of the Week
Not Funny Ha-Ha: A Handbook for Something Hard
We love comics here at Broken Frontier. We love comics that entertain us, comics that make us chuckle and comics that make us think. However, the comics we love most of all are those that actually DO something for people. And behind its euphemistic title, Not Funny Ha-Ha by Leah Hayes is one of those very important books.
Through the use of very straightforward cartooning and hand-written text, Hayes takes a look at the emotional, administrative and physical aspects of terminating a pregnancy, illustrated through the experiences of two women who undergo different procedures.
Hayes doesn't wander into the petrified forest of pro/con arguments, instead starting from the point that sometimes abortion is a 'no-brainer'. Along the way, she aims to provide "a non-judgmental, comforting, even humorous look at what a woman can go through after she decides to have an abortion."
We talk a lot in these parts about "graphic medicine", and Hayes' bold and even courageous book looks set to be one of the most important and practical additions to the canon so far.
Leah Hayes (W/A) • Fantagraphics Books, $16.99
– Tom Murphy
Meanwhile… #3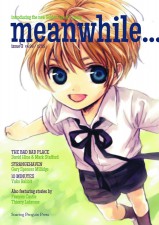 Although it was released in the UK a while back, the third issue of Soaring Penguin Press's Meanwhile… anthology reaches US shores this week. A heady mix of ongoing serials and standalone stories, Meanwhile… has impressed so far with its eclectic and diverse line-up.
For many, the most intriguing draw when this project was first announced was the long-awaited return of Gary Spencer Millidge's cult favourite Strangehaven series. However, BF aficionados will, no doubt, have been savouring David Hine and Mark Stafford's The Bad, Bad Place with equal relish. Hine and Stafford are, of course, contributors to the upcoming Broken Frontier Anthology and guest creators at this week's Gosh! Comics/Broken Frontier Drink and Draw.
Within this issue you'll also find a manga adaptation of Shakespeare's Sonnet 18 by Rainbow Buddy, and work from Laura Trinder, Thierry Labrosse and Frances Castle. Who said the anthology was dead…?
Anthology – various creators • Soaring Penguin Press, $7.95
– Andy Oliver
Grindhouse: Doors Open at Midnight Double Feature, Volume 3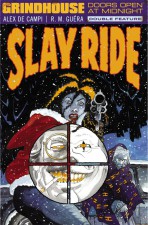 Dense in concept and cinematic in execution, Grindhouse: Doors Open at Midnight is a treat for midnight-movie connoisseurs looking for something a little meatier into which to sink their teeth. The thrills and (blood) spills come courtesy of biting writer Alex de Campi and a rotating team of artistic wonders, and this new collection offers a double-dose of subversive horror suitable for any season.
First up is the chilling Slay Ride with R.M. Guéra, recalling classics like Black Christmas and Silent Night, Deadly Night with its Yuletide terror. Here the naughty receive gifts much worse than coal, and the good don't fare much better.
In Blood Lagoon, the robotic supercop Garcia from Bee Vixens from Mars is back to battle more foes of the insectoid variety. Chris Peterson illustrates this sweltering scorcher set in the deep South.
This four-issue primer serves as a twisted introduction to Dark Horse's seductive succession of miniseries, and is also out just in time for readers to pick up issue #7 of Grindhouse: Drive In, Bleed Out – part 1 of the sure-to-be-a-classic "space sexploitation epic" Nebulina.
Alex de Campi (W), R.M. Guéra & Chris Peterson (A), Giulia Brusco & Nolan Woodward (C) • Dark Horse Comics, $17.99
– Paul Mirek
Sea Urchin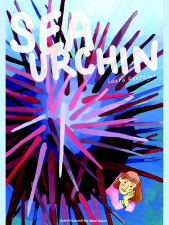 I reviewed this 60-page one-off earlier in the year when it turned up as part of the Retrofit Comics subscription, but it's well worth running up the flagpole again as it hits the shelves of the more discerning comics shops out there.
As I wrote at the time: "Laura Knetzger uses her airy cartooning style to create a number of potent and imaginative metaphors for the experience of depression, while also highlighting the healing power of art.
"She brings an admirable honesty and clarity to a condition that – paradoxically – can strand its victim in the thickest of fogs… By chronicling her experiences in Sea Urchin, Laura Knetzger lights a torch that shines all the brighter for the gloom that surrounds it."
Laura Knetzger (W/A) • Retrofit Comics/Big Planet Comics, $8.00
– Tom Murphy
Shrinking Man #1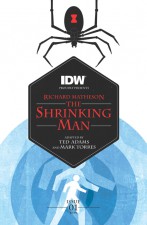 This week, IDW CEO and publisher Ted Adams teams up with fan-favorite artist Mark Torres (Zombies vs. Robots) to adapt Richard Matheson's 1956 sci-fi horror classic The Shrinking Man. One of the most influential genre writers of the 20th century, Matheson's impact on future generations of storytellers of all stripes cannot be overstated.
Known for his irony-laden explorations of social issues that remain relevant to modern audiences, Matheson's unique take on one man's very literal loss of manhood might resonate today more than ever before. Adams and Torres delve into protagonist Scott Carey's loss of identity and ability to support his family with incredible insight and a wry wit of which Matheson would be proud.
Featuring an EC-style variant cover by Torres, this adaptation serves as a winning tribute to the legacy of one of our greatest storytellers.
Ted Adams (W), Mark Torres (A) • IDW Publishing, $3.99.
– Jason Wilkins
Gotham by Midnight Annual #1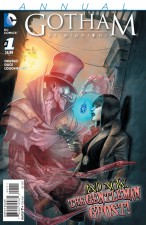 Annuals should present a unique story that is set apart from the book's continuing plot while showcasing everything that makes the book unique and entertaining. In Gotham by Midnight Annual #1 artist Christian Duce and colorist Lee Loughridge plan to make perfect use of the nocturnal setting to ensure that Gotham itself is an important character from the very first panel. And a Gotham-style ghost story sounds like the formula for a successful annual!
Detective Jim Corrigan and his unlikely team of detectives hunt down the supernatural forces at play in Gotham City. But they may have met their match in Jim Braddock, aka "The Gentleman Ghost".
A thief with a gift for seducing women and relieving them of their jewels, Gentleman Jim is plying his trade when interrupted by Corrigan and Drake. Unfortunately, it's Detective Drake who chases down the ghost…
Ray Fawkes (W), Christian Duce (A) • DC Comics, $4.99
– Karen O'Brien
Reads Volume 2, #3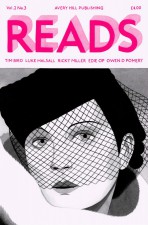 Showcasing some of the very best of up-and-coming UK small press talent, Avery Hill Publishing's second volume of anthology Reads has featured a number of familiar faces from their repertory company of comics creators.
For fans of the outlandish and the eccentric each issue has included the slapstick exploits of Owen D. Pomery's drunken nineteenth century scientific explorers The Megatherium Club alongside a complete short story by that mistress of the macabre EdieOP. There's also comics industry satire in Luke J. Halsall and Tim Bird's tale of a fictional but very recognisable comics company office in 'The Bullpen', and Ricky Miller and Tim Bird continue to chronicle the life of that cinematic master of suspense Alfred Hitchcock in 'Hitchcock & Film'. All wrapped up in a gorgeous Eleni Kalorkoti cover.
Reads is a cracking little anthology and without a doubt one of the most overlooked books in the AHP stable. All issues to date can be bought from the Avery Hill online store here including a special discounted bundle offer on the first three issues.
Anthology – various creators • Avery Hill Publishing, £4.00
– Andy Oliver