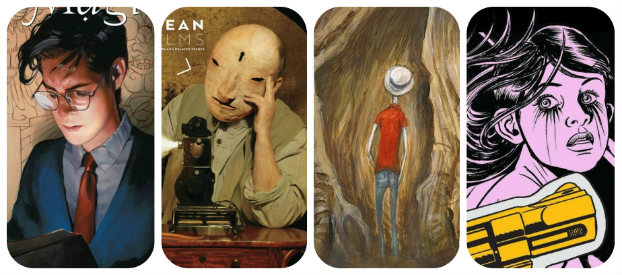 It's nearly Wednesday, and you know what that means: a fresh load of comics and graphic novels! With so many publications hitting your local comics store, comics event or digital storefront, the BF team are here to lead you through the woods with our weekly staff picks. Satisfaction guaranteed!
Comic of the Week
Wolf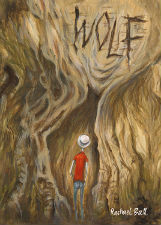 After the graphic medicine/magic realism of Rachael Ball's acclaimed The Inflatable Woman a couple of years back there will no doubt be  many readers eagerly looking forward to her second full-length comics offering Wolf from SelfMadeHero. The former Deadline artist and London Laydeez do Comics co-organiser also had work from the book exhibited at The Cartoon Museum recently, adding to the sense of anticipation surrounding the project.
This touching story of childhood, the ties that bind us and loss centres on young Hugo whose family life has recently been turned upside down by a tragic accident. In an attempt to return to a happier point in his life Hugo designs a time machine but he can only complete his invention by securing parts from the house of his sinister neighbour the Wolfman…
Gorgeously illustrated in dreamy pencilled tones Wolf was an obvious choice for 'Comic of the Week' this week at BF. You can look forward to a full review of the book here at Broken Frontier in the very near future.
Rachael Ball (W/A) • SelfMadeHero, £15.99
– Andy Oliver
Books of Magic #1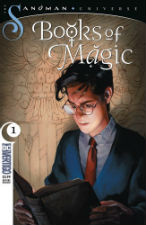 Part of the new collection of four titles under the broad Sandman Universe umbrella, this new incarnation of Books of Magic may be the one awaited with the most anticipation and trepidation. Tim Hunter is the tousle haired, bespectacled boy wizard that predates that other one by seven years, he's been through a lot of magical realms and incarnations but this reboot is exactly that, a teenage Tim in 2018, not the same character exactly but an updated one, although apparently still with a yoyo.
Writer Kat Howard is riffing off of the original Gaiman four-issue run, not anything that came after so it looks like no Molly, no Barbatos of any of the other later run characters, but if you can make peace with that then the art and story look promising indeed, with classroom drama and otherworldly intervention already intertwined in the form of the sinister substitute teacher already introduced on the Sandman Universe introductory one-shot.
Kat Howard (W), Tom Fowler (A) • DC Comics/Vertigo, $3.99
– Jenny Robins
Dave McKean: Short Films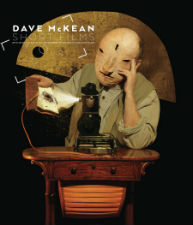 Dark Horse take a creative sidestep this week as their long-awaited collection of the films of Dave McKean finally makes its debut in stores. Presented in a hardback "behind-the-scenes" book this compilation brings together the respected and multi-talented creator's surreal short film work on Blu-ray.
McKean is an artist whose practice crosses mediums with a graceful fluidity and of whom our own Tom Murphy has said "Dave McKean remains the master alchemist of comics imagery." This affordable insight into the wider realms of his creativity is an absolute highlight of this week's new releases.
Dave McKean (W/A) • Dark Horse Comics, $24.99
– Andy Oliver
Isola Vol: 1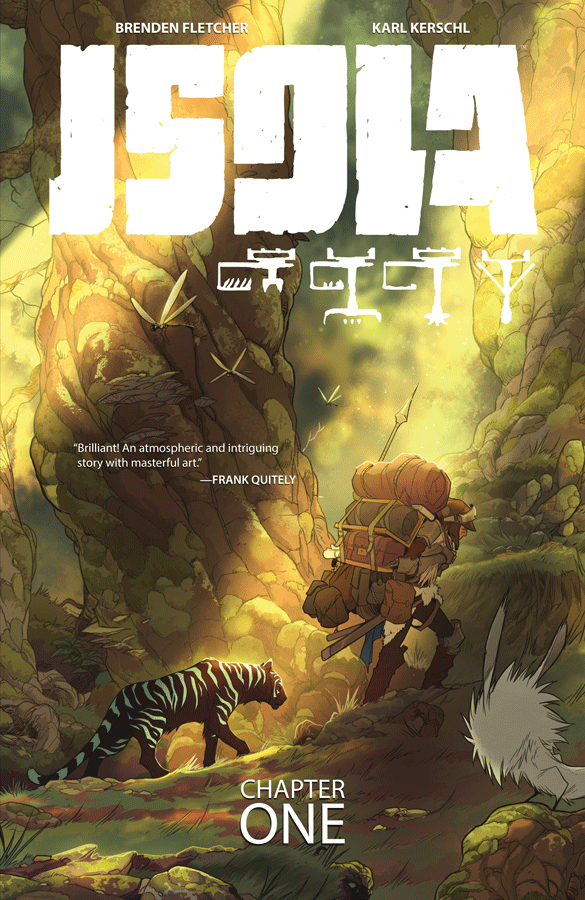 When the Queen of Maar is mysteriously transformed into a tiger, it's up to Rook, the captain of the guard, to lead her monarch to the mythical land of Isola where they hope to not only reverse this spell, but figure out who cast it upon the queen and why.
The strength of this series lies in the stunning artwork and the engaging atmosphere it creates. The story itself is a bit of a slow burn, but this can be a nice change of pace from the intense world building and expansive cast of characters that fantasy series often lead off with. It's also a good reason to read this story as a full trade paperback collecting the first five issues.
Brenden Fletcher, Karl Kerschl (W), Karl Kerschl (A), Msassyk (C), Aditya Bidikar (L) • Image Comics, $9.99
– Tyler Chin-Tanner
Lodger #1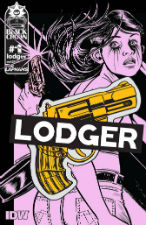 IDW's creator-owned Black Crown line might not have quite set the comics world ablaze just yet, but the promise of a new crime series by David Lapham (co-written with his wife and publishing partner, Maria) could splash a bit of accelerant on the flames.
Promising "a pulse-pounding game of cat-and-mouse through roadside America", Lodger follows a vengeful young woman, Ricky Toledo, who crosses the USA in pursuit of the resourceful and elusive serial killer who ruined her life.
If Stray Bullets isn't providing your full recommended monthly dose of Lapham-related thrills, then this "lurid tale of lust, secret identities and sweet revenge" should provide a stiff supplement.
David Lapham (W/A), Maria Lapham (W) • IDW Publishing/Black Crown, $3.99
– Tom Murphy
Spook House 2 #4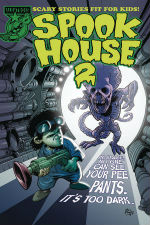 Eric Powell's all-ages horror anthology series returned this Autumn with four weekly issues of frightful fables suitable for the widest range of audience age groups. The series wraps up for another year this week with a final issue that's here in good time for Halloween.
Apart from Powell the series has featured the work of Hilary Barta, Lance Inkwell, Gideon Kendall, Logan Faerber, Dave Johnson, Brett Parson and more. Not to mention a variant cover by Jeff Smith! Stock up on some copies for those more discerning Trick or Treaters this year.
Anthology – Various creators • Albatross Exploding Funnybooks, $3.99
– Andy Oliver