In 'Covers Album' each Wednesday we ask comics creators, publishers and commentators to pick three of their favourite comic covers …but with a small twist. One must be chosen for aesthetic reasons, one for inspirational reasons and one for pure nostalgia!
This week it's the turn of small press creator Ally Russell (Killer Klowns from Outer Space) who is also one of our team of Contributing Writers here at Broken Frontier…
Aesthetic Choice: Rat God #1 (2015) by Richard Corben (Dark Horse)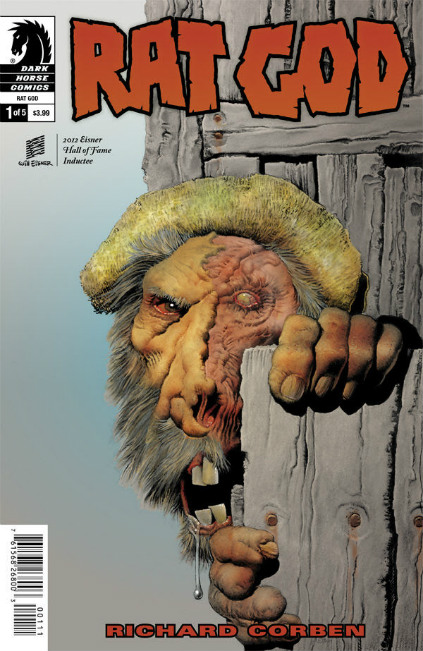 I can't resist a disturbing horror illustration, and no one does it better than Corben. He achieves this luminescent, three-dimensional plasticity in his art, and gives his characters features that are at once hyper-realistic and grotesquely unfamiliar, making every experience with his work totally affecting.
While he openly shares his techniques in interviews (often describing them as "really very simple"), I've never seen Corben's style successfully replicated. Every element of Rat God is striking, from this hideous, drooling creature with half its face stripped down to the flesh, to the book's title, and its unforgettably strange narrative… The exact aesthetic I strive for!
Inspirational Choice: The Lost Women and Other Stories (1988) by Jaime Hernandez and Jim Woodring (Fantagraphics)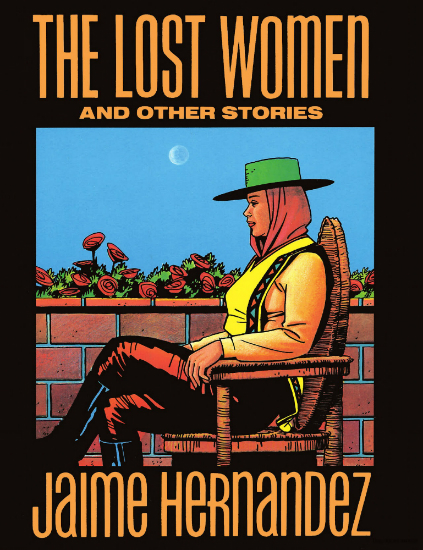 Xaime's unique gift for capturing female characters – in all their complexity, vitality, and beauty – is perfectly summed up by this gorgeous cover. The story contained within is one of violent revolution, and how two of his recurring heroines survive by banding together after literally falling through the cracks of society.
I adore the stoic strength and grace that Hernandez gives the almighty Queen Rena in this private moment, conveyed only through her posture and almost expressionless face. I like to think the image is inspired at least in part by the artist's mother, so often cited for inspiring a love of comic books and drawing in all six of her children. I also love the design of its tall lettering and heavy black framing, giving it that '80s movie poster aesthetic, and the warm, walking-off-into-the-sunset colours by fellow comics genius Jim Woodring.
Nostalgic Choice: Concrete: The Human Dilemma #1 (2004) by Paul Chadwick (Dark Horse)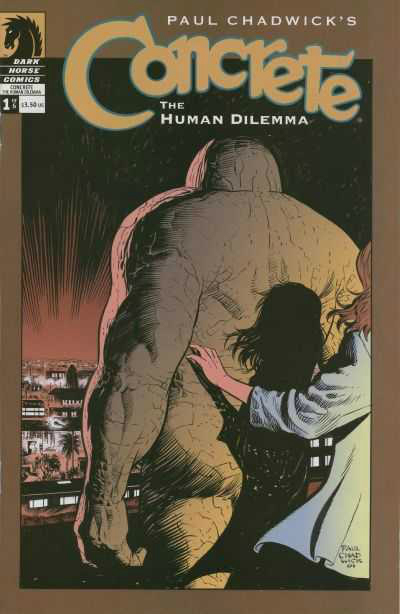 This (and, really, any of Paul Chadwick's Concrete covers) could equally belong in the 'Aesthetic' and 'Inspirational' categories above. However, I don't think I've ever loved a comics character or series as much as I do Concrete, and this issue heralded the beginning of its much-too-soon final run, so I suppose the 'Nostalgic' tag is apt.
Here we see Ron Lithgow, AKA Concrete, looking out at an overpopulated world, having been chosen as the controversial figurehead of a radical human sterilisation campaign. Having had his brain forcibly transplanted into a numb rock body, he is unable to feel sensation, rendering him unconscious to the delicate touch of the woman he loves, secretly standing there with him, sharing his moment of awe, or serenity, or fear, or uncertainty. The fact that we can't see their facial expressions makes the quiet beauty of this cover all the more heartbreaking.
For more on the work of Ally Russell visit her tumblr here and follow her on Twitter here. Part 1 of Ally's Killer Klowns from Outer Space is available to buy in print here or you can read the webcomic here.