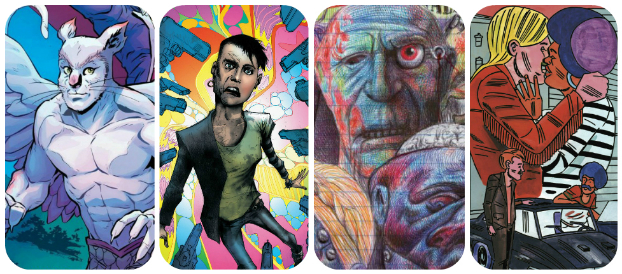 It's nearly Wednesday, and you know what that means: a fresh load of comics and graphic novels! With so many publications hitting your local comics store or digital storefront, the BF staff is here to lead you through the woods with our weekly staff picks. Satisfaction guaranteed!
Comic of the Week
Haddon Hall: When David Invented Bowie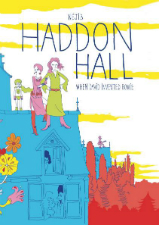 SelfMadeHero celebrate their tenth anniversary of publishing this year with their eclectic output of original graphic novels, literary adaptations and European translations having propelled them into the position of one of the UK's most exciting publishing forces over the last few years. For many, though, it will be their range of graphic biographies that have established them as an outfit with true crossover appeal, with approaches that have ranged from the traditionally recounted to the interpretive and idiosyncratic.
This week's release of Haddon Hall: When David Invented Bowie looks at that time in the singer's life when his career was just beginning to burgeon and he moved into the now near-mythical Haddon Hall with girlfriend Angie. Creator Nejib's 140-plus page exploration of Bowie's formative period examines the early transformation of a star who would go on to re-invent himself like no other in the years to come.
Nejib (W/A) • SelfMadeHero, £14.99
– Andy Oliver
Angel Catbird Vol. 2: To Castle Catula

Return to the hybrid half-cat, half-human world of Angel Catbird with creative team extraordinaire Margaret Atwood, Johnnie Christmas, and Tamra Bonvillain, as our hero Strig Feleedus heads to Castle Catula to rally his allies against the might of the evil Professor Muroid. Atwood and pals once again bound along playfully with Angel as he navigates a rapidly expanding milieu of human-animal halfbreeds, all the while poking fun at traditional mainstream superhero comics with what can only be described as feline relish.
A delightful self-awareness clings to the book that pairs well with the creators' keen insights into the medium and the rich fictional world they've constructed. The second volume takes up right where the first left off, ratcheting up the action and digging deeper into Angel's unique world. A perfect read to curl up with in the deep, dark months of winter, the latest volume of Angel Catbird will make you feel all warm and cozy, just like your favourite feline friend.
Margaret Atwood (W), Johnnie Christmas (A), Tamra Bonvillain (C) • Dark Horse Comics, $14.99
 – Jason Wilkins
Lovers in the Garden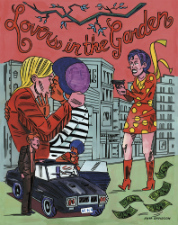 Those wise enough to have subscribed to all of last year's Retrofit Comics releases will have already seen Anya Davidson's retro tale of lost souls and criminal enterprise in 1970s New York. But for readers yet to sample its vibrantly coloured pages the book hits comics stores this week.
An ever shifting character piece of converging ambitions, Lovers in the Garden follows the interconnected lives of two hitmen, a druglord with artistic pretensions, an alcoholic reporter and an undercover police officer. Fast-paced, compelling and illustrated with an accessible energy, Davidson's 60-plus pager is one of the top picks from a phenomenal twelve months or so of superior comics publishing from Retrofit.
Anya Davidson (W/A) • Retrofit Comics, $10.00
– Andy Oliver
Seven to Eternity Vol. 1: The God of Whispers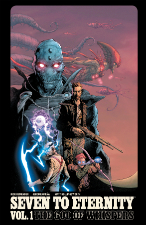 Since I recently expressed my admiration for Rick Remender's writing in Deadly Class, it should come as no surprise that I showed up for the debut of his new weird Western fantasy epic. Fans of the first series (or much of Remender's other work) should find plenty to love here, but the originality of the setting and the impeccable draftsmanship of Jerome Opeña make Seven to Eternity a perfect starting point for new fans as well.
Remender gives us his take on the classic Western gunslinger in the form of Adam Osidis, a man haunted by the tainted legacy of his father, his own looming mortality, and a tempting offer from the despotic Mud King that could make it all go away. In a world that recalls both Lovecraft and Tolkien, Adam has one final chance to choose a better way. Opeña is the perfect artistic partner for Remender's high concepts, rendering Adam's quest in cinematic spreads and lush panels that showcase the diversity of this rich world — one that we've only begun to explore by the end of these first four issues.
Rick Remender (W),  Jerome Opeña (A), Matt Hollingsworth (C) • Image Comics, $9.99
– Paul Mirek
Second Sight Volume 1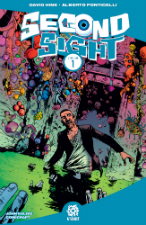 Aftershock's gritty Second Sight was deservedly nominated for a 2016 Broken Frontier Award in the category of Best Limited Series last year and this week sees David Hine and Alberto Ponticelli's disturbing tale of serial killers and establishment corruption collected in one deeply disquieting volume.
Hine is a writer who can always find the lurking horror in the recognisable and this tale of Ray Pilgrim – a man whose ability to see through the eyes of murderers led to a much publicised media downfall some years prior – is all the more horrifying for its depiction of a depravity that is simply above the law. When Pilgrim's daughter begins investigating a ring of abuse with ties to a powerful elite, the weary psychic is forced to return to a world he thought he had left behind…
Ponticelli's visceral visuals complement Hine's taut script perfectly. This is arguably the strongest material to come out of AfterShock to date and one of this week's absolutely essential purchases.
David Hine (W), Alberto Ponticelli (A), John Kalisz (C), Comicraft (L) • AfterShock, $17.99
– Andy Oliver
The Wild Storm #1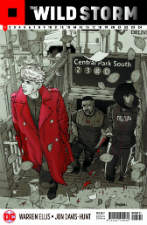 In these days of tumultuous geopolitical events and strange weather patterns, the words "wild storm" seem the perfect descriptor for the unpredictable winds of change shaping the world just beyond our window glass. These are certainly times rife with new beginnings. Fitting, then, that DC Comics has chosen to revive its WildStorm imprint and set at the helm the legendary comics visionary Warren Ellis.
This week, Ellis and artist Jon Davis-Hunt launch The Wild Storm, the first of several titles that will serve to reboot and re-imagine the mini-universe created by Image co-founder Jim Lee in 1992 and transferred to DC in 1999. Using the DC "multiverse" structure will allow the creative team to make use of characters like Midnighter, Apollo, Grifter, Voodoo, and others in new iterations without impinging upon ongoing DC story arcs that currently employ them.
With his unparalleled penchant for taking readers behind the curtains of secret world-dominating cabals, hidden space programs, and other exciting realms of esoterica, Ellis is certainly well-equipped to sit at the eye of this thrilling new storm and create a truly epic body of work for DC – one that promises to honor as well as enhance the WildStorm brand that many of us know and love.
Warren Ellis (W), Jon Davis-Hunt (A), Ivan Plascencia (C) • DC Comics, $3.99
–  Matthew Box
My Favorite Thing is Monsters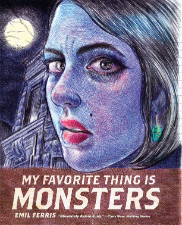 There's been an incredible amount of advance positive word of mouth building up around Emil Ferris's debut graphic novel for some months now. Those advance pages out there online have only served to underline that this book's projected status as a certainty for 'Best of 2017' lists in ten months time is hardly hyperbolic in nature.
Told in a notebook diary form My Favorite Thing is Monsters is set in 1960s Chicago as its protagonist, 10-year-old Karen Reyes, becomes involved in solving the murder of her mysterious neighbour Anka Silverberg, a survivor of the Holocaust. With a sprawling cast of intriguing characters and the most distinctive of narrative styles this looks like a book that is going to not just live up to its pre-publication hype but to surpass it as well.
Emil Ferris (W/A) • Fantagraphics, $39.99
– Andy Oliver
The Machines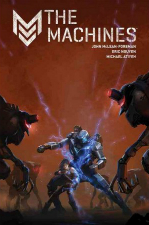 The Machines is an adrenaline-packed man vs. robot thriller with a twist that should appeal to sci-fi fans and video game junkies. Mankind fell two centuries ago. And now a malfunctioning war machine and a slave girl with the uncanny ability to heal robotic minds have to overcome their mutual distrust in order to save a friend from the robots intent on harvesting his life force.
This story is adapted from the online combat strategy game The Machines by Directive Games and written by the game's lead writer, John McLean-Foreman. In a never-ending struggle between to warring machine factions over a long-devastated planet Earth, the surviving humans are helpless slaves. Until now.
John McLean-Foreman (W), Eric Nguyen (A) • Dark Horse Comics, $9.99
– Karen O'Brien
Meanwhile… #5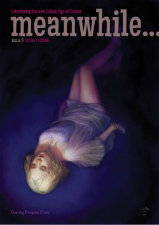 Serial anthologies may be a tough sell in a world where instant pop cultural consumption has become the norm but Soaring Penguin Press's Meanwhile… is designed to appeal to fans of traditional episodic comics narratives while also hosting enough self-contained work to keep the casual browser interested.
Back after a hiatus with a launch party at London's Orbital Comics this Wednesday February 15th, this latest issue continues Gary Spencer Millidge's cult classic Strangehaven and also features the latest instalment of The Bad Bad Place from Broken Frontier favourites David Hine and Mark Stafford as well as the finale of cover artist Yuko Rabbit's 10 Minutes.
British Comic Award-nominated Sarah Gordon also joins the line-up with a new serial and there are some previously unpublished Cape/Observer/Comica Short Story Competition entries on offer as well as Meanwhile… makes its welcome return to regular publication. You can order a copy online here.
Anthology – Various creators • Soaring Penguin Press, £10.95
– Andy Oliver