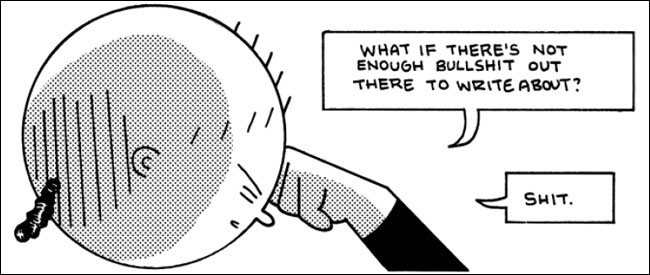 A young wrestling fan learns the hard way that you should never meet your heroes, in Box Brown's entertaining latest addition to the Retrofit Comics line.
So who says that comics never teach you anything? COTTON-BRAINED DUNDERHEADS, that's who.
For example: I've just been schooled in the wrestling concept of 'kayfabe', courtesy of grapple fan extraordinaire Box Brown, in the latest book from his Retrofit Comics imprint, Number 1.
'Kayfabe' refers to the complex continuity of the pro-wrestling universe – and, more specifically, the pretence that it's all 'real'. In an altogether more benevolent version of George Orwell's doublethink, millions of fans are happy to play along with the delusion, while also sharing the unspoken truth that it's all cooked-up.
In 'Kayfabe Quarterly', the 42-page story that makes up the bulk of Number 1, a young boy called Virgil has his view of the world thrown into chaos when he meets his wrestling hero, Diamond Dick Corduroy, and has the veil pulled from his eyes.
Diamond Dick swiftly informs his little fan that "there's a layer of bullshit over everything you see". With his belief in the integrity of wrestling shaken, Virgil soon begins to doubt the veracity of the world around him, wondering what – if anything – is real and what else is a "work".
Virgil starts a zine, Kayfabe Quarterly, and before long he's at the head of a flourishing print empire. However, fearing that he's becoming part of the World of Bullshit that he sought to expose, he tries (unsuccessfully) to reconnect with his old life, drifting back inevitably to the knowingly named Flair Diner and Diamond Dick again.
By the end of the book, Virgil has been plunged into existential crisis;  the cover of the final issue of KQ depicts graphically the vortex of unknowing into which he has disappeared.
Virgil's rise and fall is depicted in a breathless, elliptical narrative, delivered in Brown's familiar, clean geometric style, including his usual deft use of tone. There are some nicely experimental page designs, but in one or two places the linework isn't quite as precise as in some of his other books, looking a bit rushed.
However, this is a fine piece of work that's surprisingly affecting at times and has depths beyond its surface simplicity. Brown has a gift for super-efficient characterisation, and with a feather-light touch he takes us deep into both Virgil's skewed perceptions and his desire to make peace with his life.
The character's confusion in the face of life's uncertainties is palpable, and in telling his story Brown subtly questions the value of putting too much of your faith in other people's philosophies, using the overblown world of pro-wrestling as an analogue for any kind of all-enveloping belief system.
But that's not all; 'Kayfabe Quarterly' is backed up by 'The Documentarian' – a Clowes-inflected two-pager delivered as a series of single newspaper-strip-style panels, looking at the mundane, solitary and doubt-ridden life of the film-maker in question.
Box Brown is one of the most active and consistently interesting alt-cartoonists out there, and Number 1 – 'Kayfabe Quarterly' in particular – acts as a very tasty appetiser for his graphic biography of the wrestler Andre the Giant, due to appear from First Second any time now.
With Number 1 and Wicked Chicken Queen, Retrofit have made a storming start to 2014.
(NB. In the UK/Europe, this year's Retrofit titles will soon be available from Impossible Books.)
Box Brown (W/A) • Retrofit Comics, $6, February 2014