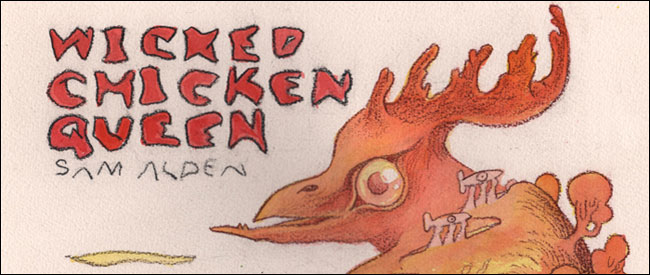 A dream-like and beautifully illustrated look at myth, history and love by rising alt-comics star Sam Alden marks a fine start to Retrofit Comics' new publishing programme.
Last year I raved about the books put out by Retrofit Comics – a micropublisher run by prolific cartoonist Box Brown and supported by Big Planet Comics, a chain of shops in the Washington DC area.
And they're kicked off their ambitious publishing plan for 2014 in fine style with Sam Alden's Wicked Chicken Queen, a dream-like 24-page fable about the enduring power of our myths.
Sam Alden is very much a rising star in the alt-comics scene, having trousered the 2013 Ignatz Award for Promising New Talent, and much of his work available to view online.
However, Wicked Chicken Queen takes a very distinct narrative approach. In a similar way to Anders Nilsen's Rage of Poseidon, it plays out as a series of full-page images with accompanying text.
The book tells the tale of a group of island settlers, whose society is disrupted when a young beachcomber finds the egg that produces the creature of the title.
The island's king becomes strangely attached to the chicken, seeing her as his 'daughter', and when he dies she becomes queen. Along the way, she becomes devoted to Saskia, the girl who found the egg, and the two are married.
The island enjoys a period of peace and prosperity until Saskia dies, plunging the chicken queen into a bleak retreat of Victorian mourning. As she becomes increasingly irrelevant to her subjects, modernity creeps up on the society.
However, "strange shadows in the sky" portend the apocalyptic return of the chicken queen, who wreaks destructive havoc on the island in her death-throes.
Using a smudgy mix of pencil lines and shading, Alden's illustrations are beautifully composed, combining images into a flowing form that draws in the reader's eye and doesn't want to let it go again, taking it on a serpentine journey around the page.
Like a strange lysergic Richard Scarry book, each page is filled with little vignettes of how this weird little island society works. Even the island itself is a protean organic landscape.
In addition, the apparent simplicity of the narrative masks a rich metaphorical resonance that invites multiple readings to get to the heart of what Alden is saying about history, power and society.
He traces the development of a society from the rigid unity of an absolute monarchy to the anomic, atomised modern lifestyle being lived by the narrator, who is revealed to be an ageing parent, fretting about her failed relationship and a sense of being incomplete.
Maybe it warns us that we disregard our myths and history at our peril; even if we don't remember them or don't speak their language any more, they can always come back to make the ground shake – metaphorically and/or literally.
You can pick up Wicked Chicken Queen on its own, but Retrofit's subscription offers provide a great way of accessing new work from some of the most exciting talent in the alternative comics world.
Sam Alden's dense, elusive and poetic comic whets the appetite for the titles to follow.
(NB. In the UK/Europe, Wicked Chicken Queen will soon be available from Impossible Books.)
Sam Alden (W/A) • Retrofit Comics, $5.00, February 2014