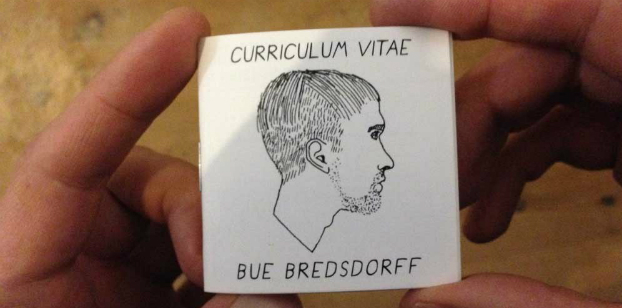 As minicomics go they don't get much more mini than Danish artist Bue Bredsdorff's Curriculum Vitae. This 26-pager is little more than a couple of inches square, giving it a compact tactility that, as we shall see, has a functional purpose that goes beyond mere aesthetic design decision.
Curriculum Vitae is a piece of work that takes the notion of slice-of-life comics to its logical extreme. Between its covers Bredsdorff's existence is carved up into 21 individual images that trace the path of his life from birth to the current day and are split into traditional resumé sections dealing with the areas of education, past employment and professional qualifications.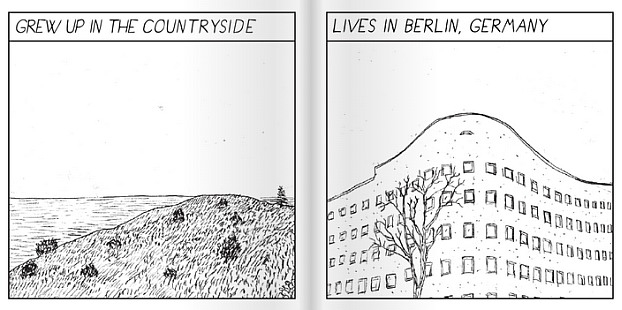 Each page comprises a single illustration with relevant commentary on how it pertains to Bredsdorff's personal history that is rigidly formal in tone to begin with but becomes more relaxed towards the end of the publication. Combined they provide an account of a life in snapshot; one that is defined by landscape and architecture.
Bredsdorff's detailed linework reminds me of Owen D. Pomery in places and that's fitting in a minicomic that adopts a psychogeographical approach to its message. The lack of any human figures within the entire comic gives the reader no immediate visual target with which to empathise meaning that there's a strange feeling throughout that, although we are being directly invited into another human being's reality, we are also viewing it from a very impersonal perspective. It's a reading experience that is simultaneously intimate and yet detached too. A sensation that anyone who has ever shortlisted for workplace interviews will recognise all too well.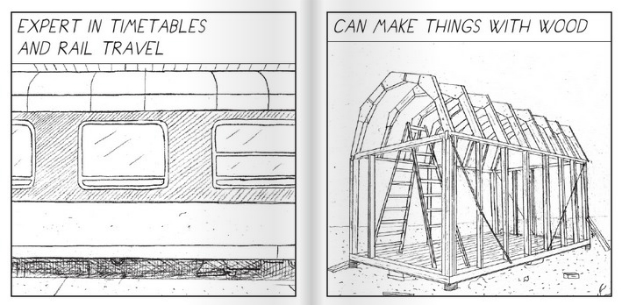 The real kicker with Curriculum Vitae was that just as I was thinking it was a neat synthesis of the structure of a CV and elements of the comics form as visual autobiography I reached the conclusion of the book and realised it is literally what the title describes – Bredsdorff's plea to potential employers in pictorial form. Painstakingly realised and cleverly crafted, one can only hope that its primary purpose is satisfied sooner rather than later…
You can buy copies of Curriculum Vitae from Bue Bredsdorff's site here priced €3 or read it online here.