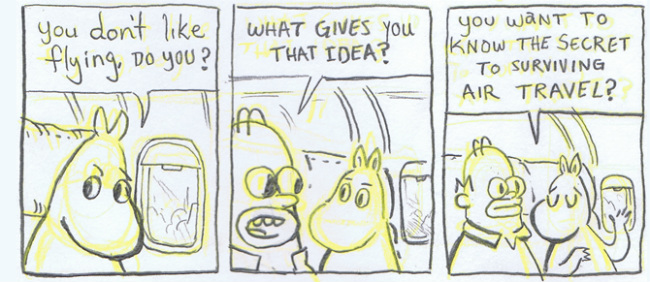 At last November's Thought Bubble there were two comics I was told time and again were essential books to pick up in print form for review in 'Small Pressganged', both of which I completely failed to get hold of by the festival's end. The first of those, as I mentioned when I reviewed it here last month, was Lucy Bellwood's Baggywrinkles, and the second was Tyler J. Hutchison's Die Homer Volume 1. We have London's Gosh! Comics to thank on both counts for my acquisition of these titles in physical form but the good news for those who like to read their comics online is that  you can read each series on the respective creators' websites.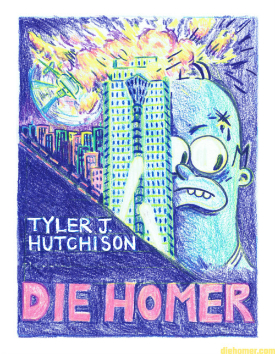 Hutchison's Die Homer reminds me very much of Babak Ganjei's Roadhouse, the hardcover from Records, Records, Records parodying the notorious 1980s Patrick Swayze movie (covered here in this column back in August). Both projects subvert the films they're re-imagining with gentle yet fond mockery. But while Ganjei's book juxtaposed violent action movie scenes with a mix of philosophical meditations and pop cultural platitudes, Hutchison's is a straight up retelling of Bruce Willis vehicle Die Hard, just recast with familiar faces from animation and video games in all the major roles!
Inhabiting that central John McClane position is, I hardly need to say, one Homer J Simpson. Everyone's favourite cartoon buffoon becomes action hero, pitted against the gang of ruthless criminals whose heist at the Nakatomi Corporation's headquarters is taking place under the smokescreen of terrorism. Our barefooted protagonist must pick off the bad guys one by one in a bid to rescue the hostages they have taken who include his estranged wife Holly/ Marge Simpson…
It's not just the inhabitants of Sprinfield's The Simpsons who have been transported to the heady days of the '80s in Die Homer. Various players from the original movie are substituted by the likes of King Pig from Angry Birds in the Alan Rickman/Hans Gruber role, Sonic the Hedgehog as limo driver Argyle, and Scrooge McDuck as the ill-fated Mr. Takagi. Gonzo from The Muppets, Skeletor, Garfield and a Moomin are just some of the childhood faves to pop up in cameo roles elsewhere.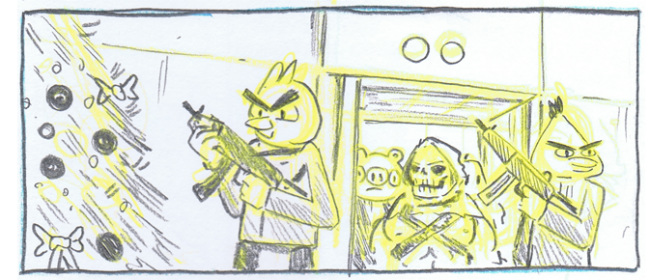 What makes Die Homer such a droll offering is that Hutchison largely – though not always – plays it straight, letting the sheer visual ludicrousness of the situation generate the humour by itself. It's a clever strategy because it gives his re-creation of '80s cheesiness an almost deadpan wit that a more obviously ostentatiously slapstick approach could never have produced. That's not to say that there aren't occasional moments of comedic shorthand hearkening back to some of the original characters' schticks – a cracking Sonic sight gag near the story's beginning for example – but they are not an intrusive part of the proceedings. For the main part what we're being treated to here is following the broad strokes of the original.
It's a creative policy that makes those pivotal scenes all the funnier because the humour isn't being delivered with sledgehammer excess. The inherent silliness of McClane/Homer leaving the corpse of an Angry Bird in Santa Claus hat to be found by his adversaries needs no extra narrative commentary after all. And when Hutchison does embellish the original it's with a flourish that is, nevertheless, oddly throwaway in conveyance – just take a look at the last flustered moments of Scrooge McDuck/Mr. Takagi and the unfortunate waterfowl's bill here…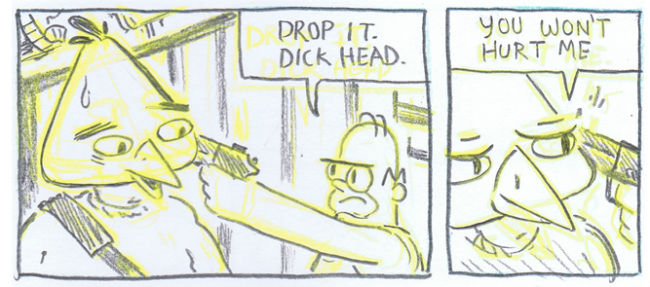 Hutchison's sketchy layouts are a natural fit for the hybrid nature of the work, capturing the frantic dynamism of the original film but also imbuing it with the requisite cartoony energy that suits its cast. Like Babak Ganjei's aforementioned book I would recommend watching the source material again before tackling Hutchison's mirth-filled mash-up to ensure you fully appreciate every playful moment of this wittily constructed pastiche.
While Die Homer is a work in progress you can read the first instalment here.
For more on the work of Tyler J. Hutchison visit his tumblr here. Die Homer is also available as a PDF from his online store here priced $3.00.
For regular updates on all things small press follow Andy Oliver on Twitter here.